Everything about the classic tale of  Robin Hood is turned upside-down in the new exhilirating theatre production, Heart of Robin Hood, now on stage at the Royal Alexandra Theatre (Toronto) until March 1st. (**note: now extended 4 more weeks in Toronto with new block of tickets available starting January 26)
Yes, Robin Hood (Gabriel Ebert) and his Merry Men rule Sherwood Forest, sort of. Gabriel gives us a tough guy who can turn into high-school mush that makes the crowd go ooooh… and then awww! They indeed rob from the rich and you'd think he's giving to the poor, but things are shaken up a here and Maid Marion (Izzie Steele), daughter of the King, is more than anyone bargained for. Izzie delivers a sparky Marion! Parents will love her strong "girl power" character that knows how to get what she wants by being smart and using her morale compass… oh, and she saves the kingdom!
Pierre (Christian Lloyd) is Marion's loveable side-kick and you just want to see more of him and his effervescent personality. Having said that, I thought the balance was just right. Lots of chemistry here on stage as the cast gives a very heartfelt performance that is very much a joy to watch.
You're in for a real treat with this production that is on full-tilt. Literally. The cast not only has to deliver the lines but there's a physical component that will leave you breathless. It's non-stop action! You've never seen Sherwood Forest quite like this!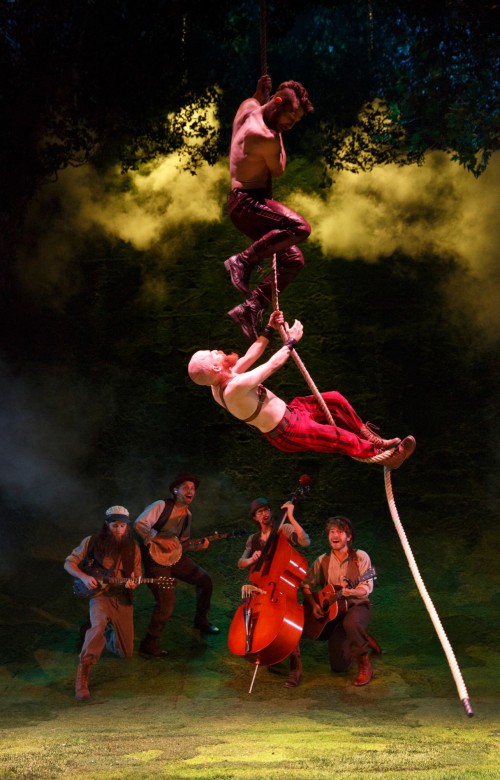 Often the musical accompaniment to theatre is hidden in a pit or off to the side but in Heart of Robin Hood, they band is very much incorporated into the story line. Indie group Parsonsfield roams the stage with their original songs and sometimes played on some unusual instruments!
Heart of Robin Hood is a highly entertaining production that you won't forget. Great for the whole family. It's fast paced with a fun story line, super music and all round great show.
Heart of Robin Hood, directed by Gisli Orn Gardarsson is in Toronto until March 1st and then it's heading to Broadway! Make sure you catch it! For ticket and dates visit www.mirvish.com
Recommended for ages 8+
Here's a taste of Parsonsfield!