Now doesn't that sound like a place you'd like to hang out? Pancake Manor is definitely a place that kids and parents don't mind sharing! The popular YouTube music video channel was created and produce by Victoria-based musician and puppeteer Billy Reid. Viewed by over 25 million eyes worldwide, this alternative rock influenced educational music for kids has captured families with their catchy tunes.
Withe the demand from it's loyal fan base, Pancake Manor has just released its DVD & CD set "Videos and Songs for Kids & Awesome Parents".
"Friends who used to tell me that listening to their toddler's music was an endurance test, are now encouraging their kids to watch our channel," says Reid, "we believe these videos can be played on repeat without sending Mom & Dad running for the noise-cancelling headphones. The DVD & CD will make our sound even more accessible – in the family mini-van, for instance."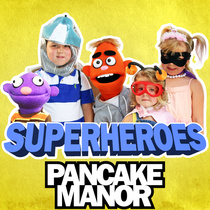 With the release of the DVD & CD, fans of all ages will be able to watch and listen to Pancake Manor's Zach and Reggie learn their ABC/s, embark upon fantastic flights in a cardboard box, and encourage kids to get off the couch for a "shake break," all set to original music that is written and performed by Billy Reid.
Billy grew up in the '80s with The Muppets, MAD Magazine, Saturday morning cartoons, and Return of the Jedi (just to be clear, his parents also had a hand in raising him).
He's been creating original songs and videos online for over a decade. His first foray into YouTube was with his pop/comedy channel Very Tasteful. He also hosted the show "Exposure" on CBC television.
But with Pancake Manor, Billy has found his calling. It's a series that allows him to celebrate everything he loved as a child: puppets, high energy music, silliness and a smattering of education. Billy writes and records all the original music, illustrates/animates and edits the Pancake Manor series.
Perfect for the holidays!
Visit PancakeManor.com for more information.
Here's a taste of the sweetness…
[youtube id="zl5QodAFuVk"]