We all tell lies maybe to get us out of a predicament or to avoid confrontation. Some are harmless, right? "Yes, that's dinner you whipped up was fabulous!" And what about The Easter Bunny, Santa, and Tooth Fairy?
But what about the lies that run deeper? That you can't get out of?
I'm currently reviewing a few shows/movies that are so deep into lies—more to come! Some are amusing and others have left me speechless.
I'm currently fixated on the new Netflix original, Bloodline. The story line follows The Rayburns—an all-American family who are well respected in the Florida Keys community who own a hotel—and they have a deep dark secret that is driving me bananas to find out. Hubby insists that I wait for time that we can watch this together as I'm already a few episodes in.
"We're not bad people but we did a bad thing." ~ Bloodline
In the season premiere, we meet the family as they host the 45th anniversary celebration of the hotel. Family and friends have been invited. However, the estranged oldest son, Danny (Ben Mendlesohn),  also shows up. The family is guarded and we don't know why just yet. Your mind will goes crazy trying to piece some bits of information. But one thing is for certain so far, Mom (Sissy Spacek) is the one that everyone needs to keep happy.
WHAT'S GOING ON????? What's the secret? There's clearly something that the family is hiding and they're all prepared to keep it a secret, whatever it takes.
Netflix addicts have labelled this new show a "slow burn" and you definitely need to give it your full attention. Things go from bad to worse and if you blink, you may miss a piece of the mystery puzzle.
The full first season is available now on Netflix Canada and the production has just been renewed for Season 2. Here's the official trailer…
Funny how lying seems to be such a huge theme in so many movies and television shows. Here are some other titles that deal with lying that are currently on my radar.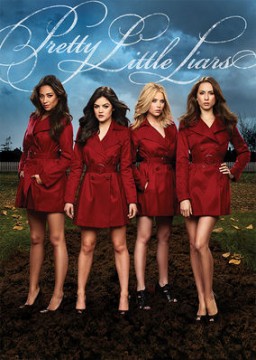 Pretty Little Liars: (Troian Bellisario, Ashley Benson, Lucy Hale, and others) Four friends band together against an anonymous foe who threatens to reveal their darkest secrets, while unraveling the mystery of the murder of their best friend.
Liar, Liar: (Jim Carrey) After his son makes a birthday wish that magically comes true, an evasive lawyer finds himself incapable of telling a lie for 24 hours.
Just Go With It: (Jennifer Aniston, Adam Sandler, Brooklyn Decker) On a weekend trip to Hawaii, a plastic surgeon convinces his loyal assitant to pose as his soon to be divorced wife in order to cover up a careless lie he told to his much-younger girlfriend.
Mean Girls: (Lindsay Lohan, Rachel McAdams, Tina Fey, Amy Poehler and more) Cady joins her new high school's most powerful clique – but ther's hell to pay when the ex-boyfriend of the clique's leader wants to be Cady's guy.
Monte Carlo: (Selena Gomez, Leighton Meester, Kate Cassidy) Three young women vacationing in Paris find themselves whisked away to Mone Carlo after one of the girls is mistaken for a British heiress.
And we know you love teachable moments with little kids, check these out…
Super Why!:( Season 1, Episode 15) Humpty Dumpty and Other Fairytale Adventures: Pinocchio
Curious George: (Season 1, Episode 19): The Truth about George Burger
Clifford the Big Red Dog: (Season 1, Episode 26): The Kibble Crook
The Adventures of Chuck & Friends (Season 1, Epsiode 9): The Pothole/Chuck's Perfect Plans
What's your favourite show/movie that deals with lies?