I'm rubbing my eyes. Could it be? I could SWEAR  I met Elvis the other day. What a surreal experience. Steve Michaels has the same look, side burns and piercing eyes (he also smells good too). His voice and his mannerisms are exactly  what I picture in my mind as I flashback to when my mom would watch old Elvis movies at home. He plays a darn convincing Elvis in RETURN TO GRACE, a tribute show that will heat up the stage in Toronto (July 8-20).
I had the very fun opportunity to meet with Steve recently to chat about being Elvis!
When did you become interested in Elvis?
Steve: It was a slow transition from birth. I grew up around him, listening to him. I thought he was the coolest guy around so I started emulating him sort of like a side show. When I was a kid everyone would say "get little Steven up there to do his Elvis thing" so that's pretty much where I started. Then I started singing and even growing up as a teenager, I was still into Elvis even though my friends were listening to a myriad of music. I really didn't tell too many people at first but then there came a time in high school where I did a lip-sync in front of my peers; that point it was my first taste of stardom.
Wow! So flash forward — you're now travelling around the world with this show! I know the Asian audiences really love Elvis. Do you know the nickname they have for Elvis? 
Steve: (hahaha) YES!! They do! I've performed in Hong Kong many times and I've been to the Philippines but in Macau I had a funny story. Most of the staff at the Liz Boa Casino were from mainland China and they were just complete awstruck. They were calling me "Mau Wong".
"King of the Cats" right? So everywhere I went everyone kept calling me that. Friends of mine told me that was Elvis' nickname in Chinese so everywhere I went people would stare and I could hear them say "Mau Wong". I would just look at them and smile. That kind of freaked some people out. But the Asian audience is crazy about rock and roll. They embrace it. Some of the greatest crowds I've performed in front of were in Asia. The fans are absolutely amazing.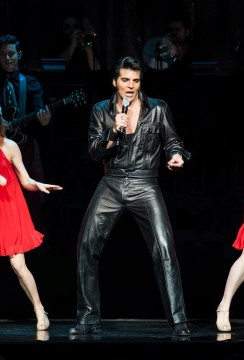 So, back to being Elvis… was it hard to learn the iconic Elvis steps? I may need to you teach me a few moves.
Steve: (Laughing) Sure we can do that in the hallway! The thing about Elvis is that he had rhythm and I've been lucky enough to have been born with rhythm too! Let's just say the moves came naturally to me. But you know, Elvis did everything for a reason. The way he moved, the iconic side-step from Jail House Rock for instance, was something you just had to do. He also had this syncopated head bop where his head would do one thing and he would be keeping beat but always on the alternate. Then in the 70s he did a lot with his arms. I've had many years of studying Elvis.
Yeah, you're a pretty convincing Elvis!
Steve: Well, oddly enough, my passion for performing came later in life. I knew I could sing and dance but originally I thought my career would be more behind the scenes in the entertainment industry like posting, editing and graphics but it didn't hit me until later that I could be in the forefront. It was like a slide, I just went for it and 18 years later I'm still doing this — the tribute to the King of Rock and Roll! It's pretty awesome.
Married? Kids? Yes, I'm going down this path. 
Steve: Ha! Yes, I am! My wife is a performer as well. She's a dancer and a choreographer. She's actually  in this show dancing.  We have a 2 year old boy!
Oh, he's a baby!
Steve: Yes, but it's funny when I have the screen on and I'm  watching Elvis, he often will look at the screen and then look at me and he'll say "dada" while pointing at Elvis. I know it's wrong but it makes me feel good.
What's on your playlist?
Oh, everything! I listen to a lot of genres. Obviously Elvis Presley… and a little Pink.
What do you do for fun?
Well, I'm from Ontario and it's nice to be home to enjoy the warmer weather. My relaxing time involves  hot tubs and Pinot Grigio.
Thank you very much! (sorry, I couldn't resist)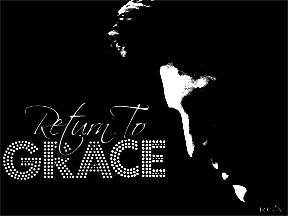 RETURN TO GRACE traces the greatest musical moments of a generation with song favourites that include "Heartbreak Hotel", "All Shook UP", "Love Me Tender", and many more. From the early years, through to the amazing '68 Comeback Special, to the historical Aloha from Hawaii concert, re-live the music that changed rock and roll forever.
RETURN TO GRACE is at the Ed Mirvish Theatre, July 8-20, 2014. Recommended for all ages. www.mirvish.com
So, what's your favourite Elvis song?