Rumours buzzed before the Oscar nominations came out and they were all saying the same thing: Jennifer Aniston for her role in CAKE. However, the entertainment world rippled (a bit) when she was snubbed for her role. There's no doubt that she put her heart and soul into this role. But was it too much? Or not enough?
CAKE (in theatres January 23rd) shows the other side of what happens when tragedy strikes and life definitely isn't a piece of cake. It's the after story and  one I think of often when I see something on the news. What will happen to those who have survived after experiencing a tragedy in their lives?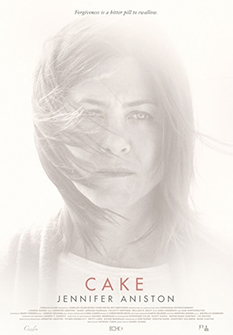 The story is about Claire Simmons, a woman whose life has come to a crippling and complete halt after tragedy struck her family. It begins where her life seems to have ended. We know where she came from; a smart, success lawyer with a picture perfect family.
Their lives completely changed and Claire becomes dependent on painkillers. She's become the queen of bitches to everyone in her life. But everyone in her life is generally forgiving and understanding. It is what it is and Claire can chose to wallow or get moving to pick up the pieces.  Her husband has left her, she's been kicked out of her support group and she 's obsessed with the suicide of a woman, Nina (Anna Kendrick) who was in her group.
Her obsession with Nina's death leads her to the home of the husband (Sam Worthington) and a relationship is formed.
I'm not sure how I would cope in a similar situation but I'm sure no Hollywood director will come and offer me a glazed-over ending of rainbows and gumdrops. The film doesn't have a sugary-sweet ending but there is light at the end of this tunnel. But was it enough to satisfy my craving? Not sure about that.
There were definitely a few moments where the film pulled on my "mom-strings" and have me blink away a few tears. So, why would Jennifer Aniston get snubbed? While she played the role well, it certainly wasn't out of her range.  The attempt to de-glamourize Aniston is a good attempt but nothing new for the audience to see in general. But I guess life isn't always a piece of CAKE.
Here's the trailer…