Kobo is about to make waves with the newest addition to the eReader category. At a splashy pool party this week in Toronto, the company unveiled KOBO AURA H20 — the world's first waterproof eReader. Available starting October 1, this new eReader will enable passionate readers to use their devices not only on the bus or in bed, but also at the pool and in the bath without the worry of water damage!
Kobo heard from many passionate readers about how much they enjoyed being able to read on the go, on vacation, on the back porch, or while waiting for their kids at hockey practice. They listened to their readers but knew "read anywhere" still had limits. "We began to hear stories from readers telling us their tales of vacation heartbreak, tears on patios and decks, stories of ziploc bags and make shift wrappings on smart phones gone for good and bags of rice," said Michael Tamblyn, President and Chief Content Officer, Kobo. "Our best customers, the ones who love books the most, were telling us there were places where eBooks couldn't go, but that changes today."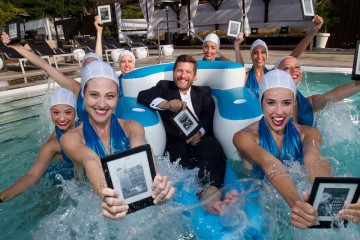 The Kobo Aura H20 is waterproof up to 30 minutes in 1 metre of water (port cover closed). So, no more worrying if it's accidently dropped in the water or splashed! This new eReader also offers: anti-glare displays and built-in front light technology, HD display and ample storage. The new eReader offers a 6.8″ touchscreen, 265 dpi and has 4GB of storage (expandable up to 32 GB wth a microSD card) and battery life of up to 2 months.
Kobo Aura H20 will be available October 1, 2014. (pre-orders September 1) MSRP $179.99 (US & Canada)
Honey…guess what's on my wishlist? Hint! Hint!
Who else is excited? I'm totally curious, where do you read like to read?