When we started planning out our summer, the kids started thinking about what they enjoy doing and what camps they'd like to try out. Little one, who is 9 years old, enjoys cooking, video games, art and sports. Summer day and overnight camps are super popular amongst their friends and it seems that everyone jumps on registration in the spring. Luckily there is no shortage of options in the city even for last minute camps!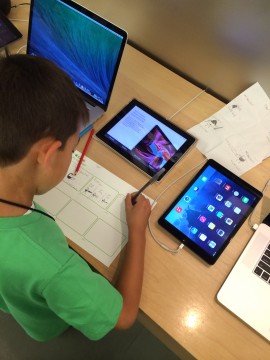 Little guy has already been to art camp  where each week they offer fresh themed content. During his week, they used "gaming" as the inspiration for their masterpieces. Creating pinball games made from cardboard and painted with fun visuals was just one of the many art project that inspired more work done at home. He's also done a week of cooking camp where the kids were involved in the kitchen from start to finish. Not just cooking, but learning about meal planning, shopping, ingredients and labels, prep and clean up. Of course eating and sometimes bringing treats home was involved too!
This summer, we've also discovered Apple Camp for the first time. As part of the company's Youth Programming, the camp is offered for FREE at participating Apple Retail Stores across Canada. Two themes are available for this year's campers: Stories in Motion Movie Making with iMovie and Interactive StoryBook Making with iBooks. We just finished making a movie at camp and it was a real hit!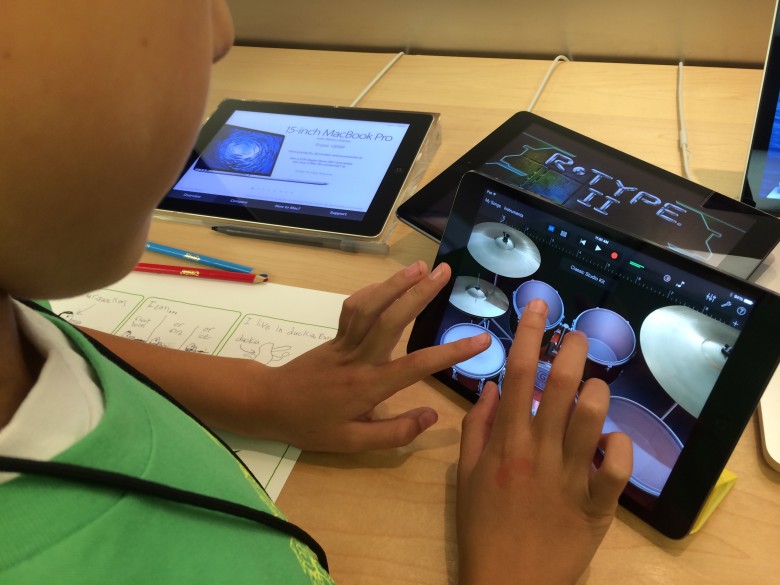 The kids were taught how to create their own characters and storyboards. Filming footage on his iPod Touch on the subway home made for a fun story. We had just seen the film Earth To Echo so we had an understanding of the "found footage" style of filming. During camp he (actually we, I couldn't help but look over his shoulder to get a few pointers myself) also learned how to create music for his short film all using GarageBand. Budding filmmakers discovered special effects like fading between scenes that were fun and easy to add into their movies. By the end of the week, the kids presented their creations in a mini-film festival. It was pretty cute! Amazing what some of the kids came up with. Totally adorable!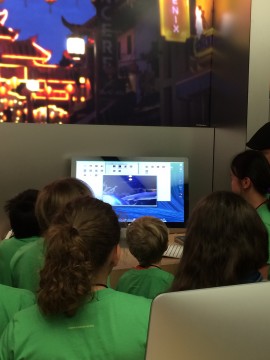 If you're still in search of a quick and fun camp to enroll your child in, you may want to check this one out. There are still spaces available at some of the locations. Apple Camp is available for kids ages 8 to 12. The camps take place inside the stores with some running before store official business hours. Camp leaders are trained Apple Staff; we had the most enthusiastic bunch who were great at leading and guiding the kids through the sessions! Watching my son whiz through the creation process on the MacBook Pro, iMac and iPad (provided for use during the camp workshops) was pretty amazing. I don't think he's done any playing around with GarageBand before and the kids are very proud of their creations!
This was a great way to fill in a gap week this summer with a great quality camp and the price was right!
What you should know about this camp…
Kids don't need to have any experience! Creativity is the key here at the camp.
Camps are small groups of kids and while the camps take place in the store, it's a roped off section. Parents are asked to stay with the kids…that was okay with me as I actually wanted to learn a few things myself!
The camp runs on three days for an hour and a half each day.
Kids were given a USB Key to download their creations to take home. So cute!
Registration is all online  Apple Website.
If we have another quiet week we may go back for the iBooks making camp!