When I had mentioned to friends and family that I had plans on seeing LES MISÉRABLES, everyone said it was their all-time favourite musical. Hands down. After seeing three different productions and the film adaptation with Hugh Jackman and Anne Hathaway this latest production had a lot to live up to. How do you reinvent a story told so many times on the stage and make it fresh?
Well, ladies and gentlemen, this new production is stunning, powerful and bold! RUN and get your tickets to LES MISÉRABLES that is now playing at Mirvish's Princess of Wales theatre in Toronto! Everything about this stage production has left me breathless!
Cameron Mackintosh's Canadian Premiere of the 25 Anniversary Production Boublil & Schonberg's legendary musical based on Victor Hugo's classic novel, LES MISÉRABLES is truly amazing! The New York Times calls this production of LES MISÉRABLES "an unquestionably spectacular production from start to finish."
On official opening night, overwhelming applause and cheers were heard after each and every song. Canada's own Ramin Karimloo plays a powerful Jean Valjean and his voice is enough to make my eyes well with tears! He delivered a very powerful performance embracing his character with everything he had in him. When he performed "Bring Him Home" I just had to close my eyes and surrender to voice. But it's not just his singing, Karimloo is the package deal. His mannerisms and expressions in his acting abilities give incredible depth and meaning to Valjean. He IS Jean Valjean.
Karimloo is a well established performer who has spent majority of his career in the UK where he has played Valjean in the London production, as well as, portraying the title role of Phantom in the very popular musical, The Phantom of the Opera. This 25 anniversary production of LES MISÉRABLES is Karimloo's "coming home". Theatre lovers and critics are absolutely raving!
This Mirvish production brings great talent to the stage. The audience loved the comical inn-keepers and foster parents to little Cosette. Lisa Horner and Cliff Saunders play the crazies to a tee while Melissa O'Neill as Eponine has a magical voice that your ears will perk up to. Earl Carpenter plays Javert flawlessly and the cast of little ones are confident as any adult on the stage.
Whether you've seen LES MISÉRABLES before or not — you need to see this one!
Whether you've seen LES MISÉRABLES before or not — you need to see this one! Since the recent  film adaptation there's a renewed interest in this production even with a younger generation. This stage production will definitely leave a lasting impression. I'm looking to go back!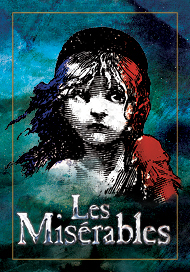 The Mirvish production of LES MISÉRABLES is currently playing at the Princess of Wales Theatre in Toronto until December 22, 2013 visit mirvish.com or call Ticketking at 416-872-1212 or 1-800-461-3333 for show details. Tickets are also available in-person at the theatre box office at 300 King Street West.