Little one (T) loves playing games — any games…he currently can't get enough of Monopoly (yes, a board game!) but he also enjoys video games on the Wii U, and we even sometimes create a game just to pass the time.  But over the holidays as we were travelling he was able to bring along his Nintendo 3DS. He had received the latest Mario Party: Island Tour game so it was the perfect time to try it out.  Since he loves games, we thought it be best that we reviewed this one together. Makes sense, right?
I get a kick out of watching the kids and just how quickly they can catch on with games. For this particular new release I was amazed at the number of games available in this one title.
There seems to be an endless number of 'mini-games' available. My 9 year old says,  "there are sooo many games!"  He quickly realized that the mini-games allowed him to practice and gain the skills he needed for the bigger Party Games. You can also  earn points while playing to exchange them for collectibles like special figures and other neat stuff.
"I like how there are different modes." Says my 9 year old.
I don't think he's played every game but he definitely has his favourites. I peeked over his shoulder a few times and noticed that each game give you the estimated time it should take to complete ranging from 1 minute to 30 minutes…great for those times you need a short and quiet activity "okay buddy, finish off that game."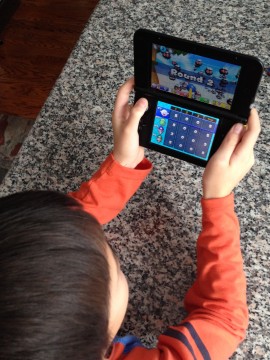 Some of T's favourite mini-games…
1. Buzz a Fuzzy:  "it's fun! you get to shoot arrows to get the fuzzies!"
2. Point & Shoot:  "I love taking pictures!" this game gives you a short list of things you need to take pics of. It's like a scavenger hunt and you get points for each item you snap up!
3. Squish You Were Here: Hide in between gaps so you won't get squished!
4. No Traction Action: racing game of course!
5. Horror Hairies: you gotta run away from the ghosts!
There are 80 mini games that offer fun challenges and play. Whew! Talk about getting your money's worth! He also mentioned that he likes Bowser's Tower because it's more challenging.
Then the Party Games are a little more of a time commitment and longer play games. There are 7 different games and they are all different. As you play and earn points, the game boards are unlocked. I think he's at 5 now.
"I like the fact that you can change the difficulty." Says my 9 year old.
What's also great, as you may already know, is that you can play against a friend (for this one you can play 4 people) or compete against the computer opponents. His friend Max is eager to come over with his Nintendo 3DS to play this game with him. T tells me that Max doesn't need to own the game…but as long as they are together, they can play within range.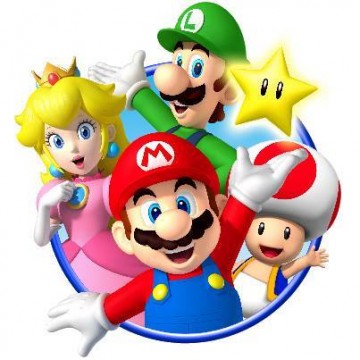 Mario Party: Island Tour is rated E for Everyone and is available for Nintendo 3DS. It can also be played on the 2DS. Game and device sold separately. Visit www.marioparty.nintendo.com for more information on this title.
This post is not sponsored. Little one was provided with the game for review purposes only. All opinions expressed are ours as always!