I'm up early on a Saturday morning searching iTunes for Frankie Valli tunes after seeing the musical Jersey Boys the evening before. I didn't grow up in that era. My mom did and remembers the songs fondly. But they all sound so familiar to me. Sherri, Walk like a Man, Big Girls Don't Cry, Can't Take My Eyes Off Of You and Oh What A Night!  are all songs that may have been heard at karaoke bars or commercials and the odd retro diner we have visited. They have become iconic American tunes that represented the hard working generation of musicians raised in tough times.
The story of Jersey Boys is an interesting one especially if you've got music lovers in the family. This stage musical is about  Frankie Valli and The Four Seasons (including Bob Gaudio, Tommy DeVito and Nick Massi), one of America's most iconic pop sensations. The storyline gives the audience an interesting perspective of how this band came to be and the hardships endured on their road to fame. The group made it big in the 1960s and continued success right through the 1970s and you can count on hit after hit being performed on stage in between the storyline in this musical.
Four Italian boys from Jersey set out to make a mark for themselves with an unusual sound for its time. Young Frankie Valli himself had a high pitched voice that stood out as he joined the group at 16 years of age. This story is very much coming of age story about him and the relationships with his band mates as they were determined to make the music they loved. Frankie Valli and The Four Seasons became one of the most well-known singing sensations and sold 175 million records worldwide. This true-life story from growing up on the wrong side of the tracks of New Jersey to the ultimate rock accolades of being inducted into the American Rock and Roll Hall of Fame.The storyline shows a life full of obstacles and challenges but more so, it's about the group not giving up a dream and unconditional friendships.
In this touring production Hayden Milanes plays a convincing Frankie Valli growing with the role as the show plays out the singer's timeline. Hitting the notes in high octaves can't be easy but he proves to take on the challenge really well! I admit that Drew Seeley's voice of Bob Gaudio is a treat — pretty swoon worthy, really!
Is this story true? There are many interesting facts and reality checks that I've been finding amazing to research but I would suggest you go see the show and then come back to read this article I found interesting in Slate.
And the best quote from the show…"Everyone remembers it how they need to."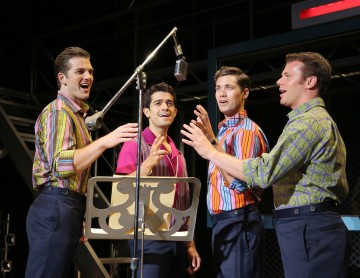 Jersey Boys has been seen by over 20 million people worldwide. Jersey Boys is the winner of the 2006 Best Musical Tony Award, the 2006 Grammy Award for Best Musical Show Album, the 2009 Olivier Award for Best New Musical and the  2010 Helpmann Award for Best Musical.
Jersey Boys is now playing at the Ed Mirvish Theatre in Toronto until January 4th on their national tour. For more information visit mirvish.com
Parental Advisory: lots of swearing (aka authentic "profane Jersey language"), sexual situations, and drug references.