I was at the dentist the other day and wanted to poke my eyes out. Sorry Miss Hygeniest, it's not you but it's the CHRISTMAS MUSIC that was playing on the radio over the speaker system while you were polishing my teeth with that gritty minty stuff. Oy!
I'm not having a BAH-HUMBUG moment, but really? I know the Santa parade has already happened but I'm sure that there's some unwritten rule that this "music" shouldn't be played (unless Santa is around) until December 1st.
I love Christmas but I'm not ready for it yet – yes, even though I've started shopping BUT you know that song about the momma's shoes? I don't need to be getting all teary eyed already!
The funny thing about Christmas music is that it's often nostalgic – think  chestnuts roasting on an open fire and Jack Frost nipping at your nose. But are there any songs that embrace our modern, slightly cranky, and somewhat jaded, yet sincerely searching souls?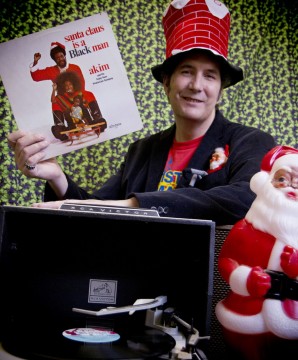 Well, Hallejulah! There is! Have you heard the tunes Green Chri$tmas, Santa Claus was a Black Man, or Merry Christmas Someone? These funny, sad, satirical songs explore the flipside of the holiday season touching on racial inequality, religious freedom, conspicuous consumption or that sometimes yearning sadness of being alone on what's suppose to be the most wonderful time of the year.
Yep! Welcome to JINGLE BELL ROCKS! a trippy, cinematic sleighride into the strange and sublime universe of alternative and underground Christmas music! This documentary follows Christmas music junkie Mitchell Kezin as he unveils twelve of his most cherished, alternative Christmas songs. Hitting the road to uncover the stories inside the grooves, Mitchell hangs with his holiday heroes — musicians, deejays, record execs, radio hosts, composers, critics and fellow collectors — who share his passion.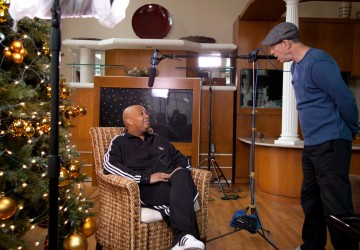 Equal parts social history, pop culture pilgrimage and revealing character study, JINGLE BELL ROCKS! features artists like The Flaming Lips, Run-DMC, The Free Design, Low, Miles Davis & Bob Dorough, Clarence Carter, John Waters, Akim & The Teddy Vann Prod. Co. , The Mighty Sparrow, A Girl Called Eddy, El Vez and many more!
What a way to kick off the holiday season!
JINGLE BELL ROCKS! opens on Friday, December 6 in Toronto at the Bloor Hot Docs Cinema. It will also play Monday, December 16 in Vancouver at Vancity.
For more information on this documentary, visit www.jinglebellrocks.com
So, what do you think? Is it too early?   While we're on the topic, what's your favourite Christmas tune?
Here's the trailer…
http://vimeo.com/78113050