When you visit a museum it's truly a treasure trove of artifacts and filled with incredible stories! Each piece has a history but do you ever wonder what goes on behind the scenes? It's not just about the ancient priceless Egyptian tombs or massive dinosaur bones or the Emperors clothes.
The Royal Ontario Museum (ROM) is Canada's largest museum of natural history and world cultures. Opened on March 19, 1914, the ROM continues to be internationally renowned as a distinguished research institution. With over 40 galleries, the Museum houses over 6 million artifacts and specimens. It's a favourite destination with collectors, schools, families, tourists and locals, like me!
I had the rare opportunity to get a sneak peek behind the closed doors at the Royal Ontario Museum's Conservation Labs this week to meet with the fascinating people who work there. What is safely stored away in the secret chambers is truly amazing! Researchers and conservationists work each day on objects like 3000 year old statues to ancient dynasty urns.  This unique opportunity for media was in preparation for the new TVO documentary series MUSEUM DIARIES premiering this coming Tuesday, February 25 at 7:30 pm.
FAKES & FRAUD EXPOSED is the first doc of the series to air. It's an interesting look into the world of collecting artifacts as well as determining what's real and what's fake. With over 40 galleries and 6 million pieces in the ROM's collection it's no easy feat to confirm what is authentic. Using their expertise, knowledge, experience along with the latest technology they are able to piece together and solve many mysteries that surround the collections. Of course, some pieces have walked through the doors from enthusiastic collectors and as mentioned, not everything is deemed real upon examination by the expert team at the ROM. But the researchers at the ROM also mention that sometimes the "fakes" are so cleverly done that some have even earned their own recognition and place in collectible history. Some artifacts still pose questions of authenticity amongst their curators and researchers. This statue is an example and will be featured on the documentary next Tuesday!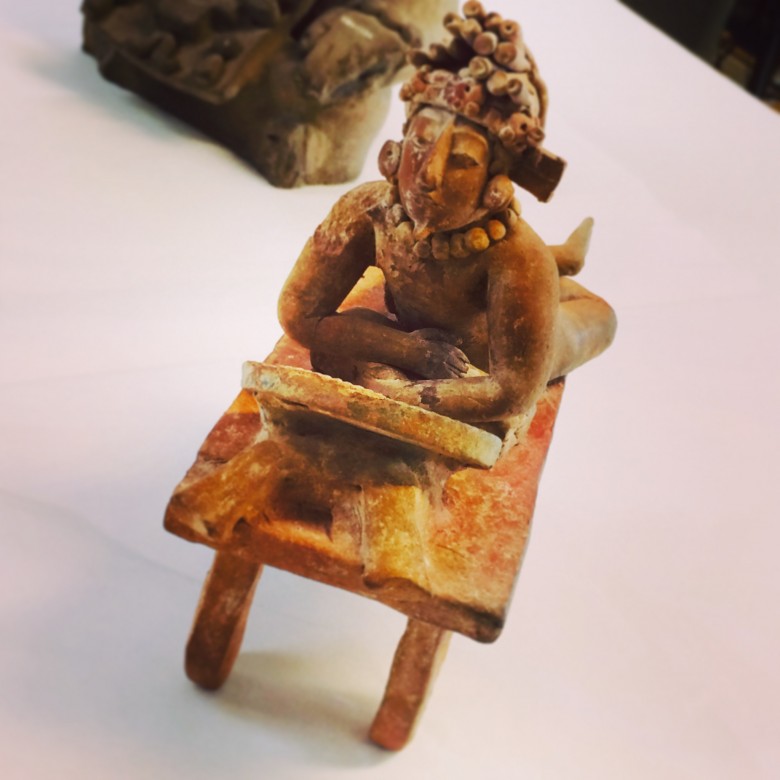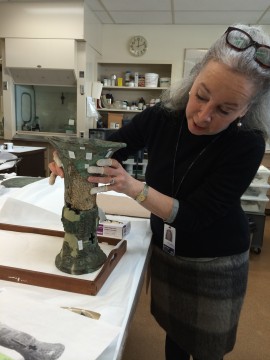 This particular fragmented Chinese vase was brought to the ROM's attention 40 years ago. Conservationist, Susan Stock, continues to research and provide understanding to this artifact amongst many others. Until she is satisfied, it won't go on public display.
TVO's new documentary series MUSEUM DIARIES offers unprecedented access to the ROM. Airing Tuesdays at 7:30 pm for six weeks beginning February 25, each episode mixes science, history and intrigue led by the ROM's team of professional curators, technicians and other experts. Explore the people  and get an in-depth look into some of the coolest jobs ever. Each episode takes viewers on a different journey from research expeditions to Borneo to using DNA to discover groundbreaking facts about the evolution of species to revealing medical causes to the death of Egyptian mummies and more. It's an incredible series that you and your family should definitely tune in to!
For more information visit www.tvo.org or www.rom.on.ca
The series is produced by Up Front Entertainment. Executive Producers Barbara Barde and Linda Stregger are known for their powerful documentaries and lifestyle and reality series as well as current affairs programs for broadcasters around the world. The company has produced over 600 television programs including 15 major series.
Here's a sneak peek!
Thank you to the Royal Ontario Museum for granting access and the unique experience behind the scenes!