What kind of artwork would you expect to see from a five-year-old? Messy finger paintings, perhaps? Maybe some silly stick-figure drawings? Well, not from Iris Grace.
This little girl from the UK is gaining a lot of online attention for her incredible works of art –her paintings. So much so, that even Ashton Kutcher wants one! Our guess is he wants one for the baby nursery, but we can totally see why.
Grace was diagnosed with autism in 2011, a disorder that can impair a person's ability to communicate,  affect their understanding of the world around them and how they relate to others.
Her mom, Arabella Carter-Johnson, introduced Grace to painting as a way to help with her speech therapy. And while painting did help improve her speech significantly, what Grace's parents didn't expect to uncover was their daughter's exceptional talent for painting incredible works of art.
"Her autism has created a style of painting which I have never seen in a child of her age, she has an understanding of colours and how they interact with each other," Carter-Johnson writes on their website.
In an interview with Buzzfeed, Cater-Johnson said that painting has also helped Grace gain an attention span of two hours.
"When you are a parent or a teacher of a child with autism and you are trying to interact with them you are constantly looking for ways to find that key that will allow you into their world," she says. "For me seeing Iris's love of painting was just that, a precious key."
You can view and purchase one of Grace's beautiful paintings on their website. Profits will go towards Grace's therapy expenses and various organizations that support autism awareness and research.
Check out some of Grace's work below: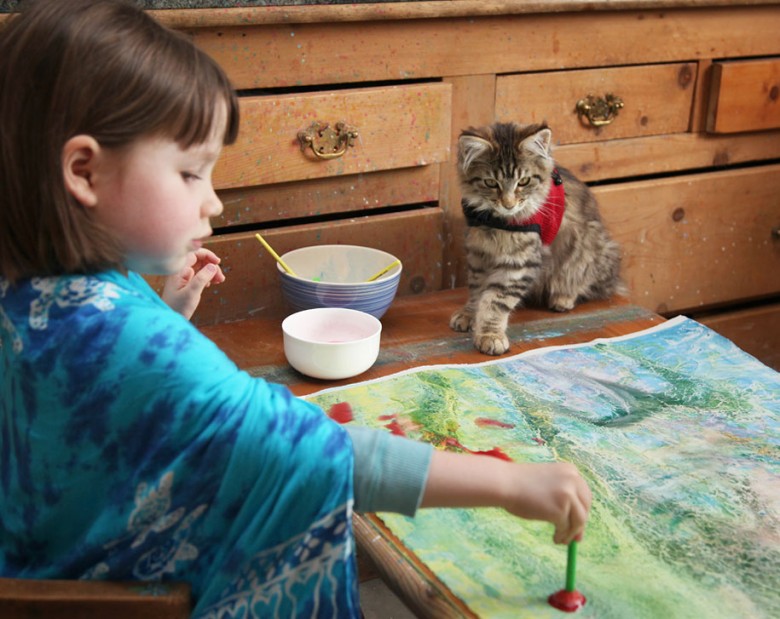 Can you spot her cat's face in the painting below?