What's your favourite musical? Do you yearn to sing along? Are there shows that love to see over and over and over again? Musicals can be wonderfully entertaining and enriching and in our fair city, there is always some form of theatre or musical happening each and every night.
There's a new campaign to celebrate all things musical and it's time for all of us to shout out "I LOVE MUSICALS!"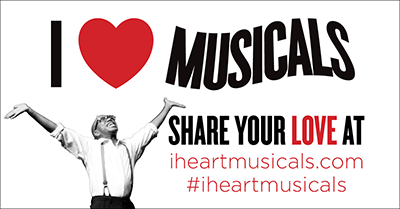 Did you know that currently in Toronto there are at least four major productions happening? Let's recap since it's holiday season…and you know, good ideas for gifts!!!
LES MISERABLES is so incredible and worth every waking moment of your time. Stellar cast and the show has been extended to February 2, 2014 at the Princess of Wales Theatre.
Disney's ALADDIN continues to offer an adventurous ride on the magic carpet with the Genie granting three wishes in this opulent production. Aladdin is in Toronto on its pre-Broadway engagement until January 5, 2014 at the Ed Mirvish Theatre.
ONCE is the eight time Tony Award-winning best musical with an incredibly dynamic and talented ensemble of actor/musicians who play their own music onstage. Currently playing at the Royal Alexandra Theatre which starts this week on November 26 and runs to January 5th.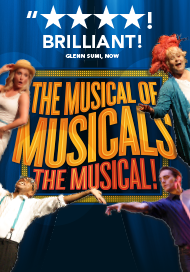 THE MUSICAL OF MUSICALS, THE MUSICAL! (whew) will give you everything you ever wanted in a Musical! This production plays December 18 to January 5, 2014 at the Panasonic Theatre.
EVIL DEAD, THE MUSICAL is bloody hilarious at the Randolph Theatre runs to January 5, 2014.
ANNIE the adorable story of the curious red-curly hair girl plays at the Young People's Theatre until December 29th.
THE LITTLE MERMAID, Ross Petty's hilarious new family pantomime always a holiday favourite for families even with little ones who can't sit still. It's okay here…and so is the booing and hissing.  The show runs to January 4, 2014.
But aside from the stage show, musical lovers can now visit www.iheartmusicals.com and take the love to a whole new level of fun! This website was created for like-minded people to share information, upload videos of themselves singing their favourite show tunes.
The  I ❤ MUSICALS will also include a mini film festival of movie musicals at the Carlton and Elgin Mills cinemas. There will be five movie musicals screening including Cabaret, Sweeney Todd, Jesus Christ Superstar, The Sound of Music, and Hello, Dolly! Admission will be free but they are requesting a voluntary donation of $5 (or more) to be sent to the Red Cross to help the victims of the tragic disaster in the Philippines.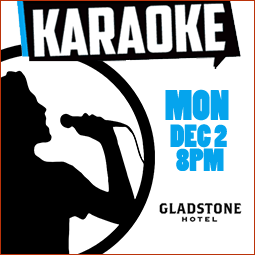 Join in the fun at the ultimate karaoke contest at the Gladstone Hotel on Monday, December 2 at 8:00 pm. Free admission. Cast members from every musical playing in Toronto will be in attendance and it looks like a super fun night! There will also be musical trivia to win prizes. Brush up on you musical knowledge! Want to stay and play? Gladstone is offering a special rate on this date (December 2) so you can just not worry about singing and driving.
So, be proud and sing it loud!  I ❤ MUSICALS  and I'll see you out there!
What's your favourite musical?
[youtube id="WIR9lmFiO6Y"]