You may recognize celebrity home design team Colin and Justin from their popular television shows including Colin & Justin's Home Heist, The Estate, Colin & Justin's Wedding Belles, and How NOT to Decorate. Their new reality show Cabin Pressure is currently in production with Cottage Life TV and will air this coming Spring.
To help us prepare for the fast approaching holiday season, I had a chance to chat with the dynamic duo about the festive season and creating the right environment for you and your guests! Scented candles, festive wreathes and decked-out Christmas trees are some of the most popular holiday home decorations, but for millions of Canadians who suffer from indoor allergies, they are also the cause of coughing, sneezing, watery eyes and many other symptoms. We chatted about ways to consider allergies while we decorate for the season and other ideas for the holidays!
I'm hosting Christmas dinner at my house and want to update my decor without breaking the bank. What are some quick updates?
Seasonally adjusting items you have already is a great way to create a holiday look without breaking the bank.  Avoid home accessories that are too Christmas themed and favour items that you'll be able to use all year like a good cocktail bar set and classic cocktail glasses – try the Colin & Justin Collection at Homesense.  Why not add self adhesive crystals to existing clear champagne flutes – bedazzle the base to add sparkle, use for your holiday party and then remove the stickers afterwards.  Wash clean and your glasses are ready for the next party!
What are your favourite scents for the holidays?
We tend to avoid artificial scents as they can create allergic reactions from certain guests – we want all of our party guests to enjoy our hospitality so we tend to ask guests if they have any allergies so that we can make them as happy as possible.  Never use scented candles as a dining table centrepiece; instead use unscented beeswax candles to create a glow without filling the room with overpowering aromas.  The food should be what's on the lips of your guests, not the smell of candles!
We can't have natural pine scent in the house due to a few having allergies…do you have some tips for us to work around indoor allergies?
The three main causes of allergies in the home are dust, pets and amazingly, Christmas trees!  So make sure you take your seasonal clean up to the next level, decluttering and dusting as you go.  Limit pet hairs and their problems by vacuuming with a cleaner with an animal pet hair attachment and try to avoid using a real Christmas tree – use a modern alternative like the Cardboard Trees by Boutique Cascades or buy an uncoloured driftwood tree to create a natural look for the season.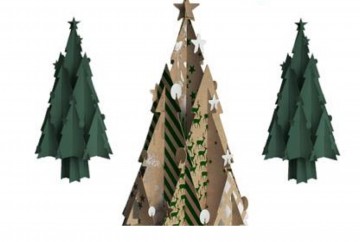 Did any of the Claritin survey results surprise you?
The biggest eye opener was that 1 in 3 of the respondees would refuse an invite to a festive gathering based on their desire to avoid situations where they could feel an allergic reaction.  We hate to think of any of our friends feeling intimidated, so we'll definitely be asking pals about any concerns and then reassuring them that we'll take care of everything.
What other tips do you have when it comes holiday decorating- any trends this year that you love?
Your seasonal décor should enhance your existing décor, not challenge it!  If you have a grey on grey modern living room then the last thing you want is a traditional green gold and red tree.  If your house is modern – think modern!  Personalise your dining dates by creating a goody bag for each guest – fill with chocolates, perfume and beauty samples, small games and add a lottery ticket to each bag – you just might make one of your guests a millionaire!
What are your holiday traditions?
We take it in turns to decorate, Colin one year, Justin the other with each having to surprise and delight the other – it's like our very own 'reveal' to each other.  Justin favours the full effect – a large tree, decorated mantle piece and baubles galore, Colin on the other hand likes a minimalist vibe and famously used festive slides projected as décor one year!  We always create an iTunes 'winter' playlist of music for the season – this year we're loving One More Sleep by Leona Lewis, O Holy Night by Josh Grobin and December Will Be Magic Again by Kate Bush.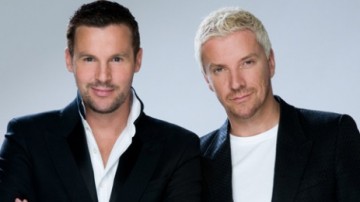 What did you ask Santa for this year?
Colin:  We've had the busiest year filming Colin & Justin's Cabin Pressure for the Cottage Life network (airs March 2014) so I want 3D Blu-rays of all the movies I've missed by being out of the city!  Superman, Star Trek and World War Z are all on the menu – underneath my European designer disguise lurks a real geek!
Justin: A trip home – we're heading back to Scotland to have a big family Christmas, a chance to get together with family honestly is the best present I could ask for, though we could do with a new Range Rover Sport!!!
What are your favourite host(ess) gifts OR Secret Santa gifts for the season?
We love to make Tablet – an old Scottish recipe for a kind of sugary hard fudge.  We make it in trays, leave it to set and cut it into cubes before clear bagging it and tying it with tartan ribbon.  Add a miniature of Scotch whisky and it's a perfect Colin & Justin slice of Scotland!
Um…YUM!!! BIG thanks for taking time out of your busy schedule, guys!!!
Happy Holidays!