When I had a "taste" of this new show a few weeks ago my heart was already pumping fast! It was obvious to everyone that this was a show worth paying attention to. Heartbeat of Home is the latest production from the creators of Riverdance.  Known for their  crowd-pleasing performances worldwide, this show offers more excitement than ever.
The show packs a punch with high-precision Irish dancing as you would expect from this elite group of performers…absolutely mesmerizing to watch them in complete unison. But you'll also be treated to stunning dance styles including Afro-Cuban, Latin, and street influenced. Equally as breath-taking and hypnotic to watch.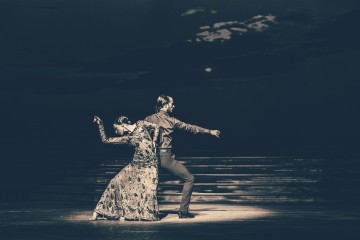 The incredibly chiselled bodies of the Afro-Cuban dancers Teneisha Bonner, Renako McDonald and Kieran Donovan beautifully display storytelling choreography. Flamenco dancers Rocio Montoya and Stefano Domit are incredibly moving and powerful dancers. While Latin dancers Clare Craze, Curtis Angus, Vanessa Guevara and Angelo Gioffre heats up the stage like no one's business!
This show is created by John McColgan and Moya Doherty who are clever to incorporate the traditional Irish dancing with other international flavours to bring something truly special. The scenes highlighted individual styles of dance and at other times blended a few together. I was curious as to how it would all unfold after having a sneak peek a few weeks ago. It's nothing like I've ever seen before! The most incredible mash-up final scene showed complete respect of all styles working well together. Truly spectacular to see!
The music also keep you spell-bound with the hauntingly cool Celtic voices and then makes flips you around and groove to the sizzling hot Latin vibes! Vocalist Lucia Evans gives a stunning performance of Lead Me Home and then makes you want to get up and mambo.  Percussionist Robbie Harris is a real crowd-pleasing treat on his Bodhran. You'll see!
I'm thinking I'll go back to see this again before it continues on its North American tour.  I love watching the performers not only for their incredible dancing but also because they looked like they were having so much fun! Every dancer so incredibly strong — you just can't take your eyes off them!
Heartbeat of Home is now playing its North American Premiere at the Ed Mirvish Theatre in Toronto until March 2, 2014. For more tickets visit www.mirvish.com
Check this out – the story behind the show!
[youtube id="AIWo0Sz-dzw"]