It's amazing to see how television shows are evolving with the times. The "nuclear" family is suddenly not the norm and it's super that film and television are reflecting that. For me, Grace and Frankie—the latest original series—is breaking every mold out there and questions what is considered a normal family these days.
In this series, we're greeted with 'The End' an introduction that launches with two older couples who are friends as well as business partners. Stellar casting of seasoned actors Jane Fonda, Lily Tomlin, Martin Sheen and Sam Waterston gives us a surprising beginning to the most interesting character profiles. Never would the couples imagine the twist of relationships after both couples being married  with their partners for over 20 years and all in their 70s. Then the women Grace and Frankie, find themselves facing a change they would have never expected. Both husbands have announced that they've been having extra-marital affairs and would like to leave their wives to begin a new chapter of their lives… with each other.
I've seen the first episode and will keep digging further as it's definitely caught my attention. And I mean, when you've got Marta Kauffman—the brilliant writer of Friends—as one of the creators, you know it's worth watching.
Here's the trailer…
Here are some of my other favourite on-screen families, in case you're looking for something a little more retro or a little more fun!
My Three Sons (or was it Leave it to Beaver?) still has me hearing "just wait till your father comes home"
Gone are the days of All in the Family where Archie Bunker, who after a day of work, expected his wife to come running to great him at the door and fawn over him as he relaxes on his iconic chair.
The Brady Bunch was something unique for me as a child seeing two divorced families (and tons of kids) unite.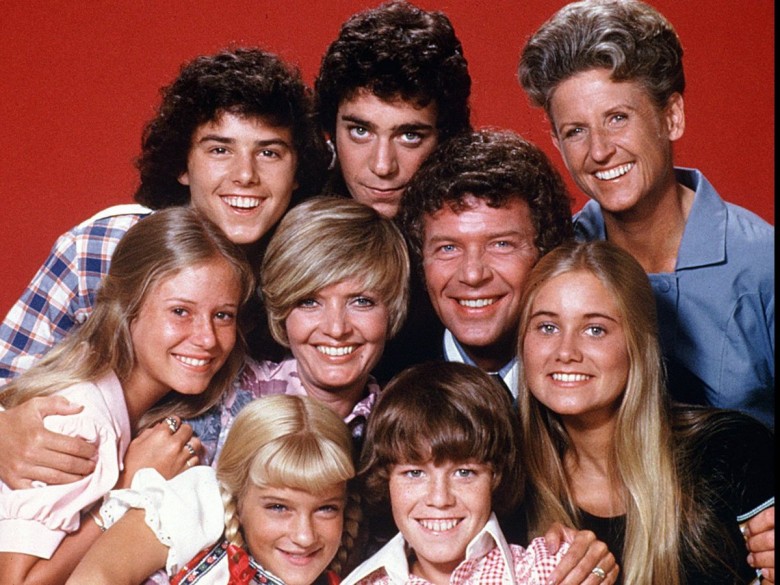 Who's the Boss? featured a single mom with kids and a 'manny' that was an interesting twist of roles.
Family Ties gave us the Keatons with both parents working while raising three kids.
Full House not only set the Olsen twins to stardom but it was about a widowed father of three girls who called upon his "village" to help raise his kids. This included his best friend and brother-in-law.
I was fixated on Gilmore Girls for it's fast-pace dialogue right from the start. The show was about a single mom raising her daughter alone. Rebellious mom comes from a well-heeled family but she was determined to show her daughter that there was more to life than big city expectations.
Modern Family features three different, but related families, in this mockumentary style show. That is, fictional events are presented in a documentary style to create a parody (thank you Wikipedia). It zig-zags in all different directions with storylines that are familiar yet somewhat different.
What other family sitcoms come to mind? I may need to see what Netflix has on its roster for memory's sake!