Did you notice the Google logo doodle yet? The sea telescope logo creation was announced as the winning entry created by Cindy Tang, a 17 year old student from Ontario!
Google Canada recently hosted "Doodle4Google", the first-ever national competition designed to inspire students to get creative with the Google logo using the theme  "If I could invent anything, I would invent…"
Google Canada received thousands of submissions by students across the country  ranging from kindergarten to grade 12. Nearly 200,000 public votes helped determine the regional finalists. The top finalists, and their families, were flown to Toronto for the announcement yesterday at the Royal Ontario Museum.
Premier Kathleen Wynn, along with Chris O'Neill, Managing Director of Google Canada announced the National Prize Winner and presented Cindy Tang the National Prize for her illustration.
"The ideas and the quality of artwork is really amazing. If you look at the entries from the finalists you can see just how creative the kids are," said Chris O'Neill. "We'll have a different theme every year but we want to keep it expansive to inspire creativity and curiousity."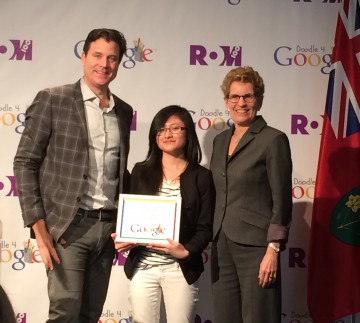 Cindy's winning doodle will be featured on the Google Canada homepage today (February 26, 2014) . Cindy will also receive a $10,000 education scholarship, a HP Chromebook computer and a $10,000 grant for her school.
Cindy's winning doodle, along with 72 other competition finalists, will be on display at the Royal Ontario Museum (Toronto) until April 27, 2014. Visit www.rom.on.ca for more details.
Keep on doodling kids! Get ready for next year's competition!