Is your little one is starting Kindergarten this fall? I can remember vividly the first days of school for my kids. It was exciting times but I admit that we were also a bit nervous — all of us. We're experiencing all of this again as my nephew will be entering this stage. All of the same questions are running through our minds. Will he make friends? Play well with others? Will he be okay with so many other kids around? Will he be able to sit quietly when asked?  So, how are you preparing your child for this new chapter in life?
I've recently met with TVOkids to learn about Hi OPIE! a new kindergarten series created with The Jim Henson Creature Shop and the award-winning content creator marblemedia. The new live-action series is designed for preschoolers and kindergarteners with topics that centre around the social, emotional and intellectual adventures of Opie and his real kid friends.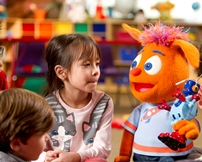 Opie, a new puppet created by The Jim Henson Creature Shop, is heading to kindergarten for the first time. Opie, who is "Four-and-a-half-and-three-quarters" years old, is in their classroom. Each episode, Opie introduces his classmates and takes us on their daily adventure. A relatable scenario is presented and we witness how each situation unfolds as Opie, and his friends, find a resolution while they learn through play, having fun, asking questions, experimenting and understanding one's actions.
With each new day, Opie learns more about himself, his friends and his teachers. His learning is done in a classroom much like the one your child will be in come September. Opie learns how actions, imagination and curiosity help him grow. At the same time, he experiences natural feelings of joy, fears, challenges and triumphs of kindergarten.
In the episode "A Special Show And Tell," Opie is excited to share what he brings from home, however, when circle time comes he's misplaced his prized possession. With the help of a friend, Opie discovers there's an even better  outcome. I'm not going to give it away, though. You'll have to see it for yourself!
Opie is very likeable and sweet — I found him adorable and ended up watching a few episodes. I'm looking forward to introducing my nephew to Opie. I'll be curious to see how he relates in the coming weeks as he settles into school.
The series officially launches on TVO September 1, 2014 airing daily Monday to Friday at 10:30 am and 1:15 pm. You can get a sneak peek with advance episodes on tvokids.com from August 18-22 and on TVO August 26 at 7:00 am and 12:00 pm ET, August 29 at 7:00 am ET.
In addition, families are invited to join Opie in his virtual interactive classroom at tvokids.com/games/hiopie
Here's the official trailer!