It may be the only time you'll hear me say to my 10-year-old that it's okay to get inked! And all because of the latest game release from Nintendo!
Splatoon for Wii U is making a big splash in gaming news lately when it comes to summer blockbuster releases. Why we love it? It's a colourful world where players (Inklings) can transform into squid characters (and back again) in this fun and fast paced game. You'll want to ink everything in sight! We've had  a couple weeks of testing it out and it's been a solid hit in our household.
Think water guns only you're out to cover everything in sight with your colourful ink. Run, jump and race around to look for challenges all the while covering as much territory as possible. Sure you'll need to protect yourself from enemy inkers—after all, there's got to be some sort of challenge here! That's when your squid skills can really come in handy as you swim and slither your way through the scenarios. Being a squid offers a few other advantages: short cuts to get through tight spaces as well as the ability to camouflage in your own ink!
While you're an Inkling and completing missions, you're earning virtual coins to use for additional weapons and clothes that come with special powers. Take it a step further and add on an amiibo where you can unlock more challenges and access exclusive gear for your Inkling (access through the Wii U GamePad controller).
Players can join in teams for a 4 vs 4 turf war mode in online battles. While I admit to keeping parental controls on at all times, we venture into online battles together. Definitely gave the game another level of fun being part of team.
"When I first played it at E3, I got so sucked into the turf war because it's so exciting but when you play local battles in Dojo, it really becomes a heated battle and I got pretty competitive," said Heather Potter,  Nintendo Canada Spokesperson. "Splatoon gives the best of both worlds of online and one on one playing locally with just your friends or on your own."
So, what about safety concerns online?  "Splatoon has a fun feature to go online on turf wars with others but parents and kids can feel safe because in this game there is no voice chat. Kids can feel safe going online and parents won't have concerns about their kids chatting with strangers. It  doesn't affect the fun aspects of the game but gives parents piece of mind and we're committed to family-friendly gaming," said Potter.
And what does my 10 year old (and his buddies) think? They LOVE the game – the colours, the fun of just inking everything in sight. After three weeks of playing the game, he and his friends are STILL loving it! "I like being a kid then turning in to a squid! And I like squids! I love that I can also be part of a team and play online. That's something I haven't actually done before but it looks pretty safe. I saw Viktoria on there and I know her! That's cool to play with her!" He also loved the customized gear and discovering what extra powers come with each piece.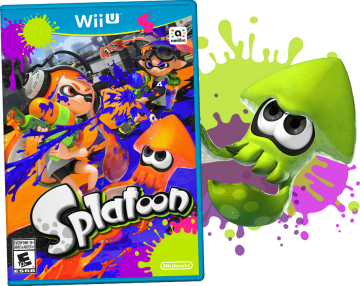 Recently the launch kicked off with a stop over at the Toronto Eaton Centre and Place Montreal Trust where the water in the main fountain was turned orange. The Splatoon team is going on a cross-country tour at various events. You'll want to keep an eye on the Nintendo Canada Facebook page for updates.
Also, Yogurty's Froyo and Yogen Fruz is offering Splatoon inspired flavours all summer long that includes flavours Squidsicle a dairy-free mango popsicle sorbet and Inkberry, a probiotic low-fat strawberry frozen yogurt… and popping bubbles! Starting on June 15, various Yogurty's locations across the country  will give customers a chance to play Splatoon while enjoying their froyo!
Nintendo Splatoon for Wii U is now available through Nintendo eShop or in stores. Rated E for everyone ages 10+