I recently overheard  my 10 year old talk to his friend about the new  Super Smash Bros. and how he was hoping to get it. WAIT? What? He's not the type of kid that would ask for anything. He'll eyeball and take note for a special occasions but he's been good at not asking for anything. So, when I heard his excitement over the new game, my ears perked up and asked him what's up, he responded with "it's gonna be huge!!!" This game is already a worldwide sensation now jammed packed into a portable version for the Nintendo 3DS.
So, the game arrived and not only did it excite my own kid (and his friends — endless playdates here I tell ya!) but I just found out that the first ever portable installment of the game has sold more than 2.8 million worldwide! While you may be familiar with iconic characters like Mario, Pikachu, Kirby, Sonic and Samus, there are also some new faces like Little Mac from the Punch-Out! Series.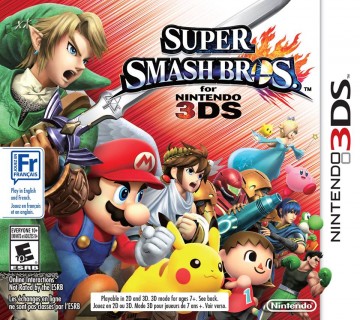 Super Smash Bros. for Nintendo 3DS just entered the market last week and we've been having a lot of fun discovering new characters and unlocking new stages, arenas and powers. There are 39 characters and an additional 12 that are kept secrets within the game. It's mind-boggling! We're still discovering them as the kid continues to play along. It's been two weeks now since we've received the game and the longevity of this game is serious.
Even though this version is a hand-held game, there's nothing small about it. The game features an astonishing amount of modes, ranging from multiplayer battles that can be played locally or online* for players with a wireless broadband Internet connection, to a wide-reaching variety of single-player experiences. Some of the modes in the game include:
Smash: This classic mode players battle it out as they try their best to launch opponents off the screen in a wide variety of stages from the worlds. Players can adjust the rules for each battle to their liking, such as setting a time limit or limiting the available items. Multiplayer modes require multiple games and systems, which are sold separately.
Smash Run: A new mode exclusive to the Nintendo 3DS version of the game, Smash Run gives up to four players five minutes to fight solo through a huge battlefield while taking down recognizable enemies from almost every major Nintendo franchise, as well as select third-party games. Defeated enemies leave behind power-ups to collect, which can be used in a final, no-holds-barred battle between players once the five-minute time limit is up.
Challenge: By completing a series of set challenges on a grid, players can unlock new stages, items and trophies.
Classic: This single-player mode finds players battling characters from various series along a branching map. Virtual gold collected in the game can be spent to increase the challenge level, raising intensity and rewarding victorious players with better in-game prizes.
All-Star: Players battle classic video game characters in chronological order based on the year they were introduced to the world in this smashing trip down memory lane.
Stadium: Composed of the Target Blast, Multi-Man Smash and Home-Run Contest mini-games, this collection of single-player games tests how well players know each character to achieve specific game-play goals.
Training: Want to test out a character's moves away from the hectic battlefield? Training mode is the perfect place to hone a character's skills and master special moves.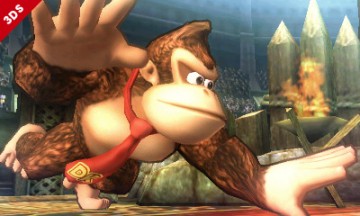 For the first time in the Super Smash Bros. series, players can customize their fighters' special moves, while also using collected badges to adjust stats like strength, defense, agility and speed. The game's deep customization also includes creating personalized Mii characters to use in battle. These Mii characters come in three different types: Brawler, Swordfighter and Gunner, each possessing his or her own move sets and abilities. Players who amass a powerful collection of customized fighters can even transfer their customized characters to use in Super Smash Bros. for Wii U when the game launches in November.
So, what does the kid think now that he's been playing for a couple weeks? He says his favourite characters are Little Mac and Dark Pit because they have cool powers and specialities. "I love that Dark Pit can fly! But I love Little Mac's special power — grows really big and his powers increase. He's fun to use and he seems to always win battles. I don't know what Dark Pit's specialty is yet, there's so much to see and do! I need to find the floating symbol to break it and find out his special power."
What about the arenas? "There are so many arenas and when you play a new arena will unlock. Tortimer's Island is my favourite because the trees drop food —  and you need the food to heal and get stronger. I also really like sudden death battles that happen when there's a tie between the characters."
Any favourite power ups so far? "Pokemon Masterball is my favourite so far because it gives you another player on your team that's from Pokemon and he will battle with you against the others."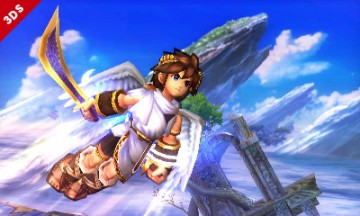 So does he love it? "YES!!!" and so do his friends. The portable version is a big hit with them!
There are several Super Smash Club Events planned across the country to celebrate this launch – some new dates have been added. Visit nintendo.ca/supersmashclub and bring your Nintendo 3DS to have some fun with other players!
Super Smash Bros. for the Nintendo 3DS can be purchased in stores or the Nintendo eShop on the Nintendo 3DS family of systems on October 3 at a suggested retail price of $44.99. Players who want to practice their skills before purchasing the game can try out a free demo for Super Smash Bros. for Nintendo 3DS, which is now available in the Nintendo eShop on Nintendo 3DS. A Nintendo Network ID is required to download the demo.
*Nintendo 3DS features parental controls that let adults manage the content their children can access.
By the way, Nintendo has also announced the launch date of the WiiU version of Super Smash Bros. in North America on November 21, just in time for the holiday season! In addition, the first wave of the interactive amiibo figures will launch the same day with twelve iconic Nintendo characters and additional six more figures set to launch in December.