It's not too early to start thinking about expanding your theatre options… and even start thinking about holiday gifts! Mirvish Productions recently unveiled it's 2014/2015 season and there are more than a few great options to consider. This season Mirvish has announced 7 main shows, 3 Off-Mirvish shows and 9 bonus shows. A subscription to this stellar season is worth looking into. Something I'm considering and then splitting up the tickets for gifts! Here's a quick overview of what to expect!
THE BOOK OF MORMON: Tickets now extended through November 30, 2014! Winner of nine Tony Awards and broke house records at their previous engagement in Toronto, the no-hold-barred musical from the creators of South Park is back and in full demand. The religious satire musical is a non-stop shocker that is highly entertaining and downright outrageous.
TITANIC The Musical: May 20 to June 21, 2015. The haunting tragedy of the great ship Titanic is transformed by composer and lyricist Maury Yeston (Nine, Grand Hotel) into a riveting musical in which the hopes and dreams of rich and poor, heroes and cowards, lovers and foes are woven together in a celebration of the human spirit. The score is beautiful from what I've heard already at the recent media preview. You're in for a treat! The original Broadway production won five Tony Awards, including Best Musical. Now, British director Thom Southerland's acclaimed reimagining will come direct from London for its North American premiere at the Princess of Wales Theatre.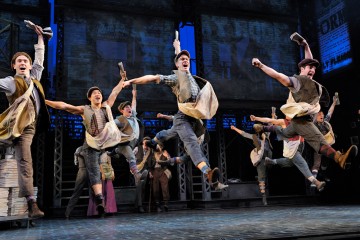 Disney's NEWSIES: July 8 to August 16, 2015. Based on the Disney Motion Picture Newsies. Direct from Broadway, the smash-hit new musical from Disney is a crowd pleaser. Based on true events, the musical tells the story of a band of underdogs who become unlikely heroes when they stand up to the most powerful men in New York. It's a tale of fighting for what's right..and staying true to who you are. This high-energy production of song and dance is one you don't want to miss! Winner of the 2012 Tony Awards for Best Score and Best Choreography.
ONCE: Performances begin February 10, 2015. Set in modern day Dublin, ONCE tells the story of Guy, an Irish musician who has given up on his music—and his love—and Girl, a Czech immigrant who inspires him to dream again. Over the course of one fateful week, their unexpected friendship and collaboration evolves into a powerful but complicated romance, heightened by the raw emotion of the songs they create together. ONCE is based on the 2007 Academy Award-winning film of the same name. The production won eight Tony Awards, including Best Musical. Two young actors from the Stratford Festival will star in the two coveted leading roles. IAN LAKE will star as Guy and TRISH LINDSTRÖM as Girl in the all-Canadian cast for the new Toronto production. Having seen the most recent production, you'll fall easily into a warm comfort zone with this  beautiful story. The song Falling Slowly is on repeat for those days I just want to chill.
BLITHE SPIRIT: February 10 to March 15, 2015. Following the internationally acclaimed production with sold-out engagements on Broadway and London's West End, television legend, Oscar recipient and five-time Tony Award®-winner Angela Lansbury returns to the stage in an exciting North American tour of Noël Coward's smash-hit comedic play, BLITHE SPIRIT. It is one of Noël Coward's most popular comedies and was first seen on Broadway in 1941. While researching for his new novel, Charles Condomine invites the implausible medium Madame Arcati to his house for a séance. While consumed in a trance, Madame Arcati unwittingly summons the ghost of Charles' dead wife Elvira. Appearing only to Charles, Elvira soon makes a play to reclaim her husband, much to the chagrin of Charles' new wife Ruth. One husband, two feuding wives and a whisper of mischief in the air.
KINKY BOOTS: Begins June 24, 2015. Broadway's high-heeled hit! KINKY BOOTS tells the story of Charlie, who has inherited his father's nearly bankrupt shoe factory. Trying to save his family business, he finds inspiration—and much more—in the form of Lola, a fabulous entertainer in need of some sturdy stilettos. With direction and Tony®-winning choreography by Jerry Mitchell, a book by four-time Tony® winner Harvey Fierstein and a score by Cyndi Lauper, this red-hot musical smash has sold-out audiences dancing—and strutting—in the aisles every night! Winner of six Tony® awards including Best Musical and Best Score!
THE HEART OF ROBIN HOOD: December 23, 2014 to March 2015. Playwright David Farr and director Gisli Örn Gardarsson have reimagined the folklore to create an intelligent and inventive new legend all their own. In this spectacular rendition of the fabled tale, Robin and his very unmerry gang of cutthroats may steal from the rich, but it's never occurred to them to give anything back to anyone! But, as the wicked Prince John threatens all, bold Marion steps up to protect the poor… and convert the thuggish Robin from outlaw to hero. Originally commissioned by Britain's Royal Shakespeare Company, this production of this 2013 U.K. hit is filled with magic, adventure, romance, laughter and music performed by the acclaimed group Parsonsfield.
ARCADIA: November 4 to December 14, 2014. It's a mystery wrapped in a love story, wrapped in a scandal. In its unraveling, the play zigs and zags from mathematics to poetry, from sex to gardening! It's a time and mind-bending roller-coaster ride that is also one of Tom Stoppard's funniest and most moving plays that's been hailed as a masterpiece.
DAME EDNA'S GLORIOUS GOODBYE- THE FAREWELL TOUR: April 9 to 19, 2015. Okay possums, if you haven't seen the delighful Dame Edna IRL you've got to clear your calendar. In this side-splitting historical finale, Dame Edna Everage is finishing her career spanning 50 years in this farewell celebratory show touring around the world…but she's not going out gracefully. No one is safe from her sharp tongue.
JULIE MADLY DEEPLY (The Best of the Edinburgh Festival): September 30 to October 19, 2014. Adored by millions, Dame Julie Andrews is a genuine legend of showbiz around the globe. This charming and cheeky musical show features songs from The Sound Of Music, My Fair Lady, Mary Poppins, Victor/Victoria and many more. Julie's incredible career is celebrated by a true super-fan: the award-winning singer, West End actress and international cabaret star Sarah-Louise Young, who has been named by Time Out as one of London's Top Ten cabaret performers. The brilliant songs are linked by stories and anecdotes about Andrews' own life, from her beginnings as a child star to the recent challenges of losing her famous singing voice. What emerges is a delightfully funny and candid love letter to a true show business survivor.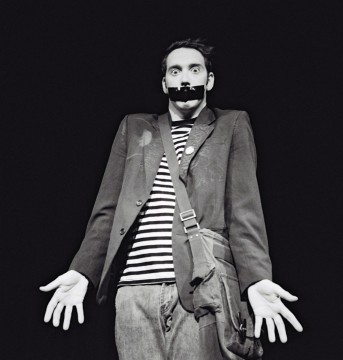 THE BOY WITH TAPE ON HIS FACE (The Best of the Edinburgh Festival): September 30 to October 19, 2014 (in rep with Julie Madly Deeply). This unique silent comedy phenomenon has won standing ovations across the globe, including a sold-out season in London's West End and playing for the Queen as part of the esteemed Royal Variety Performance. 'The Boy' is New Zealand's Sam Wills, whose piercing blue eyes stare out above a mouth that remains firmly sealed with gaffer tape throughout the show. Everyday objects are put to incredible new uses, with the help of genius slapstick imagination and a brilliant popular soundtrack. Each carefully prepared scene builds suspense until its hilarious and unpredictable climax… sometimes with the help of audience volunteers! In The Boy's world of possibilities, the only certainty is laughter. This is a blend of stand-up comedy with no talking, drama with no dialogue, and punch lines without words.
JERSEY BOYS: December 17, 2014 to January 4, 2015. This is the true story of how four blue-collar kids became one of the greatest successes in pop music history. They wrote their own songs, invented their own sounds and sold 175 million records worldwide—all before they were 30! JERSEY BOYS features their hit songs "Sherry," "Big Girls Don't Cry," "Rag Doll," "Oh What a Night" and "Can't Take My Eyes Off You." Richard Ouzounian, of The Toronto Star, says "You'll cheer in your seats! This is the real thing". The JERSEY BOYS creative team comprises two-time Tony Award®-winning director and Toronto native Des McAnuff, book writers Marshall Brickman and Rick Elice, composer Bob Gaudio, lyricist Bob Crewe and choreographer Sergio Trujillo, another Toronto native. JERSEY BOYS is a musical that both sets of grandparents in our family have really enjoyed. It's up there on the list of musicals that has great appeal to all ages.
DONNY & MARIE: A BROADWAY CHRISTMAS: December 9 to 21, 2014. As a young child, I can remember my mom tuning into the Donny & Marie show and singing along. The sister and brother duo entered into our living rooms and made everyone laugh and smile. In the holiday tradition of the "Osmond Family Christmas" television specials, the legendary Donny and Marie  celebrates the spirit of the season. With a dash of Christmas spirit and their trademark show-stopping production numbers, the show features Christmas songs and cheer plus hits from their illustrious careers.This wildly popular Christmas blockbuster, has been seen by more than 125,000 fans on Broadway, in Chicago, Los Angeles and across the country.  Entertainment Weekly raved: "INSANELY ENTERTAINING. A song and dance spectacular."
BLADES ON STAGE: A Broadway Holiday Spectacular on Ice. December 24, 2014 to January 4, 2015. Canada's finest skating artists are being brought from the ice rinks into the legitimate theatre. Elvis Stojko, Shae-Lynn Bourne, Violetta Afansieva & Pete Dack are among those who will star in this brand new show specifically created for the Princess of Wales Theatre. The massive stage of this state-of-the-art theatre will be frozen to allow these world champions and Olympians to present their moves to an audience of a real theatre. They will be interpreting many of the standards of musical theatre, with a few holiday favourites thrown in.
It's also worth checking out the OFF-MIRVISH Series. For more information on the upcoming Mirvish season visit mirvish.com