What better way to kick off the summer season than a trip to one of the world's award-winning wine regions. The vineyards of Niagara-on-the-Lake will host the inaugural Niagara Integrated Film Festival (NIFF) June 19 to 22, 2014. Wine, food and film pairings bring a unique perspective to this festival that includes film industry guests (actors and directors), cineophiles and wine lovers alike.
Highlighting the world-class epicurean wonders of Niagara, NIFF will take full advantage of its unique location with two special programs. Film Feast is a gourmet wine tour meets short film festival mash-up where fine wines and hors d'oeuvres will be served in Canada's Not Short on Talent program. Filmalicious is a sublime dinner and a movie experience, where guests will enjoy dinner accompanied by a top selection of wines, and finished off with a feature film, at one of the Region's top wineries.
In Niagara Rises, a special program showcasing home-grown Niagara filmmakers, Mike Enns will kick off the world première of his documentary Restrung, NIFF's opening night film. Mike Enns is a filmmaker who focusses on "stories with soul". He embraces the discovery process and enjoys the imperfections and surprises of each project that he documents.
I had a chance to speak with Mike Enns recently at NIFF's press conference.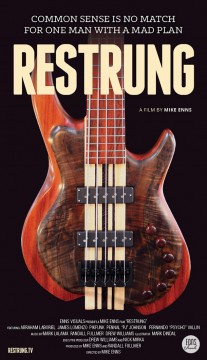 What is RESTRUNG all about?
Mike: It's about an artist, Randall Fullmer, from L.A. who started working as an animator and worked his way up to be a producer of films like Emperor's New Groove and Chicken Little. After 18 years at Disney he found himself being quite removed from being an artist. So, instead of signing up for another animated feature film, he decided to to go back to his roots of woodworking and making bass guitars. Within about a year of that transition his basses really took off.
That's really cool, are there any people we may know that use his basses?
Mike: Oh yes, some of the best gospel and R&B base players started playing with them. Actually Abraham Laboriel, who is one of the most recorded base players of all time supports him. Before he knew it he was in high demand and now there's a waiting list of over a year to get one of his bass'.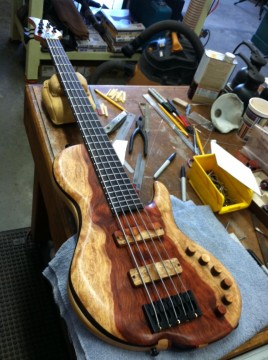 How did you get the chance to actually meet Fullmar and speak to him about his life and process?
Mike: Well, actually I'm a bass player so I found out about Randall at a music convention in Anaheim and I know my gear. All of the sudden I saw his booth and I had never heard of wooden bass guitars. I was first blown away by the beauty of the wood  and the artist nature of it. But then I didn't even have the guts to go into the booth to pick up a base because I saw some of the bass players in the booth who were ridiculously good!
Eventually you met him and what happened?
Mike: So, I met him and he was the most humble, understated person ever and we just became friends. Then over the course of a year we chatted back and forth but then I had another opportunity to go back to film a different documentary. While I was in town filming I would drive down to L.A. from where I was filming to meet with Randall and this process started. It eventually turned out to be a full length feature documentary.
This film festival is the first one of it's kind for Niagara, why did you choose to première your film here?
Mike: When I made this film I had no idea what I was going to do with it. I got a call from Bill Marshall, (Founder  of the Toronto International Film Festival – TIFF) who had said he had seen the trailer and had asked if I would be interested in being a part of this festival and it snowballed from there.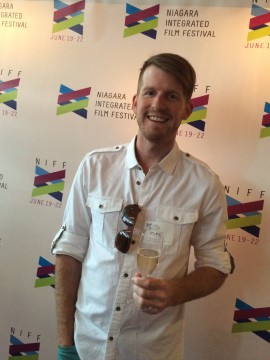 You're from the Niagara area, right?
Mike: Yes, I am! Born and raised in St. Catherines so if you've factor in this film festival and the perfect season, it's absolutely amazing! So many of my friends, who are also filmmakers, know that is difficult to make a living in this industry especially living in St. Catherines. Toronto and Vancouver are bigger markets but I have pretty deep roots here in St. Catherines but this festival is a great venue for us in the arts and to show that there's a pretty big scene here — it's totally awesome!
The Niagara Integrated Film Festival is founded by Bill Marshall (Founder and Chair Emeritus of Toronto International Film Festival – TIFF). The festival will feature World Premieres, North American Premieres and Canadian Premieres and has something for everyone. Including kids! Visit the complete listing of films and events at www.niagarafilmfest.com