If you and your kids are fans of smash hit Family Channel television show The Next Step, you definitely don't want to miss this opportunity to see the dancers in person and on stage. We had a chance to catch the show during their two-day stop in Toronto recently and what a fun show!  The show is currently on at 21-city national tour as they lead up to the show's premiere of Season 3 this March.
The Next Step is a dance drama show on the Family Channel that follows the lives of a group of elite dancers as they pursue their dreams to win the national dance titles.
The Next Step Live on Stage tour stars cast members Victoria Baldesarra ( Michelle); Brittany Raymond (Riley); Trevor Tordjman (James); Jordan Clark (Giselle); Lamar Johnston (West); Issac Lupien (Eldon); Jennie Papps (Chloe) and Taveeta Szymanowicz (Thalia). The stars wowed  kids and parents alike with some of their most popular group routines from the show as well as solos from each dance member.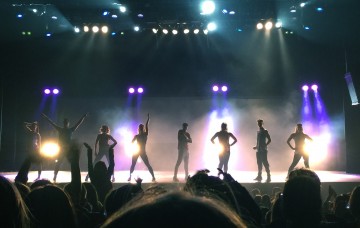 Cast members delighted the audience showcasing  variety of styles combining classical ballet and jazz moves with contemporary dance and hip hop moves. Many of the dancers also blended in breathtaking acro-dance moves that had the crowd screaming! Each member of the cast also has a moment in the spotlight to share a little bit about themselves. We learned about how each member grew up, what inspired them  and what their favourite dance moves. We were surprised at what Lamar's (aka West) favourite dance style is! Great inspiration for aspiring dancers and gymnasts!
The show is an interactive dance experience for kids and families that showcases the stars' incredible talent and athletic abilities.  But don't think you're just sitting in your seat the whole time! The audience is taught a quick dance routine that has everyone up and moving! Hey, we learned how to "serve the pizza."
Nintendo Canada's fun interactive game Tomadachi Life (only for the Nintendo 3DS & 2DS systems) is the major sponsor for this Canadian tour – it's a fun game that evolves as your create your own customized island and Mii Characters. You can download a free demo version on Nintendo eShop to experience a bit of Tomodachi Life for yourself! It's very cute! 
Tickets and tour schedule of The Next Step Live On Stage is available at FAMILY.CA