Imagine living in a underground bunker for years and thinking that the only survivors from an apocalypse are those within your cult. Then you're suddenly discovered and, in an instant, the world has changed faster than you could ever imagine. That's the basis of the new Netflix Original comedy series Unbreakable Kimmy Schmidt that premieres on Friday, March 6th.
From the producers of "30 Rock"—Tina Fey and Robert Carlock—comes this hilarious show starring Ellie Kemper as Kimmy Schmidt, one of four women rescued from a doomsday cult. Kimmy decides to stay above ground and starts her life over as a nanny for a socialite in New York City. The show also stars Jane Krakowski and Tituss Burgess.
With only a positive outlook and a colourful backpack, Kimmy decides to reclaim  life in the big city. What happens is refreshing, funny and very optimistic. Kimmy Schmidt shows us that life begins when the world doesn't end.
So, what does Ellie Kemper think about her new role? We had a chance to ask!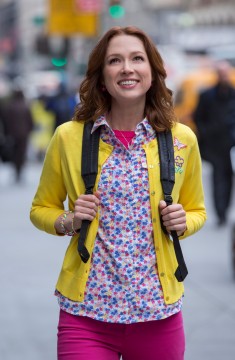 Who are you channelling when you play Kimmy?
One of the defining characteristics of Kimmy is that she's not jaded and I think that comes from being away from the world for 15 years. What you and I would take for granted is totally spectacular for Kimmy. I think there's a culture shock when you first come to a new place. Everything is shiny and new and spectacular so I tried to hold on to that novelty of that; that is the mentality that I'm channeling. She just sees the best in the situation but without being Polly-Anna about it. She's just trying to be realistic about it but she's genuinely enthusiastic about life.
We definitely know more about Kimmy's character than the others. What was tricky at first with Kimmy, is how she emerges and move forward. The story focuses on more of the post-cult experience so without dismissing what happened to Kimmy it's been inspiring to focus on what happens as you move forward rather than [stay] stuck in the past.
This potentially could be a sensitive issue with cult survivors. Were you wary about how this show shows a lighter side of things?
Yes, I was worried at the beginning when I heard the premise and I thought "This is a very serious subject". I wanted to make sure that it was treated in an appropriate way. But I knew that Tina Fey and Robert Carlock were writing it and they are geniuses and naturals in comedy. I also think the solution to tragedy is to not shy away from it but is to deal with it. Certainly nothing about this show makes light of the terrible things that have happened.
When researching your role, was there anything that surprised you about women who've been in these sort of situations in real life?
In reading about young women who have been kept in these cult like situations I think one common theme is their strength. The show theme is 'unbreakable' and that's what these women share. They are able to survive these oppressive circumstances unspeakably and horrible circumstances for sometimes years and to emerge and still have the strength to go forward in their lives.
What would you do if you rejoined society after being away for a long time?
One of the first things I would do is find out about my family. I'm pretty close to my family so I would feel very displaced if I didn't know what happened to them. The other thing I would also want to do, especially in New York City, is go for a nice long run in Central Park.
Do you and Kimmy share any similar qualities?
Over the course of the season I did find the character and I bleeding into each other—especially in wardrobe. I'd like to think that I have a piece of her optimism—I don't know that I always do but I hope in moments I have a sunny outlook on life. Kimmy does have a temper when she sees injustice or notices something to be wrong, she reacts with a short fuse. I think I share that.
What was it like to work with Tina Fey? 
When I started working with Tina, I felt very intimidated because she's Tina Fey. She's a cultural icon and I'm such a fan of hers. When I first met her and Robert I was extremely nervous. By the time we were filming and seeing her everyday I couldn't be nervous anymore because my body would have exploded. But they are just very smart and reasonable funny people. When you work with them everyday, you realize that it's such an incredible opportunity. I hate to sound cliche but it really was a dream come true to work with them.
Unbreakable Kimmy Schmidt premieres on Friday, March 6th and it's a Netflix Original Series. Get your popcorn ready! Another binge-worthy journey is about to start!
Here's the trailer….