I know what you're thinking. Donny and Marie Osmond? Yes, remember them? I certainly do! They are in Toronto with their annual Christmas Show bringing everything they've got. They're here until December 21st playing at the Princess of Wales Theatre and you should grab your tickets before it completely sells out.
As a child, I remember my mom turning on the television every time the Donny and Marie Show was on. It was a musical variety show (do we still have those?) that millions would tune into weekly. As far as pop culture is concerned, the brother and sister were followed by many fans here in North America for several years and they continue to wow crowds at their much loved show in Vegas. Their Christmas show is on the road for the holidays and brings back fond memories of my childhood. It's the perfect pick me up for the season… and it seems like we all need a little uplift with these grey skies.
Marie Osmond made her debut in the entertainment world at the age of three on the Andy Williams Show and won the hearts of people everywhere. Being the youngest Osmond (she had 8 brothers) and the only girl in the family, she entertained for decades as the youngest female host of a national television show, The Donny & Marie Show from 1976 to 1981. Her career includes more than 35 albums, as well as authoring best sellers including Behind the Smile and Might As Well Laugh About It Now. She's pretty much done it all including a finalist on season 5 of Dancing With The Stars.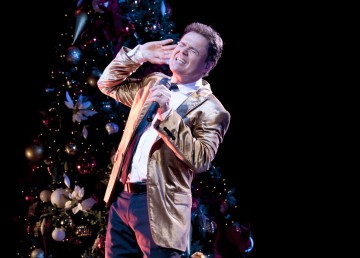 You think One Direction has fans? There are still women who don Donny's iconic purple everything. Donny's career spans five decades and he consistently proves why he's a legend on stage. He's been a singer, actor, variety show entertainer, host and best-selling author. He'll also proudly remind you that he was the winner of the 2009 season of Dancing With The Stars which he says "was one of the best moments of my life."
But you don't have to even know who Donny and Marie are. When we walked into the sold out theatre for opening night this week the energy was amazing. The core fans were there mixed in with new generations. Women were standing up with teddy bears and balloons (it was Donny's birthday) and men were there with all eyes on Marie. By the way, have you seen Marie lately?
Let's just say, they've both still got "it".
The show is all the glitz you would expect as Donny and Marie take us with them on this remarkable journey of their career. The show touches on all the best moments from their hit television show to music collaborations and Broadway moments. Yes, they did Broadway too! The show also brought special moments where Marie proved that she was more than just a little bit country, or rock and roll, with a beautiful operatic performance. Donny sang a few new songs from his soon to be released 60th album  titled "Story of My Life" (January 2015) and also snuck in a few of today's pop tunes that definitely surprised the younger crowd. Of course, it wouldn't be a Christmas extravaganza without singing along to some of our favourites holiday tunes.
In between their song and dance numbers the crowd fell in love all over again with their hilarious sibling banter. It's pure chemistry and as they take jabs at each other you can tell that they are seasoned entertainers. They know how to work the crowd and egg each other on just like how we do with our siblings. It definitely is pure family fun that is non-stop action from beginning to end.
If you think they've aged…well, of course. Duh. We all do! But they are doing it graciously and with a heck of a lot of fun!
Donny & Marie Christmas in Toronto is playing until December 21, 2014 at the Princess of Wales Theatre. For schedule and ticket information, visit mirvish.com