In theatres now, Big Hero 6 is the newest Disney Animation movie to grab our attention. And with 3 ten-year-old kids in tow to the advance screening  last week, I can assure you that this is one that you must see. The boys couldn't contain their excitement after seeing this movie. They are the true reviewers in my eyes—although I loved it as much as they did.
"It's so smart and funny," said Max.
"It's so cool!" said  Ilai.
"It looked a lot like San Francisco. We were just there! The movie is better than I expected!" said Tyler.
Set in futuristic San Fransokyo (yes, a blend of two great cities), Hiro Hamada and his brother, Tadashi, live with their Aunt Cass after their parents have died. Hiro loves video games and robotics and discovers that his skills can earn him street cred. Tadashi brings him to his college where the robotic inventions are beyond awe inspiring… okay, it's "Nerd School" but Hiro discovers a new way to direct his passion. But when a villain with a Kabuki mask appears, Hiro and his brother's friends set forth to form the unexpected superhero team to handle the villain.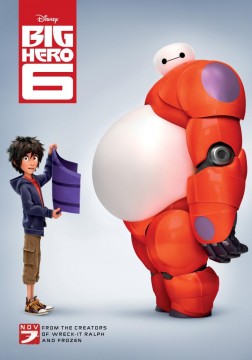 Big Hero 6 is everything youd expect from Disney—entertaining, age appropriate and fun with key lessons learned and incredible animation. I already know what's on the kid's want list for the holidays as he'`ll definitely be adding a few Big Hero 6 toys for sure! Okay, I admit I want that squishable, huggable, and puffy Baymax.
The 3D computer-animated film produced by Walt Disney Animation Studios was inspired by the Marvel Comic books and superhero team of the same name. You'll want to visit the official website for more fun stuff like photobombs with the loveable Baymax.
We were invited to the advanced screening by our friends at Subway Canada, who just rolled out a special kids sandwich pack to celebrate the launch of Big Hero 6… and yes, you'll want to check that out too. Each pack includes the limited-edition lunch tote bag and a trading card along with the customizable sandwich and cookie. Available while supplies last, in participating restaurants.