As parents, we will do everything in our power for our kids. So, when I grumble about the silliest, most minute things in life I am often pulled back into place and remind myself of the incredible families who have challenges beyond imagination.
I stopped everything I did the other day when I learned about Curtis Keller and his parents. When Curtis was three months old his parents learned that he had a hole in his heart and a torn valve. He was in the hospital for much of his early years and he needed a new heart. You can see the video here…
Now, I'm also often humbly reminded that this position offers the opportunity  to experience and share with our Urbanmoms readers. This past weekend, I was honoured to attend the David Foster Foundation Miracle Gala & Concert with long-time presenting partner TELUS.  Through their partnership, they are helping to support families with children undergoing life-saving organ transplants and providing the foundation with a platform to help spread the word about the importance of organ donation in Canada. This annual star-studded fundraising and awareness event raised $6.5 million in Toronto alone. That incredible amount raised will go towards the Foundation's 30 x 30 campaign, where they aim to raise $30 million by their 30th anniversary in 2017.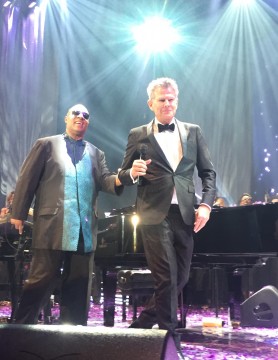 This year's Miracle Gala & Concert was a heart-warming evening with a great line-up of entertainers including David Foster, Stevie Wonder, Michael Bolton, Peter Cetera, Sinbad, and Kieza. David Foster surprised the 3000+ crowd with impromptu and very emotional moments with Ronnie Hawkins and Gordon Lightfoot. Former Prime Minister Brian Mulroney also bravely took to the microphone and sang. Who knew he could sing? He was actually pretty good!
Also spotted in the crowd were supporters including Ontario Premier Kathleen Wynne, Canadian Shoe Designer Ron White, fashion icons Joe Mimran and Kimberly Newport-Mimram, and Free the Children's Craig Kielburger.
The David Foster Foundation supports the non-medical expenses of families with children undergoing life-saving pediatric organ transplants so the families can concentrate on caring for their kids and not have to worry about daily expenses. Non-medical expenses range from mortgage, rent, and car payments to airline tickets, groceries, parking, and gas. The average cost to support one family for a year is $10,000, but total family support may reach upwards of $100,000. Often, families have to travel away from home and set up temporary housing close to one of the pediatric transplant hospitals in Canada. Since its inception in 1986, the Foundation has worked to assist 1,000 families across Canada.