There's a new theatre production that has caught my attention as a parent and theatre lover. WAITING ROOM by Diane Flacks (in collaboration with director Richard Greenblatt) is making its World Premiere at the Tarragon Theatre  in Toronto (January 14 to February 15, 2014). It's a powerful new drama about diagnosis, prognosis and the uncertain. The play takes an interesting look at what goes through the minds of parents who are forced to make decisions at hospitals for their children.
What are you willing to risk to save a life?
Despite the objections of his colleagues, a doctor embarks on a ground-breaking medical experiment. Meanwhile, a couple is unsure if said doctor really has the ability to save their baby. This is a play about life in the waiting room of a major children's hospital. It's also about medical compassion and risk—and hope.
I had the incredible opportunity to interview Diane about this new play.
This new show will definitely resonate with many of our readers as parents. What inspired you to go down this particular path?
It's not a path I would have chosen to go down had our family not had to deal with a medical crisis with our youngest son. You know, it's the club you don't want to join. That said, we were the lucky ones, for sure. We met extraordinary people and witnessed incendiary moments. As a writer, you can't help but want to share the insights that you gain in those times. I didn't set out to write this, it just sort of stayed with me. Plus I'm fascinated by brain science, like many of us are, so I wanted to set the play in the world of neuroscience so I could ask some questions about our identities. If our brains change, the essence of who we are, then who are we?
What have you learned about yourself through your family's medical difficulties?
One thing is that I always used to be an anxious mom, worried something might happen to my kids and very superstitious. The only thing that cured me of that was when something did happen and I realized that life can be very random, so there is really no point worrying. I know it sounds simple, but it was a hell of an epiphany.
What have you learned about medical field?
I think I've developed more compassion for doctors through the process of working on the play. I know that parents can become extremely fierce when their child is threatened and we want information from our doctors, but we can be critical of how the information is imparted and what information is given, and when. There may be reason for criticism, but I also felt, as we rehearsed the play and I watch the actors wrestle with the scenes, that the doctors are also only human and they can make mistakes. What can save a patient/doctor relationship, though, is when a doctor simply says, "I'm sorry" or "I don't know."
What are you hoping the audience will get out of the play?
I hope they'll also ask questions to do with medical compassion and risk. About end-of-life care, about how to intervene with a patient and when, and especially about relationships under crisis. Between parents, between parents and doctors and between doctors. I hope it will resonate with people who are going through a crisis or have gone through a crisis (which is most of us), and give voice to their experiences. I hope people will gain permission to laugh at dark times, too!
"Hope is the thing with feathers – That perches in the soul-  And sings the tune without the words – And never stops – At All." ~ Emily Dickenson
You've mentioned before that you're interested in how people cope in life and that's often worked into your plays. Did anything surprise you while working on this play?
Besides interviewing many people in the medical field, and other parents, I did a series of featured columns for the Star for almost three years called In the Thick of It about how ordinary people cope with the unexpected, when we slip on life's black ice. I was surprised by how much people use laughter to cope, and really how people care for each other.
How do you keep faith/hope?
Hm. Well, those are two different things in my book. Vaclav Havel says that hope is not optimism, the conviction that everything is going to turn out well. But it's the certainty that something somehow makes sense, no matter how it turns out. Hope to me is a persistent heartbeat. It can be painful to hope against hope, but I think it is in our nature. Faith is a belief in something spiritual beyond us. I don't have that, but I met many people who did and it was comforting for them. I always appreciated people saying that they would pray for our son, but when people said that we should pray for him, that made me angry. To me that's an imposition and an assumption that the rest of what I'm doing – advocating for him, researching, comforting – is not enough.
What is the hardest thing about being a parent?
Our director, Richard Greenblatt once said to me, "you're only as happy as your saddest child." Oy and vey. But it's kinda true.
What is the best thing about being a parent?
Have you met my kids?! They're glorious. Come ON! Best thing I've ever done.
Diane Flacks is been recognized for her four critically acclaimed solo shows – Myth Me, By a Thread, Random Acts and Bear With Me. She also received a Chalmers nominations for her collaborations with Richard Greenblatt in Sibs and Care. Diane has written for, and appeared on, numerous Canadian TV series including The Kids in the Hall (for which she was nominated for a writing Emmy) and is an ongoing parent columnist for major publications.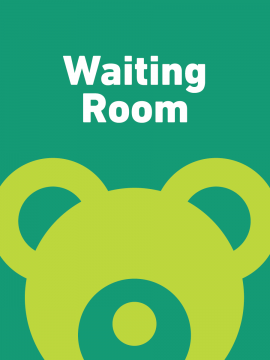 WAITING ROOM  (World Premiere) by Diane Flacks. Directed by Richard Greenblatt. Starring Ari Cohen, Michelle Monteith, Jordan Pettle, Warona Setshwaelo, Jane Spidell, Jenny Young.
January 14 to February 15, 2015
Tarragon Theatre, 30 Bridgman Avenue, Toronto.
Regular tickets: $42-$55
Rush Tickets available: $15 available subject to availability and in person at the Box Office two hours before show time.
For more information and tickets visit www.tarragontheatre.com