Eva Mendes breaks her silence! Two months after welcoming her baby girl with partner Ryan Gosling, Mendes finally opens up on what it's like to be a new mom to daughter Esmeralda Amada and why she decided to keep her pregnancy out of the public eye.
"Whether we like it or not, privacy is going to be very difficult for Esmeralda. I think it's unfair, but that's our reality," she told Violet Gray's digital magazine, The Violet Files. "Ryan and I decided early on to give her as much privacy as we could. And my pregnancy was the first opportunity to give her that," she explains.
Mendes hid her pregnancy so well, that the media only found out she was pregnant when she was seven months along. "I find the media's 'bump watch' obsession to be both intrusive and stressful. So I made a decision to eject myself from it completely. I was like, 'Annnnd I'm out.'"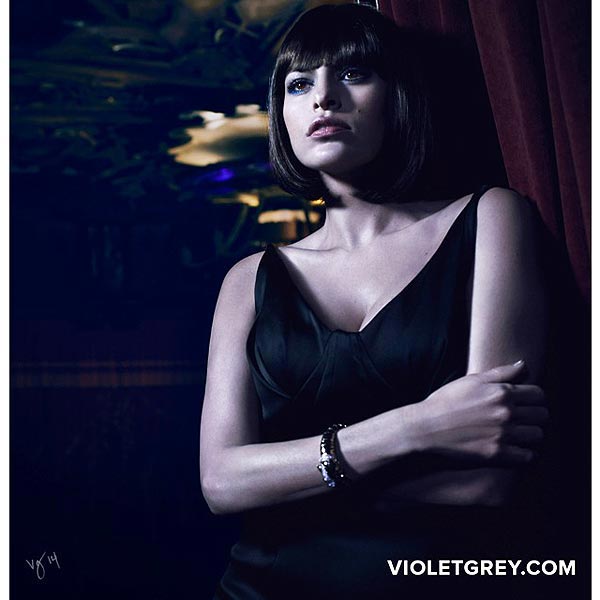 Mendes and Gosling welcomed their daughter back in September, naming her after the character Esmeralda from Victor Hugo's, The Hunchback of Notre Dame. "…We just think it's a beautiful name," Mendes explains. She adds that the name Amada, which means beloved in Spanish, was taken from her grandmother.
In her interview, the 40-year-old actress also talked about her transition into motherhood and how this new role has been quite the adventure for her.  "I'm completely exhausted," she says.  "I thought my wild nights were over but these are some of the wildest nights I've ever had."
Unlike many celebrities, Mendes decided not to hire a nanny, but says she hasn't completely ruled out the possibility of doing it in the future. For now, Mendes relies heavily on Emerelda's "two amazing grandmothers and incredible aunties" who like to come over and help when ever they can.
"For me that part of being a mother at this early stage is the struggle of not being able to sleep and not knowing what I'm doing and really going through it with her and battling out those nights," she says.
And when the struggles of being a new mom get a little too overwhelming, Mendes gets comfort from an unlikely source—parenting forums.
"I do go to [forums] and read the comment sections from other mothers because I find so much solace in that. Just knowing that I'm not alone out there and that other moms have gone through the same thing can at least get me through the night," she says.
Let's hope she checks out UrbanMoms some time, eh!
If you want to read Eva Mendes' full interview and check out her stunning photo shoot, head on over to The Violet Files.