We're excited to share the first big news about the upcoming We Day youth empowerment events in Toronto and Vancouver. Taking the stage this year is a cast of returning favourites and new faces, including Macklemore and Ryan Lewis, Hedley, Katie Couric, Joe Jonas, Shawn Mendes, Orlando Bloom, Big Sean, Her Majesty Queen Noor of Jordan, Kweku Mandela and Col. Chris Hadfield. Along with others, this star-studded lineup will join international activists and We Day co-founders, Craig and Marc Kielburger, to share their passion for change, international experiences, with performances and motivational speeches. We Day fan favourite actress and multi-platinum recording artist, Selena Gomez, will lead the crowd as the host for We Day Vancouver. We Day will be held in Toronto on October 2 and in Vancouver on October 22, 2014.
"Speaking at We Day California last spring was a truly life-changing experience," said actress, multi-platinum recording artist and UNICEF Goodwill Ambassador, Selena Gomez. "Sharing that moment with thousands of my peers left me feeling incredibly inspired – I believe that together we can actually make a difference in the world. I am so happy to be back and hosting We Day Vancouver this year."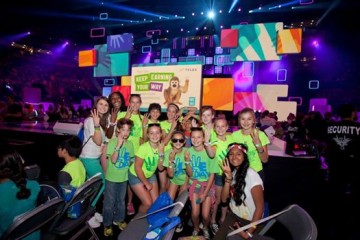 "Today's young people – the Me to We generation – have the power to create and lead real systemic change through We Day, a Canadian national celebration of service," said We Day co-founder, Craig Kielburger. "Over 200,000 students, coast to coast from 5,000 schools, earn their tickets to We Day by committing to take action on local and global causes they care about. They are truly moving the needle on some of today's most important issues."
We Day will bring together more than 40,000 students celebrating their commitment to taking action on local and global change. You can't buy a ticket to We Day — young people earn them by taking on one local and one global action. We Day provides a platform for youth to learn about some of today's pressing social issues, helping to inspire them to become leaders and global citizens and to take action on the issues most important to them. We Day is free of charge to the thousands of students and educators in attendance, thanks to sponsors RBC and TELUS.
The two events will be streamed live at www.mtv.ca/weday and taped for broadcast on MTV premiering Tuesday, November 11, 2014 at 7:00 p.m. ET and on CTV, Saturday, November 22 at 7 p.m. ET.
Having experienced We Day myself, I can only tell you that this day is extremely motivating and very emotional. The energy is overwhelming and my heart is full of hope for the future. My older son has earned his way to We Day and has also attended with me in the past, we've watched the TV broadcast and still talk about the experiences. My son would be quick to tell you, it's not just about the big Hollywood celebrities, but the people who have decided to make a difference in their lives and the lives of others, like Spencer West, they are the ones who have made a strong impact by sharing their personal stories at We  Day.
Here's just a quick look at what you can expect…