The 40th annual Toronto International Film Festival is well underway and while we're excited to catch a glimpse, or maybe a selfie, with a celebrity, there's so much that goes on away from the red carpet.
Like many celebrity studded events around the world, the stars often get gifted goodies. The Gifting Lounges offer them access to some neat stuff by local, national and even global brands. Each lounge has a theme from survival to welcome to the city.
We were fortunate enough to get a sneak peek at some of the best swag and to experience TIFF like a celebrity!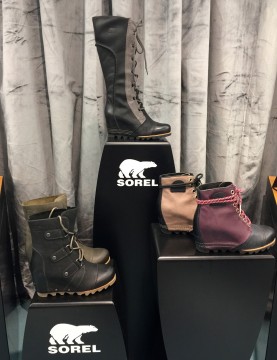 The popular #Tastemakers15 Lounge by Rock-it Promotions is in it's 11th season of hosting celebrities and TIFF industry reps. Wedged in-between the Variety Magazine and ET Canada's interview spaces, it's an ideal spot for celebrities to drop in. They're offered a makeup refresh with touch ups from Tweezerman and a stress relieving neck and back massage from Dr. Liza of The Fix Chiropractic & Massage. She mentioned that there were a few A-listers  that were just in prior to my visit—so technically, I've touched a few celebrities, right?
Guests of TIFF are invited into the space created by Toronto Interior Designer, Lisa Canning to discover some of the hottest Canadian and international brands while sipping on hand-crafted TIFF cocktails with Remy Cointreau, wine from Rhone Valley and home grown favourite Pommies Cider. Since it was unusually cool and raining last weekend, all eyes were on Sorel Footwear's fashionable fall line of shoes and introduction of super warm winter coats. A beautiful new Ayurvedic Organic beauty line, Sahajan, was introduced at this lounge. Elle Canada magazine was on site with photographer Luis Mora to capture stunning photos of celebrities. Visits to this lounge also meant support to the Sick Kids Foundation.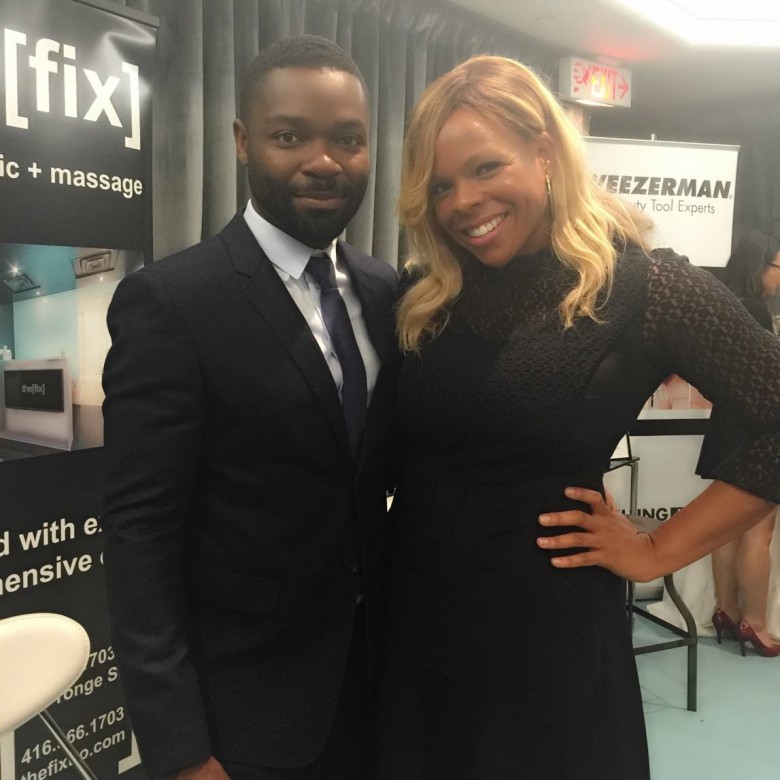 At the #BaskItStyle Lounge it's all about making yourself at home in our big city. The Gifting Lounge is set-up high up at the Private Estates at the Shangri-la Hotel with their gift bags brimming with thoughtful products and books for the expected TIFF A-list guests and their families including a pocket guide to Toronto from DK Publishers.
Underthings with the latest fabric technology are also offered here by Calvin Klein, Tommy Hilfiger, and Olga introduced the latest incredibly comfortable and flattering "No Side Effects Contour Underwire" Bra. The latest looks from Speedo were offered, in case any celebs wanted to take a dip in the hotel. Beautiful and understated jewellery designed by local Studio1098 included pieces from their Wishbone collection in support of CANFAR.
Neutrogena stocked the bags with wipes from the Naturals line and included the latest for night time skin recovery including a HydroBoost Gel Cream and Rapid Dark Circle Repair Eye and Healthy Instant Refiner. Novels found in the bag include Luckiest Girl Alive by Jessica Knoll, Free Days with George by Colin Campbell, and A Bedtime Story by L.C. Moon (with accompanying music CD). Of course there were also plenty of snacks including Green & Black Organic chocolate bars, Simply 7 Quinoa chips, Natur-a Soy beverages and much more. To round off the gift bag, a soft and plush Starlight Children's Foundation Teddy Bear is included for even the littlest TIFF guests.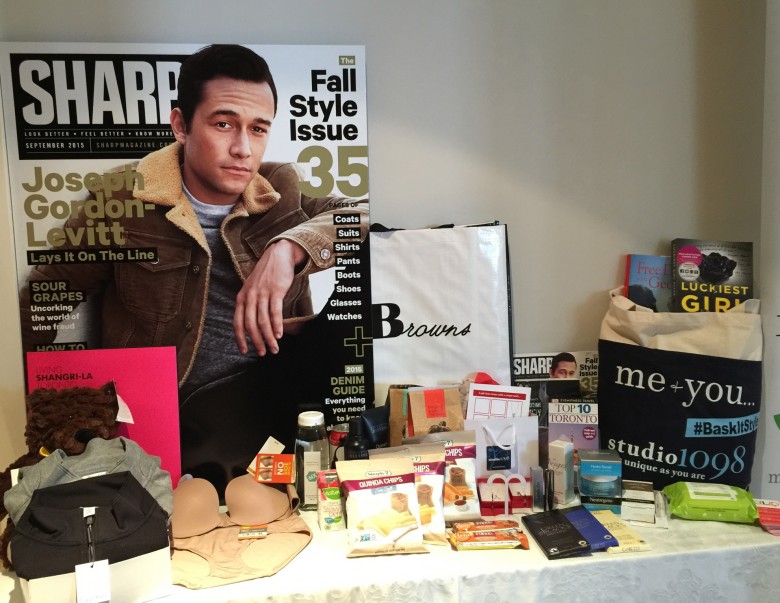 NKPR's IT Lounge celebrates its 10th anniversary and what makes this one stand out is they've partnered up with TIFF in its 40th anniversary with the Lounge located within the TIFF Bell Lightbox. As celebrities are ushered into the side entrance of the building for screenings and special events they are also invited into the IT Lounge.
This year, in partnership with W Magazine, Caitlin Cronenberg is on site to photograph each star in support of Artists for Peace and Justice. A peek inside on opening day already had celebrities visiting. While there, the talent can relax before their screenings or interviews and check out the latest in writing instruments from Cross Pens (FYI if you know someone who is a serious Star Wars fan, you'll want to check out their limited-edition pens).
They'll also be one of the first to check out TwentySix, a new fragrance created by NKPR president Natasha Koifman and Aromachology in support of Artists for Peace and Justice (available soon at The Bay with all profits going to the charity).
Talent who visit are invited to pick up the latest styles from international urban brand Tom Tailor  and get a hair touch up from one of our favourites, Goody. If they feel a little hungry, Barilla Pasta is there to offer a quick bite cooked on site by some of the city's favourite chefs from restaurants like Cibo Wine Bar. Then, the stars can calm their nerves before their film premieres or tackle headaches from all the screaming fans with Saje Wellness all-natural products.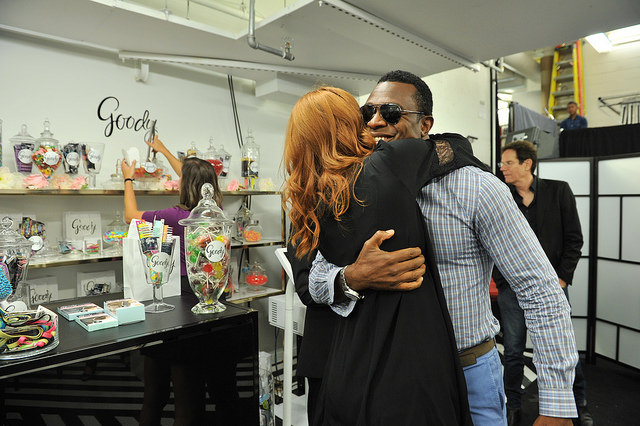 There are some lounges that are created for the media that descend on TIFF. The smart PR firm EGPR recognized 6 years ago that it's the media that tirelessly work the Festival at all hours and has created the #EssentialsLounge6ix. For someone like me, this lounge has offered useful items to keep me on-the-go. As
one of the few mom reporters on the circuit who attends and reviews screenings, interview actors and gets to experience the parties while juggling making lunches and getting the kids off to school, this lounge has me covered from head-to-toe each and every year!
A visit this year with SkinCeuticals offered mini facials; personalized fragrance bottles filled with Thierry Mugler Angel; and Saucony Original retro sneakers keep you super comfortable and stylish.
Knixwear offered their athletic seamless underwear for women, really an amazing line! Dior Cosmetics was on hand for any make up touch ups and offered tips of what's the best makeup to go from day to night during TIFF. The Dior Airflash CC Primer really stood out for me as an instant skin smoother that even works on top of make up for a quick refresher. On my way out the door I just couldn't resist grabbing a fresh Krispy Kreme donut (I'd almost forgotten just how good they are) and visited the Me.n.u Food truck for their famous rice balls.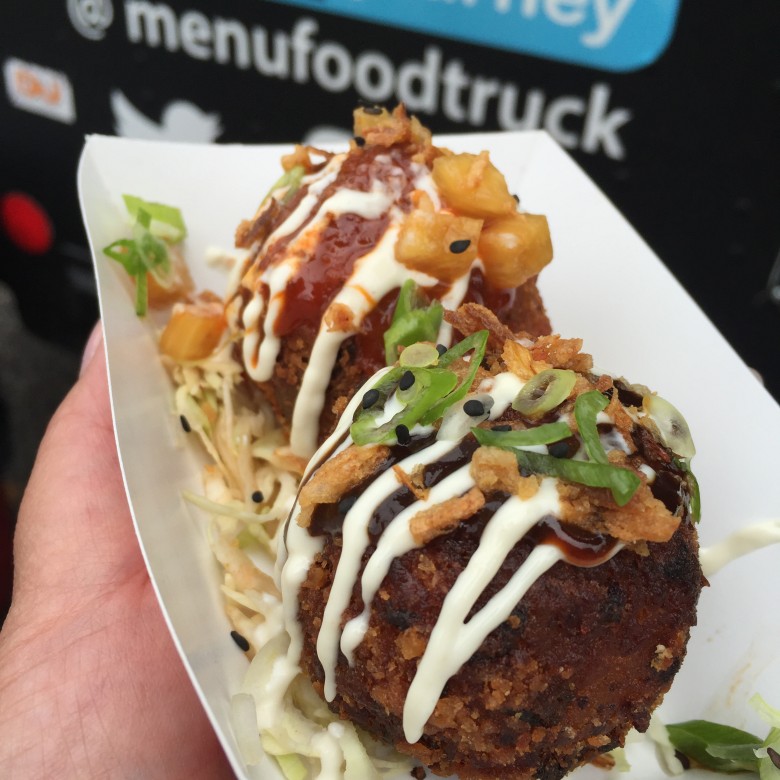 A lounge with a more exclusive feel, was Harbinger's #elevatedloungeTO by-appointment only lounge. A morning spent here meant all our beauty needs taken care of with a complete make up application starting with a fresh clean face with products from Simple Skincare (great for sensitive skin!) and beauty experts reapplying everything that was much better than the 2 minutes I spent prior to my visit. Want to have hair like the celebrities? Now I've learned a few tricks with Nexxus Haircare for hair styles that keep on going. They're known for their slogan "for hair that lives to move" and I've been moving all day long!  Pampering continued with Dr. Scholl's latest entry into the at home express pedi market with a great affordable Foot Smoother to get rid of rough patches.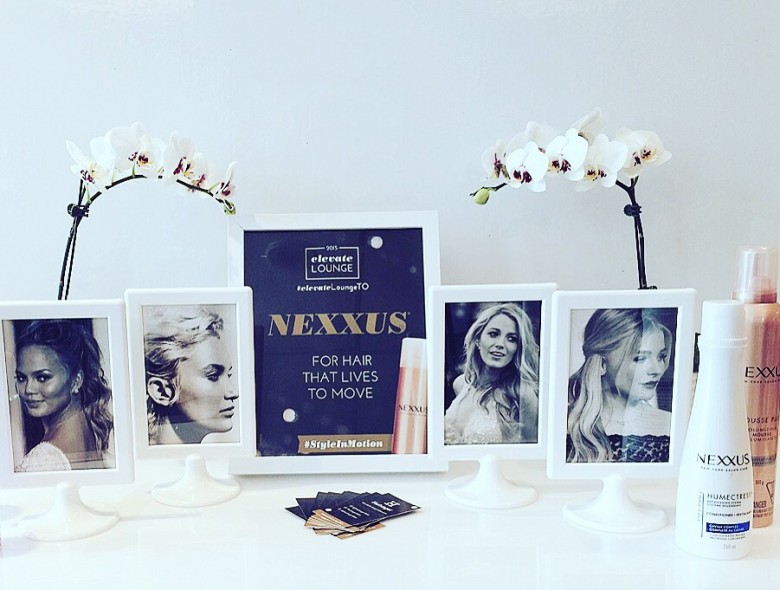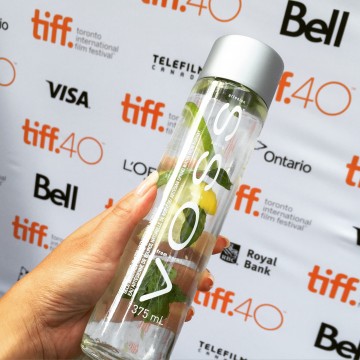 Then with the idea that beauty starts from the inside,  VOSS water offered guests fruit infused water to take away, while Gay Lea offered the latest tasty treat in it's new Nordica Smooth individual cottage cheese line (each one contains 10 grams of protein and 110 calories!) in sweet flavours like Salted Caramel and Vanilla Bean. But for those who want to go for it, Magnum ice cream has recently launched it's Double Peanut Butter and Chocolate bar, which was hard to pass up!
Thanks to the amazing TIFF15 Gifting Lounges for inviting us for a taste of the celebrity lifestyle! We can't wait to share our reviews of our absolute favourites with you over the coming months!