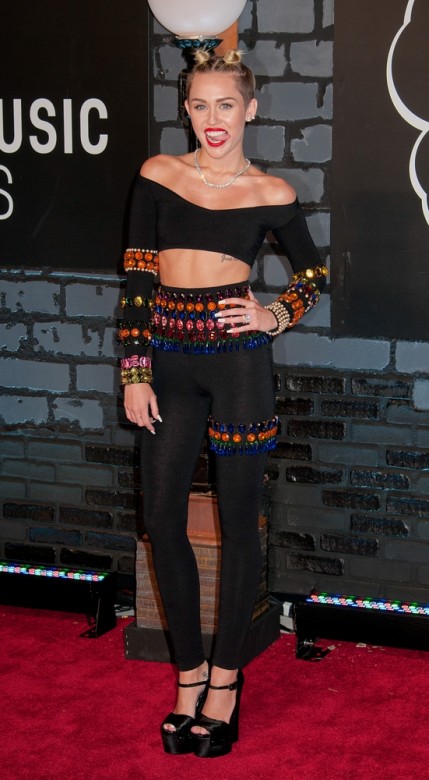 Hey Miley, it's Katya. We've not met (yet) but I caught your performance at the VMA's last night and I just HAD to write. No, no, it's not what you think. I'm not a disapproving mom telling you that you went overboard.  Not my style. Because I think I get it Miley.
First, I just wanted to congratulate you girl. Seriously…in a show which featured great performances by Katy Perry under a bridge and Lady Gaga delivering a seamless rendition of "Applause"  EVERYONE is talking about YOU!
What could be better? It went exactly according to plan. You showed up at the awards dressed like a bedazzled version of Olivia-Newton John at the end of Grease. Either that, or a confused female bullfighter. Take your pick.
It's hard for people to understand, but when you're a performer in the public eye, you compete with other performers on the red carpet. In your book Miley, there is no such thing as "trying too hard". You want to be sure YOUR photo gets out there to all the media the next day. It's sort of like being the popular kid, the Queen at your prom, right?  So I can imagine you and your stylists working for days to find just the "right" outfit to make just the right impact. Kudos to you and the team!
The highlight of course was the performance. Not one but two! You performed your hit "We Can't Stop" dressed impeccably in a sort of fuzzy one-piece bathing suit while twerking with life-sized teddy bears. And then for the second half of your performance, you stripped down even more! You had on this nude-coloured two-piece thing and sang "Blurred Lines" and dry humped Robin Thicke (who to me, eerily resembles your dad but with different hair). It had people squirming in their seats and tweeting how uncomfortable they were. Pure genius! Not only did it get Rihanna pointing at you, but it also got this reaction from the "first family of Hollywood":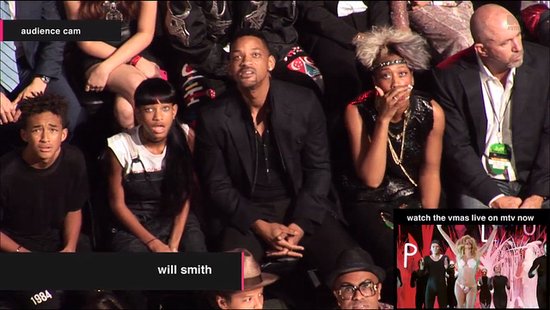 I know right??? Do the Smiths not know what "SEXY" is? They don't get it. But I do Miley, I totally do!!!
Don't they realize you've gone through puberty now and have curves and breasts? What's the point of having those if you can't show it all off? You're probably taking a web page out of Justin Bieber's Instagram, because he also doesn't like to wear clothes in public, now that he turned 19 and has muscles.
I also undestand you're trying to get at the one or two people out there who STILL fail to notice your transition from Disney's cute Hannah Montana to an "adult" performer (no, not THAT kind). I am sure they don't think of Hanna Montana anymore now that they see how all grown up you are and what a blossoming young woman you are becoming.
Today, people are asking "Miley…WTF?" or  "What are her  parents thinking?".  MTV said you won the 2103 Idiot of the Year award. But not me!  I know you don't care. You are famous, have a full-time job, tons of money and even a super-cute and famous fiancée! You are 20 years old and your net worth is likely more than that of your parents combined. Who are they to tell you what to do? Besides, they have their own marital problems to deal with and keep flipping their minds about whether they want to stay together or not. You make your own grown up decisions now so you know… thanks for caring, people, but you'll take it from here.
So a job well done Miley! You were the topic of the night and everyone knows you have breasts now, can do dry hump sexy moves with a daddy figure, stick your tongue out really well and can suck attention away from any other flamboyant performer out there.
So by now, you're probably wondering why I am writing to you. Well, I do have one question for you I can't seem to figure out, so totally need your help.
"When you do what you did last night, how do you keep upping yourself and at only 20, where do you go from here?"
Looking forward to finding out next year! Or maybe even sooner…