You guys, Victoria Beckham is just like us! Okay, well maybe not just like us, but in a new interview with Vogue Australia the artist formerly known as Posh Spice opened up about her life with her family and how she built what can only be described as a fashion empire.
Victoria talks about spending her weekends running errands and driving the kids around to their various activities, and how she actually likes doing the errands. "That's how our entire weekends are taken up really … A lot of people probably don't even notice me."
How could that even be possible, to not notice Victoria Beckham? Does she wear a disguise? Well, sort of.
"I'll dash around Marks & Spencer in my flat shoes, head down, with a shopping basket … Occasionally, at the checkout, a cashier will say: 'You look just like Victoria Beckham.'"
I guess you might be fooled if you saw a Victoria Beckham look-a-like not wearing heels!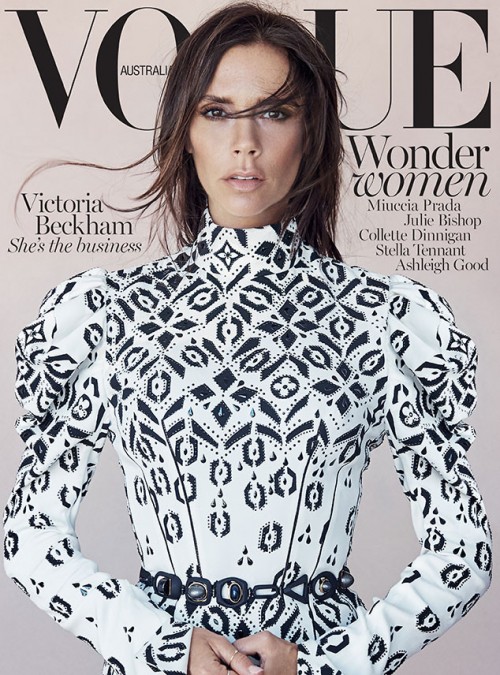 She also spoke about using her street cred to get her kids to fall in line every once and a while. "Sometimes when I'm screaming at them to do their homework or clean their teeth, I say, 'Mummy was a pop star once. Mummy was somewhat cool!'"
We have a feeling that doesn't work—even if your parents are the Beckhams, you probably don't think they are all that cool.
Finally, Victoria talked about her boys and their love of, well, all things. "The three boys love football like their dad; they love all sports, not just football. And they're into so many other things," she said. "They love art; they're very creative, very arty. Brooklyn loves photography; he's got a really great eye."
But most importantly, "They're good boys, polite, hard-working and very happy."
Sounds like everything is great over at the Beckham household! So when are we invited for dinner?