The Toronto International Film Festival (TIFF) is an exciting time of year for the city. It's an intense couple of weeks of Hollywood A-listers descending into our city core. This year's Film Festival runs from September 10 to 20, 2015.  It seems that at any given moment you can run into a celebrity whether it's catching a cold-pressed juice, shopping or having dinner at your favourite restaurant. I'm often asked where are the best places in the city to maybe get a glimpse of the Hollywood elite.
Here are a few hot spots that may score you a sighting or two.
TIFF Festival Central: Red Carpets are at pretty much every major theatre in the city. Fans are welcome to hang out along the red carpet along side the media to catch some of the best photos. Roy Thompson Hall, Ed Mirvish Theatre, Princess of Wales Theatre, are all destined for gala presentations. TIFF Bell Lightbox is great for catching stars and directors heading in for Q&A sessions.
Holt Renfrew: A major shopping destination for A-listers and with the strong US dollar, it's worth a visit for the stars.
Thompson Hotel: A hot spot because it's got so many nooks including the Roof Top Lounge. Colette Grand Cafe on the mainfloor is pretty and great for grabbing brunch, lunch, dinner or a few pastries from the take-out counter. Celebrities staying in this hotel adore the food here.
Le Germain Hotel: On Mercer Street often goes under the radar because of it's hidden and unassuming location within mere steps to TIFF Central. Victor restaurant is a great spot for Hollywood's elite do get to some wheeling and dealing.
Four Seasons Hotel:  dbar is a great spot for celebrity sightings as the vibe is relaxing and DJ is awesome. The long bar has tall pillars and sheers on windows making it an ideal bar for celebrities to be out of sight. It's also appealing for it's location removed from the hub of activity. Any time of day is good here. Perfect for sipping on the latest cocktail and order up the highly addictive truffle fries late at night. Also dart across the main entrance over to Buca Yorkville. It's tucked away and ideal for celebrities to go under the radar. If you can get in.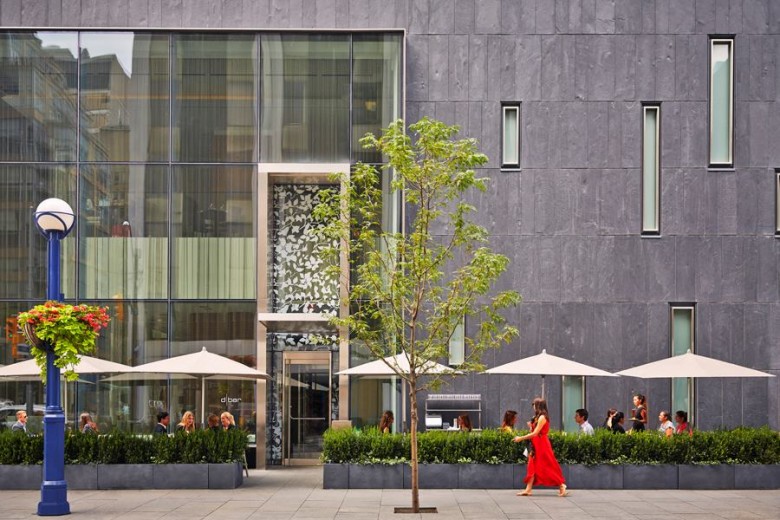 Shangri-La Hotel: Lobby bar late at night brings out Hollywood stars. I was at the bar one night with friends after a screening and  Michael Fastbender was also winding down his busy night. He was pretty chill and didn't mind mingling amongst us. This hotel is also around the corner for the members only Soho House where several after parties are hosted each year. The unassuming corner brick house has no signs, no markings and looks like it was abandoned in the 50s. However, inside it's a multi-level comfort zone with cozy chairs and a roof top lounge that makes for a perfect hidden gem away from gawking eyes.
Terroni: This is the spot to see celebrities while dining. Why? It might be the familiarity of the restaurant (there's a Terrnoi in LA) or it may be the amazing traditionally prepared Italian food. Whatever it is, Terroni is a great place to catch a peak of the rich and famous as they descend on Toronto. Our editor even saw Eric Bana when he was in town filming earlier this year!
Ritz-Carlton Hotel: Many celebrities stay here and the DEQ bar located at the back of the hotel is popular late at night. One year I had sent friends here with these tips 1. Easier to get into a hot spot if it's just two people. 2. Dress like you belong (city chic, don't over do it). 3. act cool and keep your phone in your purse.  4.make sure you order drinks and food.  5. go late.  6. stay cool if you see anyone. There were no guarantees of sightings but sure enough, security let them through and they spotted George Clooney.
NAO Steakhouse: Because this restaurant is out of the core, yet within Yorkville zone, there will probably be a few Escalades parked out front throughout the festival. The food is consistently great and the discreet location offers patio and two levels interior for dining and drinks.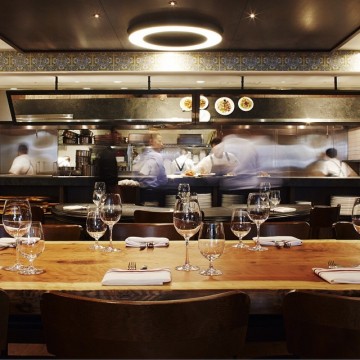 Montecito Restaurant: Tucked behind TIFF Bell Lightbox makes this restaurant an easy get away before and after screenings for industry insiders. The California inspired space is also co-owned by filmmaker Ivan Reitman (Ghostbusters, Stripes, Animal House etc), and you know he's got friends.
Spice Route: Asian inspired zen like restaurant and lounge space is a popular spot for screening parties and this particular area seems to be buzzing with activities with all the surrounding restaurants as well.
Cibo Wine Bar: This italian favourite is perfect place to grab a dinner before or after a screening. Again, the area is swarming with TIFF parties and this is another hot spot that is on that list.
Other notes and party tips…
Many of the party venues that host after-parties for gala screenings happen later at night. You can certainly try and catch celebrities heading into their parties as they'll often pose on red carpets. In most cases, the stars are happy to take a few selfies with their adoring fans. But unless you have a coveted ticket don't bother trying to get in… the events are heavy in security and the gatekeepers are ruthless. And they've heard every lame excuse in the book. Trust me, I know as I've been that gatekeeper before.
Sniffing out the celebrities… be on the look out for publicists and wranglers usually dressed in black. Their hands are crazy glued to their phones. I've been a wrangler for several A-list celebrities in the past and it's a stressful job and all of a sudden everyone is your friend.
Body guards in suits with ear pieces that will stare you down is a sure sign that someone famous is near by. Hotel security at every entrance. Yep, for sure. See the photographers milling about? Ask them who they are waiting for. Red carpet photos are fine but respect the stanchions, and yes, the media will have the most coveted positions so have your cameras ready….But should you happen across a celebrity eating in a restaurant or shopping? Please stay cool and ask before taking any pictures…or better yet, just leave them alone and respect their privacy.