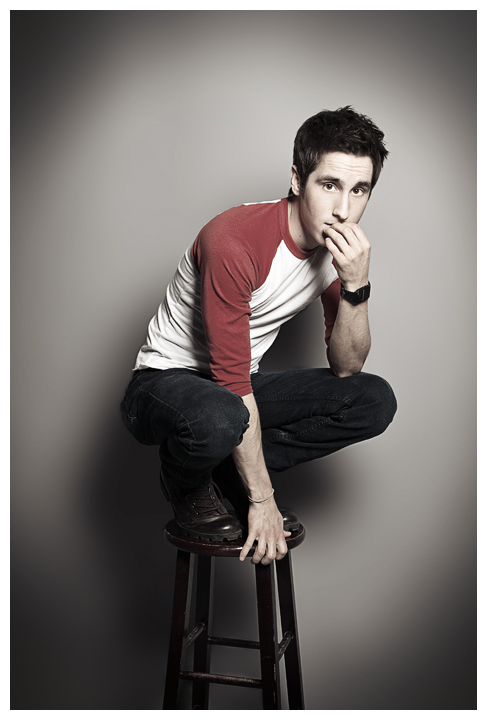 Set to screen at TIFF this weekend, "All the Wrong Reasons" is getting much attention for being one of the last films Cory Monteith made before his untimely death in July. Its main theme is the loss of one's identity and it's seen through the lives of four characters who each suffered some sort of trauma. Monteith  stars as James, an ambitious department store manager whose wife (Karine Vanasse) copes with a loss,  as co-worker and firefighter (Kevin Zegers) battles back from a traumatic injury and cashier (Emily Hampshire) takes advantage of it all.
The film also stars Fredericton-born actor Denis Theriault as Radley Weil – an over zealous and neurotic assistant manager of the big box store who is  in line for a promotion. Landing his first big TV role in Starhunter at the age of 14, Denis has also been featured in HBO's Call Me Fitz and in the film Growing Op.
I had a chance to interview Denis just before he headed to TIFF and ask him about the film, working with Montheith and what he's looking forward to doing during the festival.
Tell us about the character you play in All the Wrong Reasons.
I play Radley Weil, the assistant manager of a big box store called Fairfax. I'm kind of being mentored by the store's manager (played by the late Cory Monteith), but I'm also trying to edge myself into his job. He's still a good guy though, Radley's a little weasel with a heart of gold.
What drew you to this role?
Actually, the film's writer/director, the incredible Gia Milani, contacted me and sent me the script, telling me she had written the part specifically for me after seeing another film I had done several years back. I couldn't believe my ears. That's something that, as an actor, you NEVER expect to happen. It was incredibly humbling. But don't get me wrong, that's not the only reason I wanted to do it! The script was so incredibly well-written and chock full of these amazingly rich characters, I couldn't say no.
What is your best memory of working with Cory Monteith?
I can honestly say that Cory was just such a down to earth dude. I know it's been said a lot in the media and phrases like that get thrown around when someone passes. But in his case, Cory was the real deal. He showed up to set ready, knowing his lines and was courteous to everyone. He took an interest in you as a person. After our initial introduction, he stopped being this big celebrity in my mind, and was just a co-worker and friend. And most of all, he was just fun to be around. Always looking for a laugh, he decided at the beginning of the shoot that he would try to covertly hide his Ray-Bans in every shot he was in. He was looking forward to recording the DVD commentary and revealing all his secret spots. 
What are the fun things you plan to do during TIFF?
Anything and everything! I'm only there for 4 days so I'm trying to fill up my schedule as much as I can. I'm a HUGE film buff (I would hope that most actors are), so I want to try and take in a few films as well. It IS a film festival after all! I used to live in Toronto, so I'll also be visiting some friends.
What is the one role you would love to play one day?
Ok, this would never happen, but I would kill to play James Dean. I'm a huge fan of his. I even have his face tattooed on my arm (in case you were wondering the level of my obsession). I doubt it would ever happen, James Franco has already played him perfectly in "James Dean" (The 2001 TV movie). There's also the fact that I look nothing like him… A man can dream though! 
 All the Wrong Reasons, premieres Sunday, September 8th at 6:45 PM and Monday, September 9th, at 10 PM at Scotiabank Theatre.
Check out the trailer below.
[youtube id="enu-b1bmZwU"]