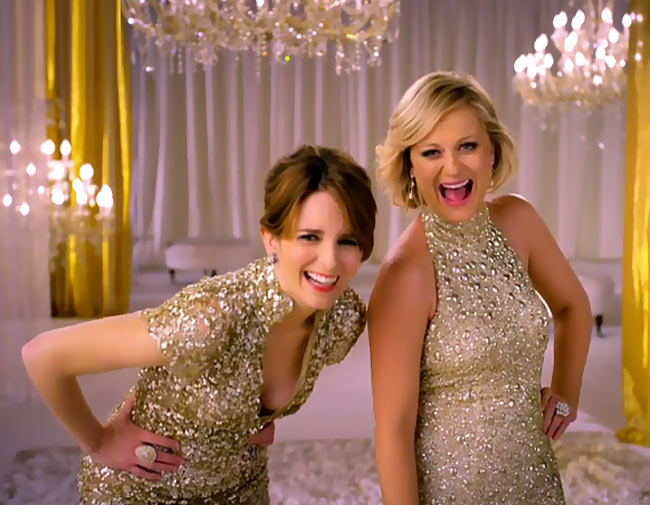 Alright ladies, this is happening. Right now. You are about to be a part of history. We are reclaiming the term "mom fashion" with the help of some of the amazingly stunning red carpet looks from this year's Golden Globes. We are saying goodbye to mom jeans, crocs and all things comfortable and hello to plunging necklines, bright colours, glitter galore and, dare we say it, cut outs!
The Glitters
These famous moms took things very literally when it came to their dresses. Glittering gold and silver was a huge trend on this year's red carpet. Mom to 2-year-old Jack Pratt, Anna Faris rocked a gorgeous nude floor-length Reem Acra gown that sparkled almost as much as her smile. And really what isn't there to smile about when you get to walk the red carpet with Chris Pratt on your arm?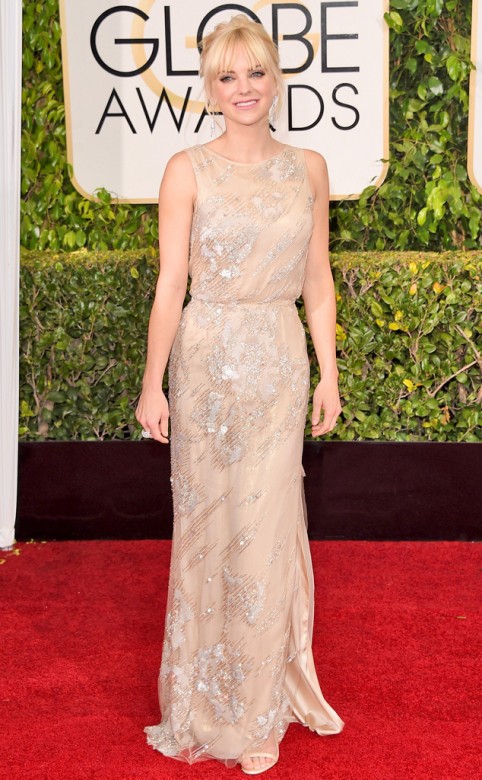 As always, Jennifer Lopez walked the red carpet in a silver Zuhair Murad gown with a stunning cape effect. The dress featured her signature deep plunging neckline and her minimalist accessories let the dress take centre stage. JLo is mom to twins Emme and Max.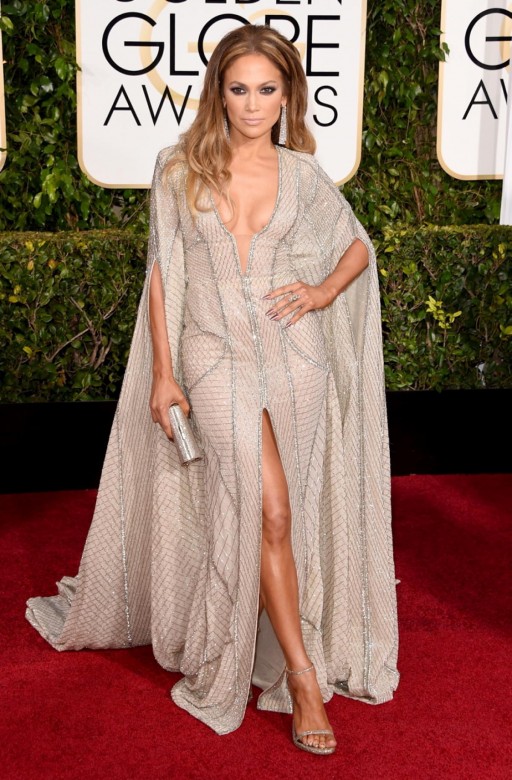 Julianne Moore looked amazing in a shimmering ombre mermaid gown with a dramatic feather effect. The mother of two took home the Best Actress award for her performance in Still Alice.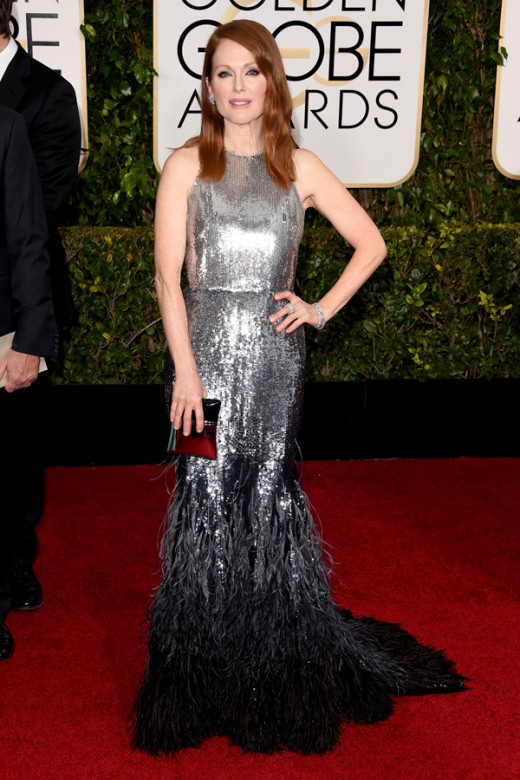 We love the simplicity of Reese Witherspoon's silver beaded Calvin Klein gown. And we aren't going to turn our noses up at the mother of three's $1.5 million worth of Tiffany & Co. jewelry that accessorized her look.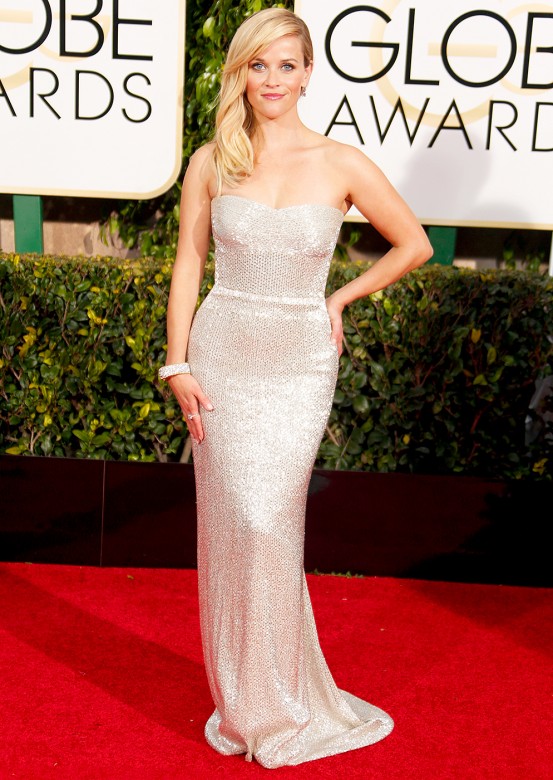 The Brights
Bright colours ruled the red carpet last night, with moms showing up in some of the most vibrant hues of all. Mother to Maude and Iris, Leslie Mann made the red carpet that little bit brighter in her strapless, canary yellow KaufmanFranco gown. We love her bold choice to pair it with a forest-green Ferrangamo clutch.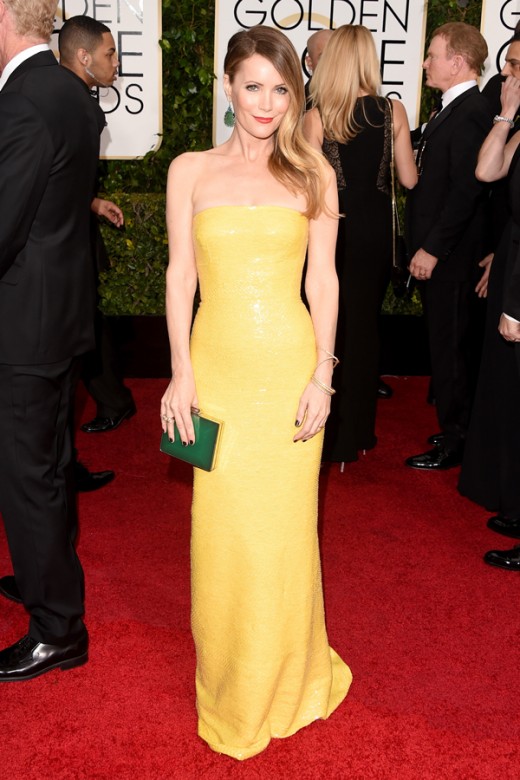 Dare we say Amy Adams was channeling a bit of Elsa with her dress choice? (We'd say her four-year-old daughter Aviana may have had something to do with that!) An icy-blue one shoulder Versace dress complimented the Best Actress, Comedy or Musical winner's red hair.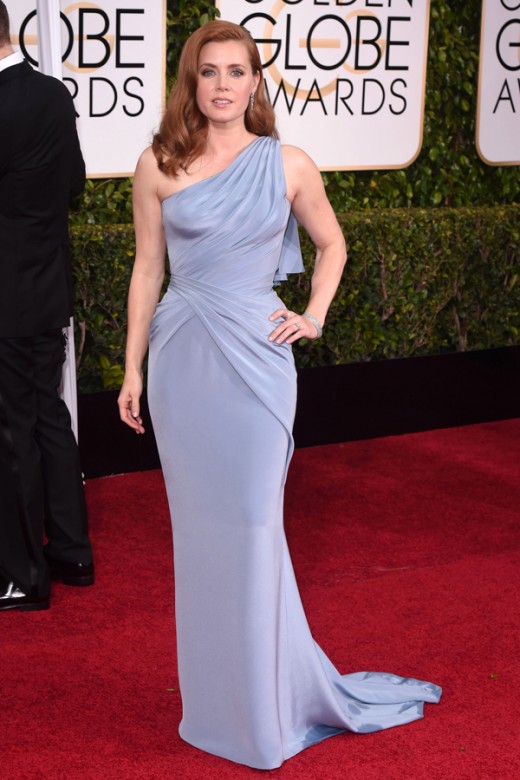 New mom Kerry Washington's dress was a beautiful two-tone berry-coloured masterpiece. The sweetheart neckline paired with the off-the-shoulder sleeves perfectly framed Kerry's face and matching shade of lipstick.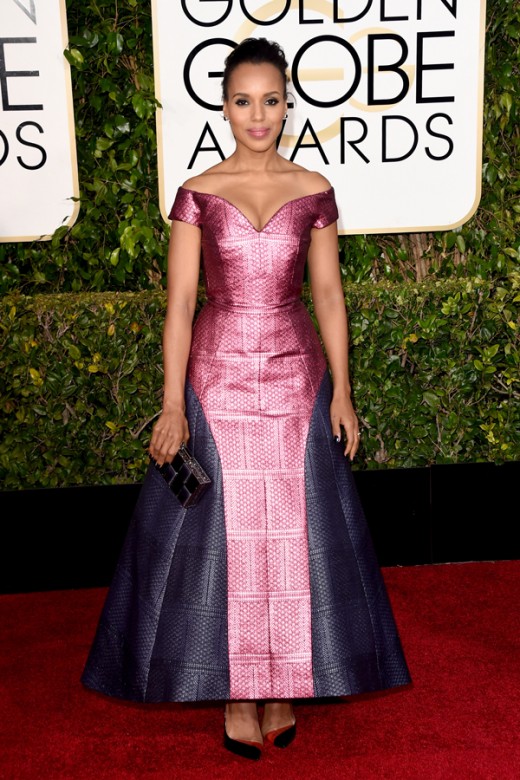 The hostess with the mostest, Amy Poehler started the night off in a gorgeous royal blue Stella McCartney dress. True to her mom nature, the gown featured pockets. (She needs to be able to keep a few spare Hot Wheels around for Abel and Archie, am I right?)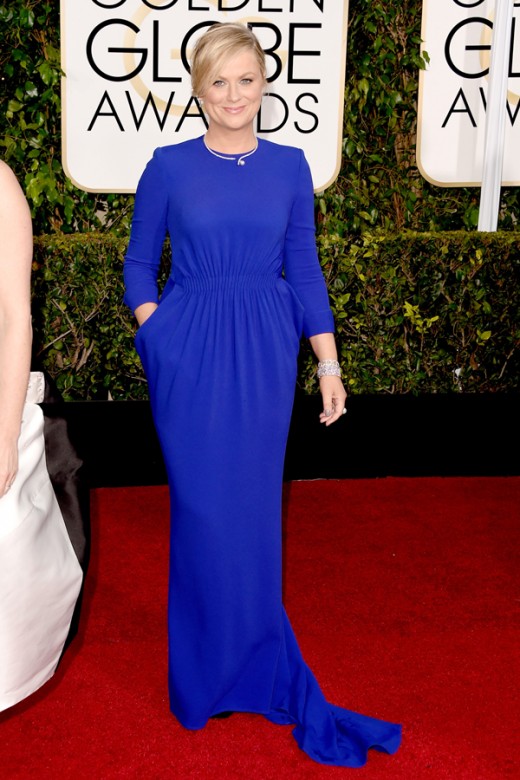 The Prints
There really isn't much better than finding that perfect printed dress. These two celeb moms and two celeb moms-to-be show us how it's done. Newly expecting mom-to-be Sophie Hunter donned a floor-length metallic gown with an all-over floral print. The high-cut empire waist may have been a bit strategic, but it was also very flattering.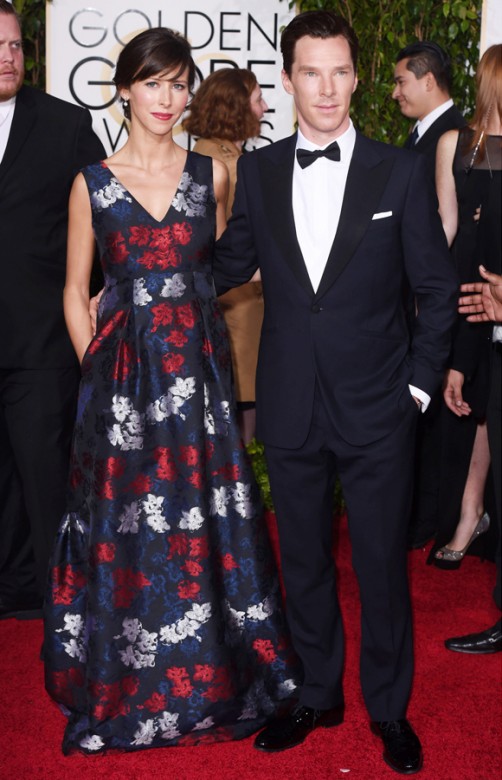 Sienna Miller mixed two of our favourite trends in one. Her Miu Miu gown had a wonderful embroidered print that sparkled all the way down the red carpet. Her plunging neckline even rivaled JLo's!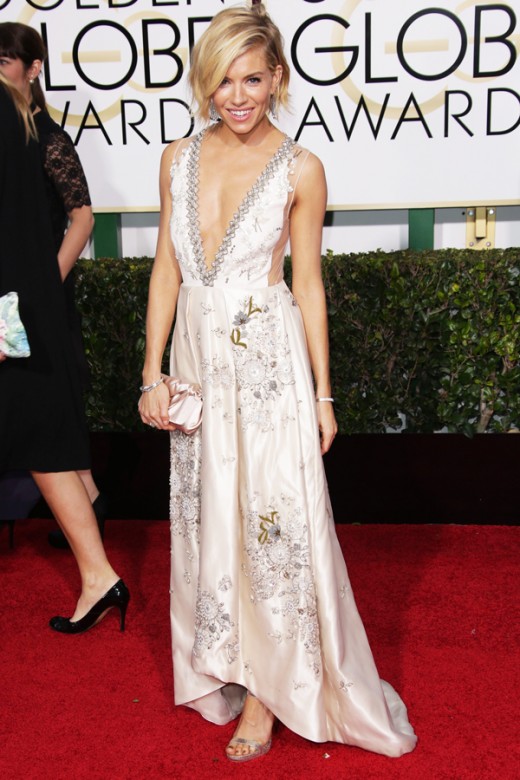 Keira Knightley stuck to her normally quirky style with a beautiful Chanel gown with a butterfly pattern on the red carpet last night. The actress is expecting her first child in the spring and was nominated for Best Supporting Actress for her role in The Imitation Game. When asked about being pregnant at the Golden Globes, she said, "It's very sober!"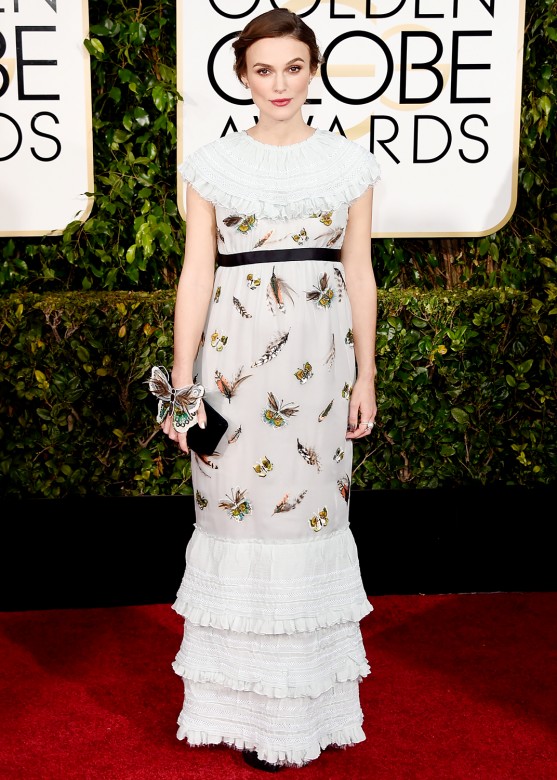 Homeland star Claire Danes wore a couture Valentino number that featured an intricate all-over print. She also rocked a plunging neckline but covered up a bit with a mesh inlay. Danes is mother to 2-year-old Cyrus Michael.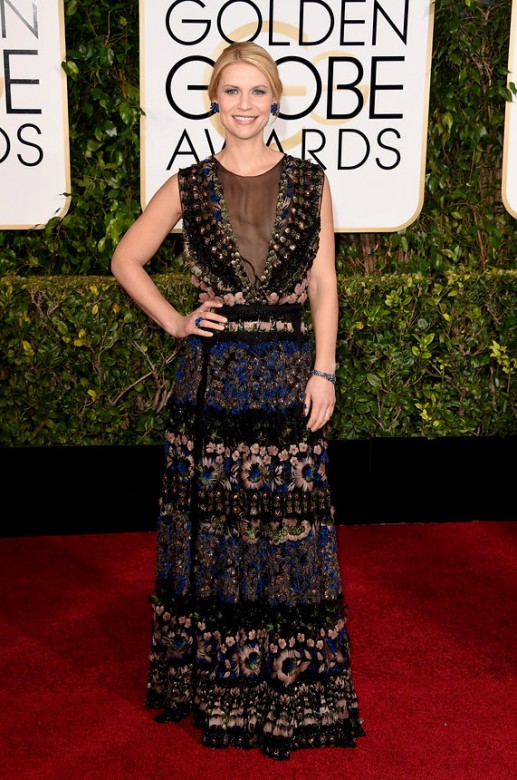 The Cut Outs
To think moms would ever wear a cut out dress, even in Hollywood! And when they do, how brave is that? That seems to be the general cry that went out across the internet after one new mom in particular stepped out in cut out dress last night.
These dresses all have a second theme in common too: all white all the time!
Gone Girl star Rosamund Pike gave birth just four weeks ago and walked the red carpet in a backless, tummy baring gown by Vera Wang. We love the mom for making this fashion choice, but think the internet might want to consider what they mean when they use the word "brave".
Emily Blunt took the ultimate mom risk: she wore white. She was very nervous about the choice, "but mainly because I am clumsy and have a baby that can spill stuff on it." The Into The Woods actress wore a glamourous Michael Kors gown featuring a sexy, yet classic cut out.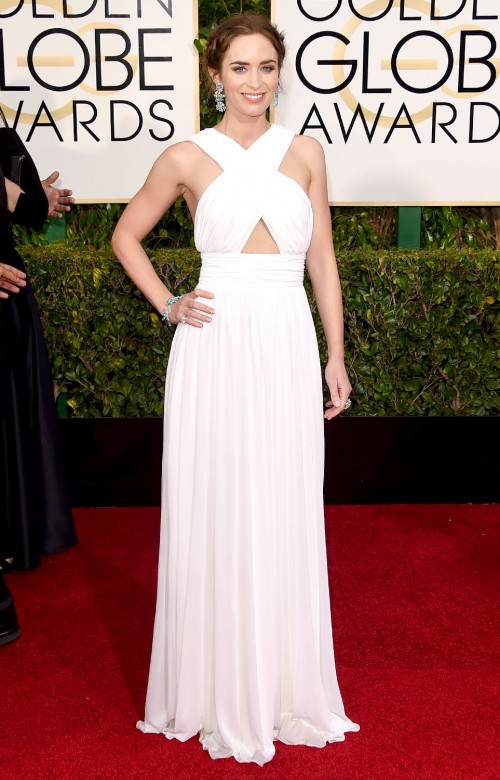 Kate Hudson upped the sex appeal in a white Versace gown featuring a plunging neckline (yes another!), side cut outs, and silver bands that seem to hold the dress together. This mother of two might just be our pick for best dressed of the night!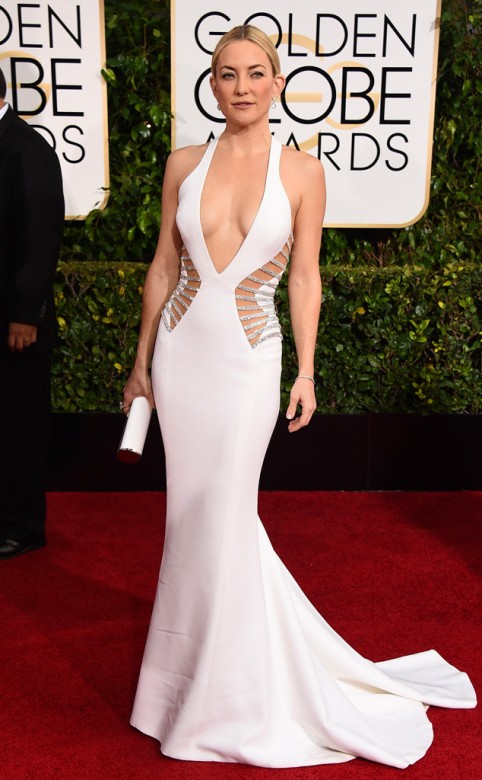 Did you catch the Golden Globes last night? Did we miss your top pick?