We're trying to keep it cool here in the office but every so often someone comes in and tells us about their latest celebrity spotting and then we get all excited! The Toronto International Film Festival brings in many A-list celebrities to the city and it's definitely fun to run into someone like ahem, Channing Tatum the other night! OMG! Truth!
While the celebrities are in town, they are often given "gifts" from various worthy brands out there. Some gifts are meant to welcome them to the city and other stuff is given so that hopefully they will like it and give it a shout out. Marianne and I were invited to get a sneak peek at what some of the celebrities are being gifted during this year's TIFF.
We'll  be giving you a closer look at some of the stellar items and will be featuring them in future posts! But there were many items that caught our attention but here are just a few highlights that caught our eye at the following lounges!
Tastemakers Lounge: The first-ever TIFF celebrity gifting lounge celebrated its tenth anniversary this year. With the goal of keeping the celebs hydrated during this busy time, Brita was one hand with their Filtering Bottle available in some amazing colour options. LUSH Fresh was this year's charitable partner, sending celebs away with Charity Pot Hand & Body lotion and good vibes, of course. Canadian brand Danier Leather, Sorel and Tonia DeBellis's Haute Hoodie kept the stars warm from head to toe, just in time for the rainy weather that has closed out TIFF.
BaskITStyle Lounge: is a lounge that we love for it offers celebrities thoughtful and meaningful items. From the latest Kobo Aura H2O waterproof eReader and the hottest titles in publishing today to the empowering customized jewellery created by Studio 1098. This lounge also offered thoughtful items for the kids of celebrities and their families including sweet picture books, smoothie kits from Welch's, and city guides from DK Publishing. And WOW! Mary Kay has some pretty exciting lines coming out that we'll be excited to share with you shortly. What really got us is their charity component with Free-them (more on them later) an organization run by passionate volunteers  (and moms like us!) who bring awareness to the many men, women and children who are being trafficked right here in Canada. Insane.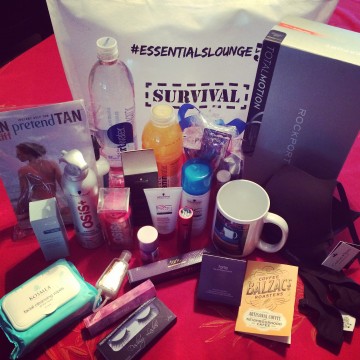 Essentials Lounge: Focusing more on the media (and some are celebrities in their own right) the Essentials Lounge offers tongue & cheek "survival" and "recovery" kits that include highly coveted items that helps everyone keep everyone energized during the Film Festival. From pure and vitamin rich fresh-pressed juices from our friends at The Good Press to Calvin Klein latest "Perfectly Fit" bras, seriously the most comfortable everyday bras out there – they mould to your shape each time you wear them,  to Rockport Total Motion heels to MicroMani personal electronics and Skinceuticals beauty treaments, this lounge has us covered from head to toe. Literally.
The Stylist Suite: Is where the celebrities have the opportunity to check out some of the best Canadian designers. This one-stop  popular styling suite is where the stars can be fitted, primped and ready for their red carpet and party appearances.  Founders Gail McInnes and Christian Dare are known for their impeccable rosters of designers and industry contacts that are often seen on red carpets and editorial shoots. Designers like Andrew Majtenyi, Lucian Matis, Narces, Eric Petersen, Shay Lowe Jewellery Design and many more are included in this lounge.
Now that you've learnt about the gifting lounges we've visited, here are our top 10 list of coolest things the celebrities are getting at this year's TIFF!