The new season of Steven and Chris begins next week and is themed "Food Week" with the first episode featuring the entertaining couple facing a shocking dare that involves a mummified toe. Not too much freaks me out and I will eat almost anything BUT this latest news has me ready to toss my cookies.
So, there actually is a famous Dawson City drink involves A TOE.  Established in 1973, the Sourtoe Cocktail has become a Dawson City tradition. The original rules were that the toe must be placed in a beer glass full of champagne, and that the toe must touch the drinker's lips during the consumption of the alcohol before he or she can claim to be a true Sourtoer. The rules have changed in the past twenty-seven years. The Sourtoe can be had with any drink now (even ones that aren't alcoholic), but one rule remains the same. The drinker's lips must touch the toe. "You can drink it fast, you can drink it slow — But the lips have gotta touch the toe."
Disgusting.
Local retiree, Terry Lee, said the toe was "mummified" with salt, and plunked into drinks since the early 70s. About 30 to 40 daring patrons visit the hotel bar each night to take on the challenge. More than 52,000 people have willingly participated in this crazy tradition each receiving certificates and membership cards declaring them part of the club. I was going to post a photo but thought that would be in poor taste. But then I thought again and said, what the heck! So here it is!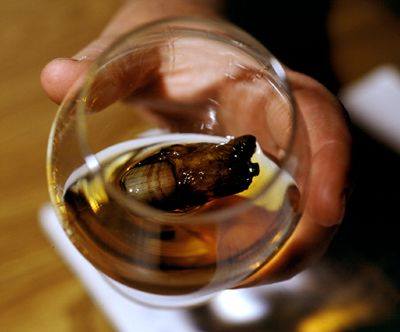 Ahhhhhhhhhhhhhhhhhhhhhhhhhhhhhhhhhhhhhhhhhhh!
On Monday, September 22nd, Steven and Chris will be chatting with Terry Lee, the "toe captain," on the season's premiere and we'll have to see if they will take the dare! Could you do it?
Am I the only one wondering who's missing their toe?
Here's more about the tradition…