The city is overflowing with parties and after-parties during the Toronto International Film Festival. Lots, and I mean LOTS of celebrities are in town to promote films they are working on but also to raise awareness for causes they firmly believe in. This past week several stars walked the red carpet at the Stand Up 2 Cancer event. The scene was buzzing with cameras and pearly white smiles. Yours truly even managed to chat with the most gracious celebrities you could ever meet including Jason Priestley and Lauren Holly!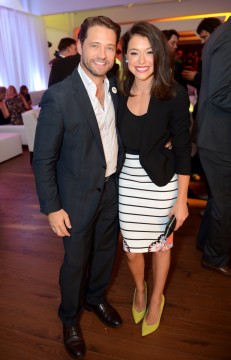 The scene at the Stand Up 2 Cancer screening party had celebrities chatting with doctors, scientists, and charity supporters to help raise awareness and funds for  Cancer research and programmes. The event was televised live in the U.S. and Canada from the Dolby Theatre in L.A. and from Toronto for an unprecedented one hour uninterrupted broadcast special. Despite the thunderstorm here in the Toronto ,which temporarily knocked out the televised feed, the energy was very inspiring.
Ben Stiller made an appearance as did Kids in the Hall alum, Scott Thompson who had everyone laughing. And it was the best kind of laughter… laughter at the expense of cancer! Like, "I kicked your ass, cancer! HA HA!", kind of laughter as Thompson is a survivor himself. Celebrity performances included the remarkable Rufus Wainwright and the lovely Nikki Yanovsky (when did she grow up?! WOW!)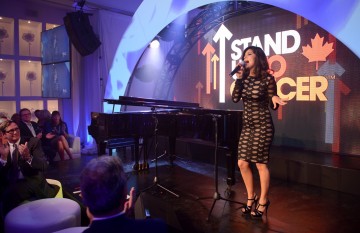 I also spotted celebrities like Tatiana Maslany (Orphan Black), Eric Johnson (Rookie Blue, Knicks), Jian Gomeshi, Steven and Chris (love those guys!), hockey legend Paul Henderson, Grey Stohn (Bitten), Claudio Aprile (MasterChef Canada) and many more!
But, while rubbing shoulders with the celebrities was fun, this really caught my attention… I had faced a wall of words and wanted to share…
STAND UP when everybody else sits down.
STAND UP when it's easier to turn away.
STAND UP for everyone who can't rise anymore.
When the answer seems impossible, STAND UP.
When the dream is right within our reach, STAND UP.
When the powerful refuse your call, STAND UP.
The moment is now and the time has come, STAND UP.
Two out of every five Canadians will face these diseases we call cancer.
Our sisters, our brothers, our fathers, our mothers,
Our husbands, our wives, our children.
Our very best friends and those whe've yet to meet.
Nine poeple every hour of every day get lost, get stolen, get taken away.
We are a tapestry of lives touched and broguht together by a terrorist we can actually find.
And in the time it takes to read this,
One more CAnadian has been diagnosed with cancer.
Unforgivable.
This is where the end of cancer begins.
When together we become a force unmistakable.
A movement undeniable.
A light that cannot dim.
When we take our wild impossible dreams and make them possible.
Make them true.
When together we rise as one.
When we STAND UP.
When we STAND UP to cancer.