Moms seriously slayed at the Oscars on Sunday night. The "worst dressed" lists will be a lot smaller this year because Hollywood stars didn't follow fashion but rather led it with glamorous, daring dresses.
Here are some of the best fashion moments from the Oscars from celebrity moms.
The Red dresses 
Red is almost never a bad choice for a party dress, but for Rosamund Pike and Sophie Hunter, it was beyond a safe pick.
Pike, new mom to son Atom, continued her breakout year in film and fashion with this red lace Givenchy dress with a high slit all the way up her leg.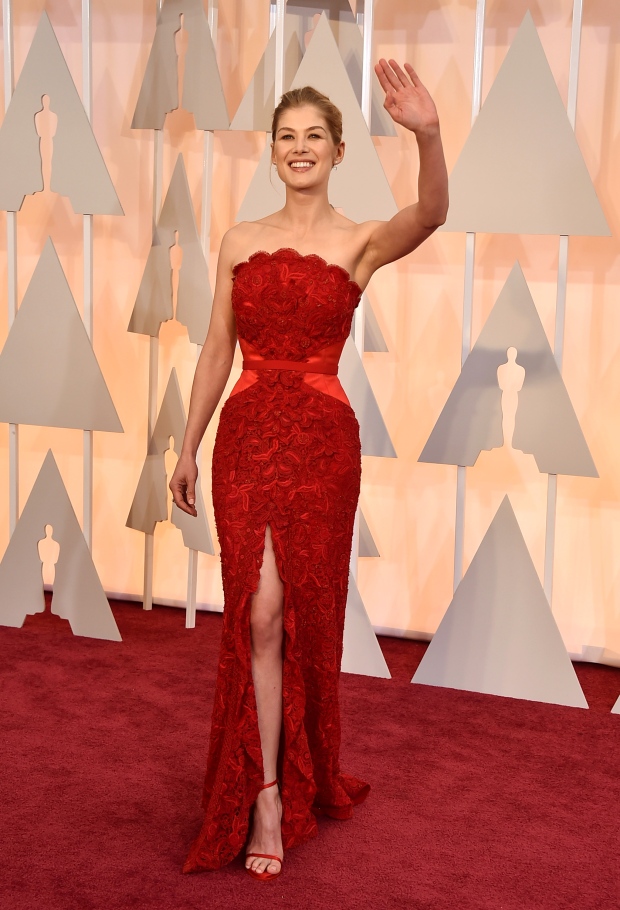 Newlywed Sophie Hunter selected an off the shoulder Grecian dress that shows off some leg. It seemed very inspired by Angelina Jolie's past leggy Oscar dresses. Sophie's dress proves that you can still be a hot mommy while pregnant.
The couple seemed extremely happy and fun, especially when Benedict reacted in hilarious fashion to being filmed while taking a drink from a flask. He's drinking for two.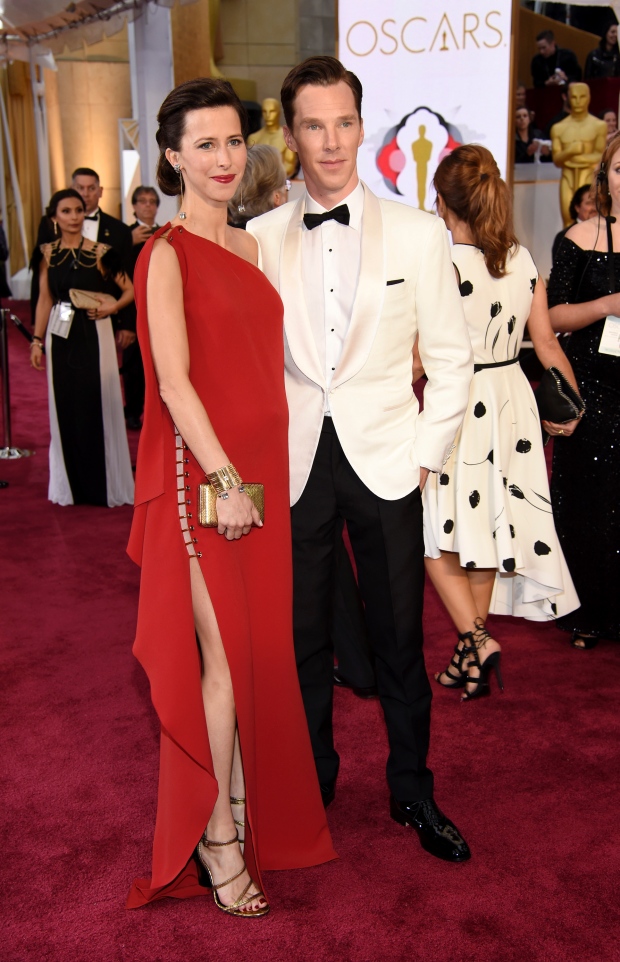 The Black and White Power Crew 
The black and white dresses were extremely popular last night with the biggest stars of the evening electing to rock the look.
Reese Witherspoon was nominated for the film Wild, but traded in her hiking boots for a more classic gown choice care of Tom Ford.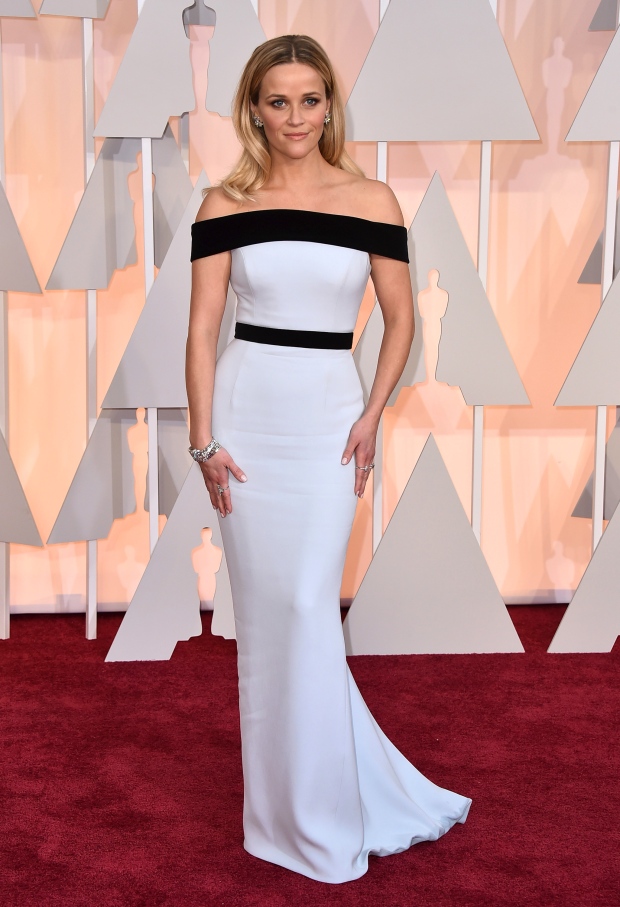 Like her fellow Best Actress nominee Reese, Julianne Moore also decided to go for the black and white dress. The Chanel Haute Couture is lined with satin crepe and embroidered with 80,000 small hand-painted whie sequins.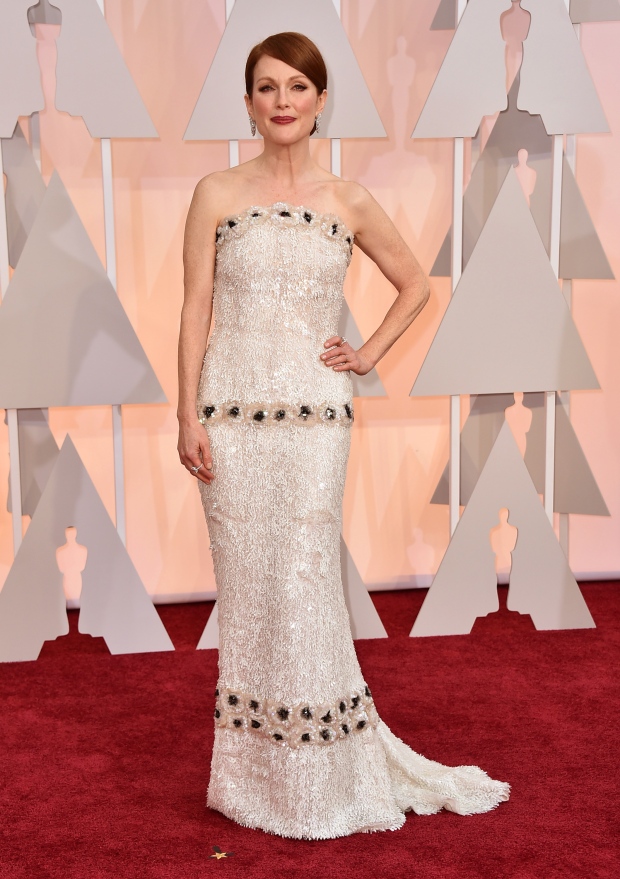 Patricia Arquette, Moore and Witherspoon were just some of the actresses at the Oscars to bring up the #AskHerMore campaign, which encourages journalists to ask actresses questions beyond just what they are wearing.
Patricia continued by dedicating her acceptance speech time to bringing attention to wage equality. With that said, she looked great while doing it. Arquette wore a dress designed by her friend Rosetta Getty and said she felt like she was wearing love.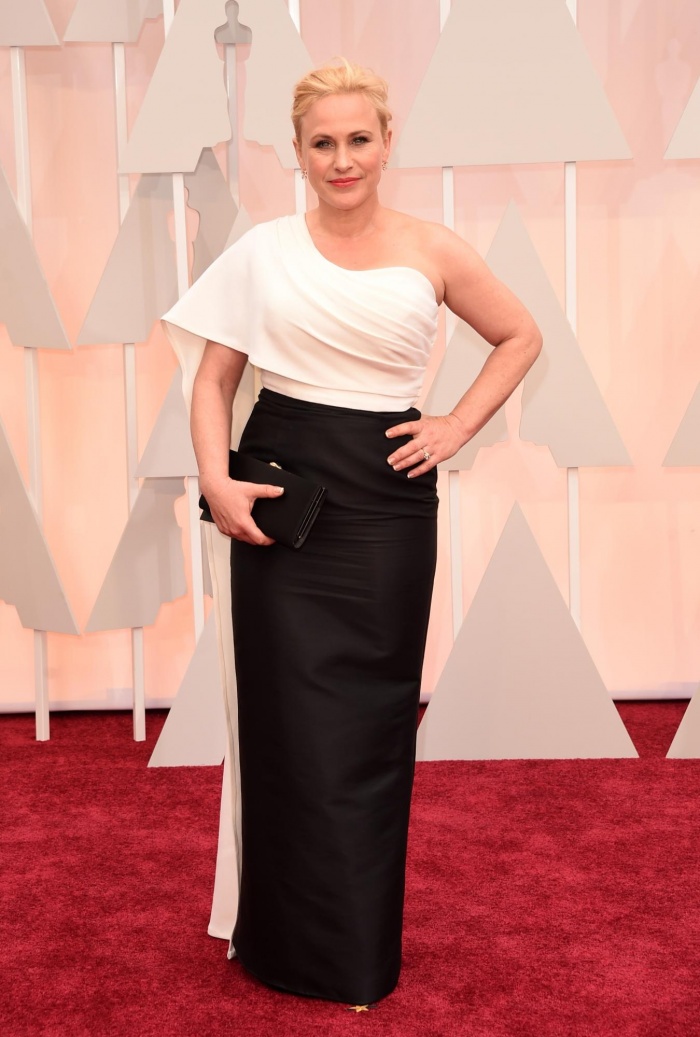 The Cinderellas 
The Cinderella style dress was a popular option for the Oscar night. Since the Oscars is the most Cinderella-like night ever, it only seems right. Anna Faris brought it in this fairy tale inspired dressed but didn't forget her sense of humor at home with her son Jack. Anna joked that she shaved her legs for the event and that she wasn't going home because she has a two and a half year-old there. Husband funnyman Chris Pratt agreed, saying he was going to go out drinking for "a week straight."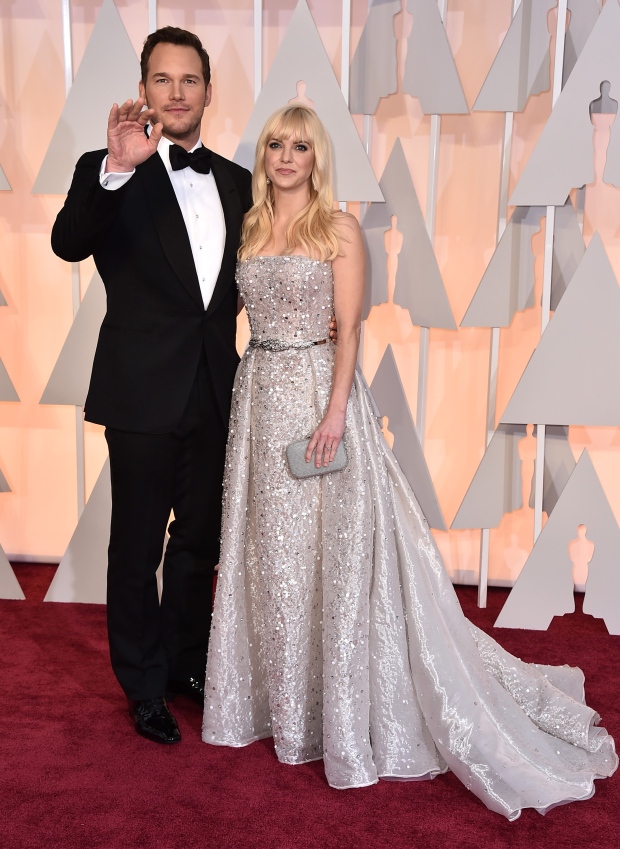 Kerry Washington planned a big night out as well, while baby Isabelle Amarachi stayed home with her dad. Washington told Ryan Seacrest she picked the Miu Miu because she wanted a dress she could dance in.
It's very likely that both women will stay out well past midnight.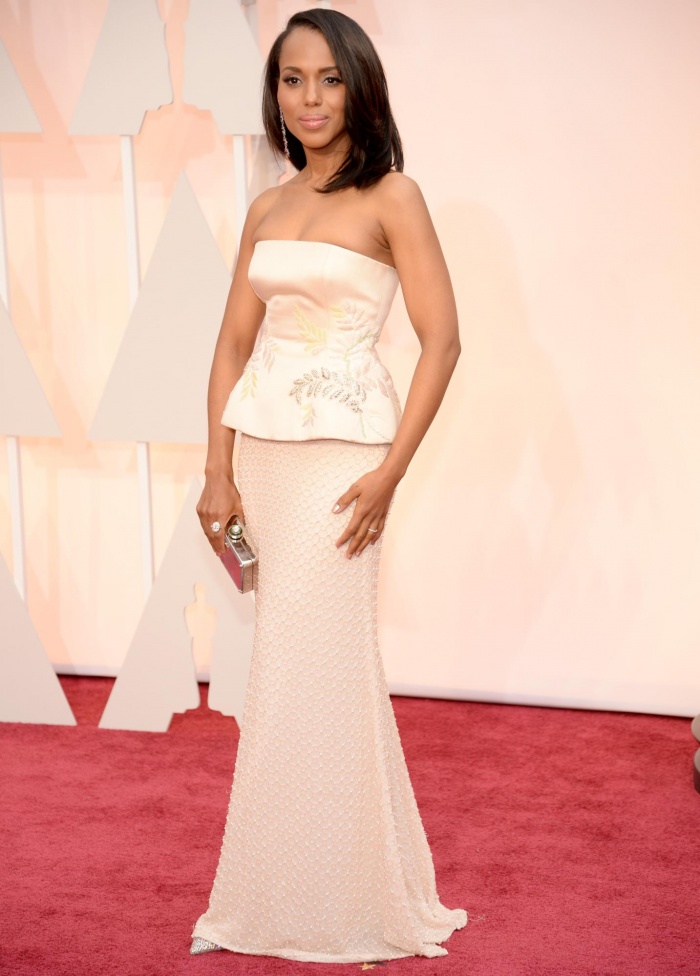 The Classy Cleavage 
Super sexy and proud mom Melanie Griffith glowed as she walked the red carpet with her daughter Dakota Johnson. The actress definitely had the classiest cleavage of the night.
Although, it was super awkward to watch them have a conversation about 50 Shades of Grey, where Dakota encouraged her hesitate mother to watch the movie, both mom and daughter looked great. Griffith absolutely did not look old enough to give birth to a woman who is old enough to be in a movie about sex.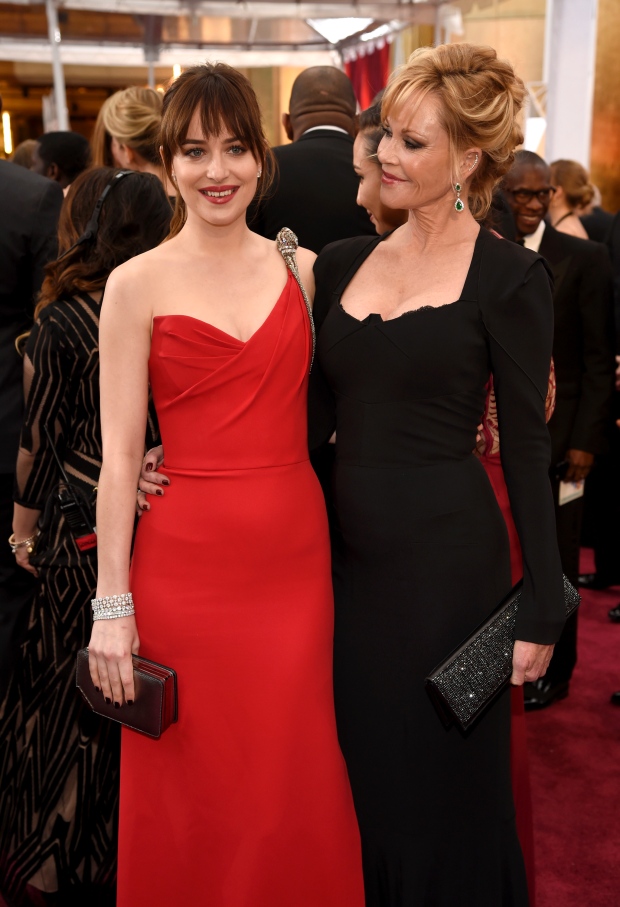 Jennifer Lopez wore a flowing ball gown with a never-ending train, baring just as much cleavage has she did all those years ago at the Grammy Awards in that green Versace.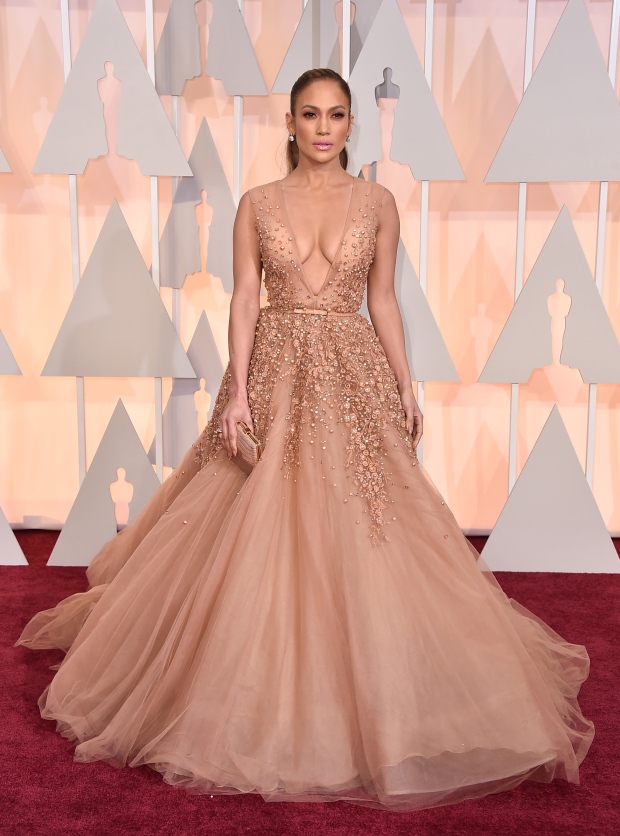 The After Party 
The theme of the after party dress code was revealing. There were bare legs and plunging necklines everywhere. Heidi Klum and Jennifer Lopez joined fellow mom Miranda Kerr in baring all. 
Mom of four Klum showed that she still has her model body at 41. She wore this racy Versace gown for Elton John's after party.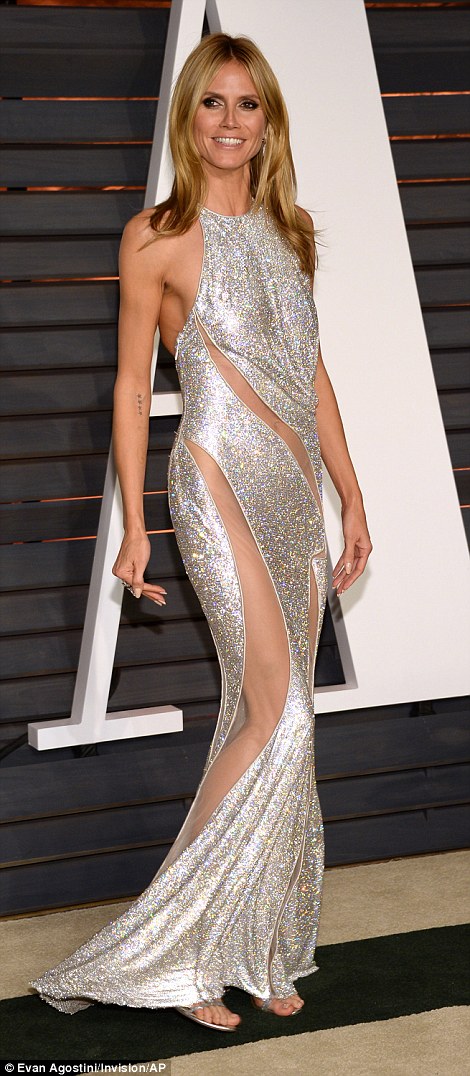 Jennifer Lopez started out the night in a super sexy dress with her signature low cut neckline and ended the night in an even sexier dress. In fact, it was so revealing, it was barely even there.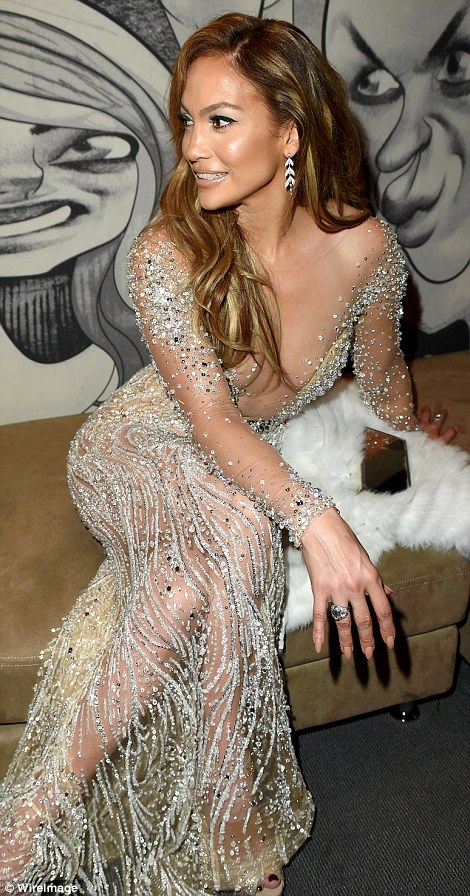 Although Kerr didn't walk the red carpet, she did attended the Variety Fair After Party in a embellished white Emilio Pucci. Like Witherspoon, she channeled the old Hollywood glam look.