Don't expect this former "Baywatch" babe to be pouring a bucket of ice water over herself anytime soon… or ever.
Unlike most celebrities who have happily accepted their nominations for #ALSIceBucketChallenge, Pamela Anderson decided to turn down the challenge because the ALS Association's history of  funding medical research that involved animal testing.
Anderson, who is a well known animal rights advocate, wrote a message on her Facebook page challenging the ALS Association to stop these research practices. Her post was accompanied by a picture of herself holding a sign that read, "Stop Animal Testing!"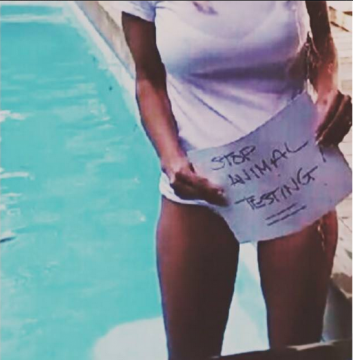 According to Anderson's post, ALS has a history of  funding research that involved animal experiments. "Mice had holes drilled into their skulls, were inflicted with crippling illnesses, and were forced to run on an inclined treadmill until they collapsed from exhaustion. Monkeys had chemicals injected into their brains and backs and were later killed and dissected," she wrote. Testing she says have resulted in little success for the ALS community.
"Trying to cure human diseases by relying on outdated and ineffective animal experiments isn't only cruel—it's a grave disservice to people who desperately need cures," Anderson wrote.
In her message, Anderson also urged fans to support other charities that specialize in medical research, without the animal testing.
"Please, help scientists make real progress toward treating and curing human diseases… and support charities that never harm animals and which pour their time and resources into advanced, promising, human-relevant cures."
 Anderson is one of a small handful of celebrities who have spoken out against the viral online phenomenon. Others include Carey Hart and Zachary Quinto.
No matter how these celebs feel about the #ALSIceBucketChallenge, it continues to show no signs of slowing down. As of Thursday, the ALS Association says they have recieved over $41.8 in donations.