Last night's State of the Union address by President Barack Obama was many things. For the first time, the President's speech was available to the public in advance, allowing everyone to read along and follow without missing a single detail. And detail is everything.
Many took to Twitter last night and commented on First Lady Michelle Obama's outfit. She posed very smartly in a grey Michael Kors skirt suit that looked exactly like main character Alicia Florrick from The Good Wife. Oh my, the parallelism. Not only are their taste in political style similar but also it could stand as commentary.
For those who are unfamiliar of the CBS drama, Alicia Florrick, played by Julianna Margulies, is the wife of a disgraced State Attorney. Now we don't consider President Obama as a disgrace. But his wife stood tall and proud—and stylishly—by her husband last night especially when he was cheekily poked at by Republicans after his "I have no more campaigns to run" statement. And you can't forget his zinger: "Because I won both of them."
It is no wonder the First Lady wore a beautiful power suit. If she's one half of a power couple, why wouldn't she? They're trying to make the rich pay real taxes! And uphold feminist values!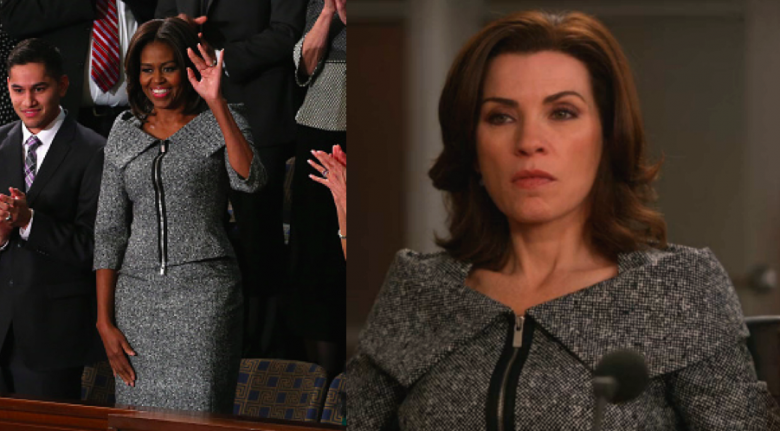 "That's why this Congress still needs to pass a law that makes sure a woman is paid the same as a man for doing the same work. Really. It's 2015."
Let's not forget his mention of affordable quality childcare and paid maternity leave. This could help working moms tremendously. Working class moms would never have to decide between a paycheck or a sick kid at home, or a newborn baby. Along with his points of bettering the economic status of the country, still recovering from the Recession.
Michelle Obama is definitely doing well in helping her husband's words come true. As of 9pm last night, the Michael Kors Zip-Front Tweed Jacket was still available on the Neiman Marcus site but was sold out over night. Consumers purchasing like that could help the economic rise, sure!
After all, behind every great man is a great woman (who's the mother to his children and the other half of the income). Power to the suit.