Hollywood darlings Brad Pitt and Angelina Jolie work hard to keep their family life a private affair. They keep their kids out of the spotlight and try to give them as "normal" a life as possible (considering your parents are two of the most famous faces in the world).
In a new interview with The Telegraph Pitt, who is now 51 if you can believe it, opened up about his family and how being a dad has been the biggest change he's ever experienced.
"Everyone talks about the joy of having kids – blah, blah, blah," he said. "But I never knew how much I could love something until I looked in the faces of my children."
Dad to six kids—Maddox, 14, Pax, 11, Zahara 10, Shiloh 9, and twins Knox and Vivienne, 7—Pitt says that if he had his way, he and Jolie would have had a clean dozen.
"Listen, Angie and I were aiming for a dozen, but we crapped out after six!"
And with so many kids in one home, it's no surprise that Pitt is no stranger to a little bit of chaos under his roof.
[There's] a lot of love, a lot of fighting, a lot of refereeing; a lot of teeth-brushing and spilling," he said. "Chaos, total chaos. But so much fun."
While Pitt has left behind a lot of his own Christian upbringing, he does try to impart some of the lessons his parents taught him.
"One thing my folks always stressed was being capable, doing things for yourself," Pitt explained. "[My dad] was big on integrity—and that informed a lot of what [we] ty to do now."
For Pitt, being a dad is about helping his kids find who they really are as people. He feels that it's his, "job is to show 'em around, help them find what they want to do with their life, put as many things in front of them, and pull them back when they get out of line, so they know who they are."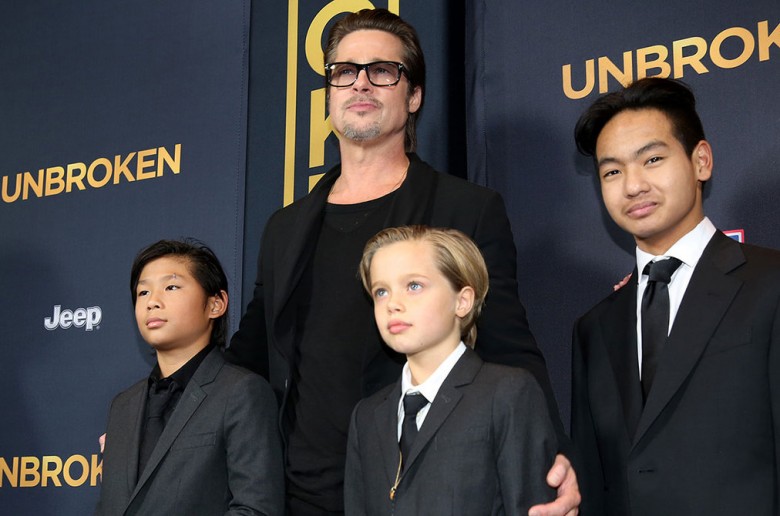 He even credits being a father with a drastic change in his career.
"I was a pretty good actor before, but definitely hit-and-miss," he shared. "I think I became a really good actor. I'm sure a lot of that has to do with age and wisdom too. But I see an absolute shift from the day I started my family… [It became] very clear that if I'm going to be doing something that's going to take me away from my family, it better be something that I believe in, and that they're going to see and be proud of their dad."