Just a couple of days before her husband Kanye West confirmed that 17-year-old Kylie Jenner is dating 25-year-old Tyga, Kim Kardashian made her own questionable statement on social media.
Kim posted a popular meme on her both Instagram and Twitter accounts, where she seemed a little out of touch with her own reality as well as how privileged she is to have so much paid help available to her. Either that, or she thought people wouldn't realize how significantly different her life is from that of a typical mom.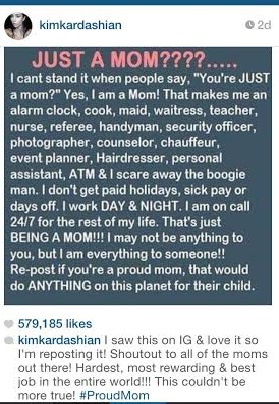 Kim captured the photo "Shoutout to all of the moms!!! Hardest, most rewarding & best job in the entire world! This couldn't be more true!" – For most people, yes…
Motherhood can be difficult, regardless of circumstances. However, Kim's situation is absolutely not universal. The photo currently has well over 27,00 comments, mostly from people, both male and female, pointing out that Kardashian has hired at least one person to do almost all of the jobs listed in the post. She reportedly has two nannies, a personal chef, an assistant and a bodyguard. This doesn't include Kanye's help. Furthermore, Kardashian lived with her mother Kris Jenner until very recently who also has her own staff. The Kardashian Klan is very likely outnumbered by staff members.
Both Kim and Kanye are often seen out and about on weekdays, without their daughter, often leaving her in another different city. The toddler is also rarely featured on Kim's reality series. Not too long ago, North West famously flew across the country, accompanied by at least four different people — a nanny, an assistant, a security guard, and even a nurse. However, neither mom nor dad made the trip with her.
Of course, none of this means Kim isn't a good mom. But, she's well on her way to becoming the next Gwyneth Paltrow who thinks being a wealthy celebrity mom is actually harder than being a regular 9 to 5 office job mom.