On Friday, when a video from 2005 surfaced showing Presidential candidate Donald Trump using the phrase "grab her by the pussy" in reference to his sexual advances, one woman sent out a tweet sharing the first time she was sexually assaulted.
Her tweet read as follows: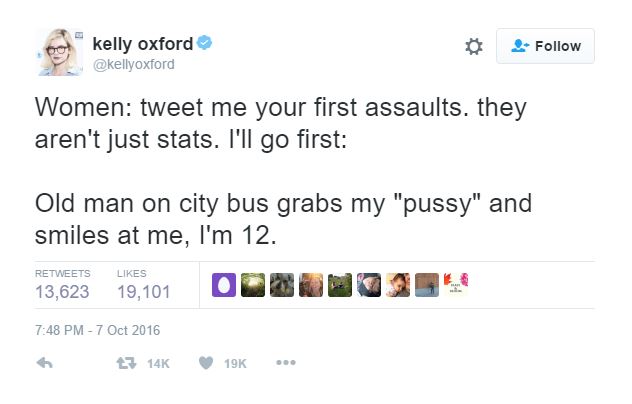 Before long, thousands of women were tweeting their tales of sexual assault, and Kelly Oxford—the woman behind the tweet—reported that she was currently receiving two sex assault stories per second. With the hashtag #notokay, Kelly refuted claims that rape culture did not exist. Want proof? Just look at my timeline, she said.
Within days she had received 27 million views and replies from women all over the world.
So who is Kelly Oxford?
She's a Canadian author, screenwriter, social media blogger, and microblogger.
She was born in Edmonton, Alberta. Oxford attended Mount Royal University in Calgary for only one semester, before dropping out. She began tweeting as a means of self-publishing, alongside working as a waitress and in a shoe store.
Is she an Urban Mom?
She sure is. In 2001 Kelly Oxford became a full-time stay-at-home mother, where she began scriptwriting. In 2002 she started an online blog and gained a large following on Twitter. Among her followers are Roger Ebert and fellow Canadian, Seth Rogen. She was named one of TIME magazine's top 140 Twitter feeds of 2011 and 2012. She sold two TV scripts to CBC and NBC, but neither were ever produced.
In 2013 Oxford wrote a semi-autobiographical book titled "Everything Is Perfect When You're a Liar". It became a New York Times Bestseller.
Is she still based in Canada?
Nope. The family sold their home in Calgary years ago. Kelly Oxford relocated to Los Angeles in 2012 with her three children, Salinger, Henry, and Beatrix, and her partner James.
(Image via Twitter)