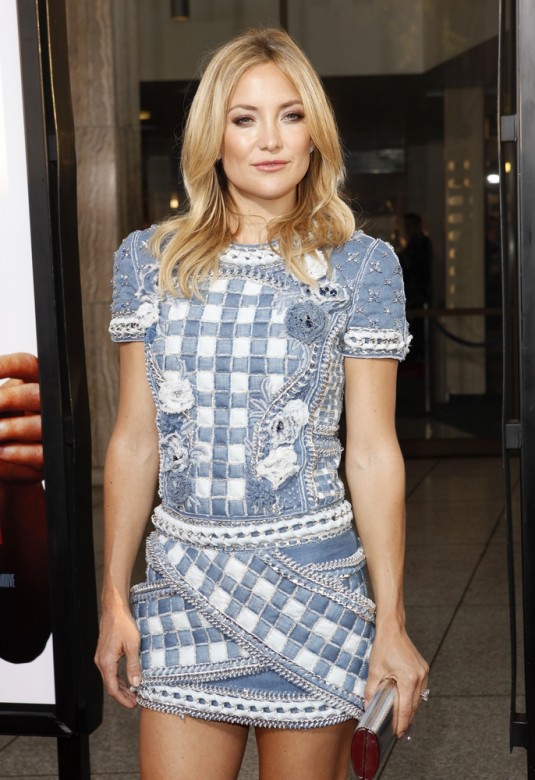 Kate Hudson (34) attended the red carpet premiere of  HBO's Clear History in Los Angeles yesterday wearing a short little denim dress by Balmain.
A new trend in LA has stars wearing denim on the red carpet. Hudson's blue denim Balmain mini-dress is from Resort 2014 which won't be available until this fall.
I know Hudson has been rocking the 80's denim vibe lately and she's kicked it up a notch with this latest number. I can appreciate designer Olivier Rousteing's craftsmanship in trying to tie in the couture detailing and embroidery into this denim dress, but still – to me – it's a miss.
She's got a lovely small frame and this dress is simply too much and overwhelming. You see the dress, not her because there are too many points of emphasis.
There is way too much going on – between the sewn-on denim flowers and quilted sleeves.
Then there's the checker-board pattern in front. It  makes her look flat-chested.  The criss-cross checkered fabric over her thighs is just over-kill. Maybe if the fabric were lighter and not denim, it wouldn't look so heavy and over-done to me.
I'm not feeling this look. It reminds me of the women I saw in New Jersey when I went to visit relatives there as a kid in 1988. I shudder still.
So if Kate Hudson – with her great body – can't pull this off, who can?
Do you think it's a hit or a miss and would you wear this?
Sound off below.