There are so many words that describe astronaut Colonel Chris Hadfield. Awesome and inspiring are the first two that come to mind.  He had the honour of being the first Canadian to walk in space and his credentials are are long. If you'd like to see what this one Canadian has  done, link here Biography of Chris Hadfield  – Canadian Space Agency. It's worth checking out! But in past 24 hours, everyone's been asking me, "is he as down to earth as he seems?" 
I was given an incredible opportunity to meet Chris Hadfield yesterday at an event held at the Kobo head office in Canada. And yes, he is just as easy going and relaxed as you would imagine. At the event he spoke about many experiences he had in space,  how he sees the world today, and are his next steps in life.  He's humble and he's truly a giving person. I knew he was on a tight schedule this being launch day of his book, An Astronaut's Guide to Life on Earth, but he took his time and no one was pushing him along.  In fact, he was so casual and easy going that it really didn't hit me until after that event that, "Whoa, I touched a man who went to space!"  This was definitely "up there" on my list of very cool people I've met! Hahaha…get it?
Recently, Hadfield gained "pop culture" status by creating a music video on board the International Space Station  performing David Bowie's Space Oddity. As a music lover he brought his guitar to space and while slightly altering the words (with permission from Bowie's legal team) he put the video out on YouTube and it went viral with over 18 million hits to date. At the event, Hadfield talked about the video and the amazing power of social media.
"I had called Bowie's legal people from the Space Station. The woman on the other line was a little surprised," said Chris Hadfield.
I can recall earlier this year when I first was scrolling down my Twitter news feed and stumbled across Chris Hadfield's tweets from space. Incredible images from his point of view were spectacular. And I wasn't the only one. He's got more followers in the world than many celebrities and so I began retweeting on our Urbanmoms Twitter account and tweeting him back. How cool is THAT? To be able to tweet an astronaut! Cyberspace and space converge. People from around the world would enter into Twitter chats and Hadfield dedicated times to answer. Amazing. "I see social media as a way to share experiences. It's not a broadcast tool for me but a way to share." said Hadfield.
My family would track the International Space Station with our SkyWalk app  tracker and note what time he'll be flying over. I recall saying "I've tweeted Chris Hadfield from earth and he may be looking at our house," and the kids' eyes would open wide. By the way, if you're on Twitter you should follow him as he's still tweeting great tidbits of information about space and life. This was one from yesterday…

But for a humble man who was raised on a corn farm in southern Ontario, being an astronaut was his dream come true. But what's his ultimate wish now? "I wish that everyone could fly in space and have that experience," said Hadfield. "My perspective of the world is that the earth is a place the WE live in. Together."
Hadfield explains that although there may be differences on the ground he wishes that everyone would see that we are really not all that different. We are in this world together and it's a beautiful place. "This experience has given me a sense of personal responsibility, peace, and optimism in this world we live in."
And of course, someone had to ask about movies. So, what are the most realistic movies for him? "My favourite fun space movie has to be Galaxy Quest. The most realistic was Ron Howard's Apollo 13," said Hadfield. "But if you want a visually realistic movie of what space looks like, then yes, Gravity captures that."
At the private event, Chris Hadfield also explained how he's a family man and how he and his wife encouraged his children to follow their dreams. His wife also was able to follow her dreams. While she lead a successful career in the field of IT, her passion was in cooking. So, while they were residing in Houston, she decided to pursue her love and left her position in IT and went to cooking school to become a successful chef. But back to the kids, the one thing they always made time for was reading.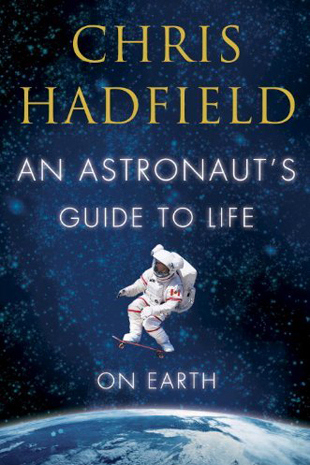 Chris Hadfield is currently on tour to promote his new book An Astronaut's Guide to Life on Earth  now available in store as well as for Kobo e-Readers. I'm going to download mine now! Everyone in my family can't wait to read it! You can link here: Chris Hadfield / An Astronaut's Guide to Life on Earth. 
[youtube id="CEungSpzmcw"]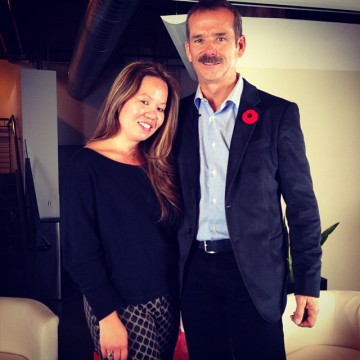 Thank you to Kobo Canada for this incredible opportunity to meet Col. Chris Hadfield. This post was not sponsored, nor was I compensated.  All opinions expressed are my own as always.