Gloria Vanderbilt is a fashion icon. She was the first to use a name to "brand" a pair of jeans. I remember them as being my first real  designer jeans. Everyone just had to have them.
You may also already know that Ms. Vanderbilt was born into a wealthy and influential family — one that included a railroad empire and known as one of America's first millionaires.  You may also know her as the mother of Anderson Cooper, CNN Host.
Ms. Vanderbilt experienced much in life.  She has acted on stage and television. She's an accomplished writer of four memoirs and two novels. She's a contributor to The New York Times, Vanity Fair, and other publications. She is also a passionate artist.
Her work reflects the many contrasts of the world in which we live in. If  you visit her website you'll see some beautiful watercolours, acrylics, and oils often in vibrant imagery. What captivates me is her "dream boxes". They are deeply moving with much expression and thought.
In her artist statement she says this…
"Memory is also a driving influence, memories I absorb and reinvent to changing effect because I have changed but do not want to let them go. Color too intoxicates, inspires, so does the beauty of a person, who has something I can't quite catch. They become muses which I become obsessed to define, reveal something of their mystery."
~Gloria Vanderbilt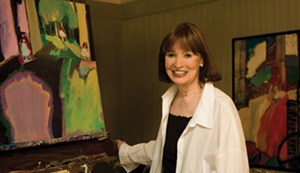 What you may be interested in knowing is that her artwork will be on a special exhibition in Toronto.
The public is invited to her exhibition at de luca fine art gallery, 217 Avenue Road. 
June 6 to June 22
For more information, please visit delucafineart.com