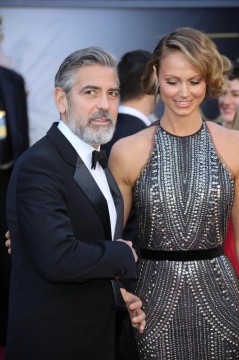 Here we go again. According to People Magazine,  George Clooney (52) is single after a break-up with Stacy Keibler (33) – his girlfriend of two years.
This was, of course, totally predictable. If you follow me  on Twitter, you would have seen my "heads up" on Monday. I had asked "When will they admit it's over?"  Because…you know… it's been over for quite some time. The two haven't been photographed together since March. Both celebrated July 4th apart. He was in Italy, she partied with girlfriends in Los Angeles. How much more obvious can this be?
Why did it end? Depends which news outlet you believe. ABC News claims it had nothing to do with wanting a family.
"She ended things recently. [It] had nothing to do with kids or wanting to get married." – ABC news source
But People Magazine (who broke the story) quotes a source close to the couple who says that "Stacy called it quits. She wants to have children and a family someday. She knows where George stands on that.  They talked and they quietly stopped being a couple several weeks ago."
Could it be that like many others before her, Keibler thought she could change Clooney and make him a family man? It's certainly a possibility and she wouldn't be the first woman to ever think she could change a man's mind. This, despite the fact that Clooney has been very public for years about not wanting to ever marry again (he was briefly married to actress Talia Balsam from 1989-1993) and his desire to never have kids.
We will probably never know the real reason. This is the usual pattern with Clooney relationships. There's never going to be a "tell-all" interview and both parties go their separate ways.
So here we are. He – on his usual summer vacation at Lake Como, now sans girlfriend. She – in L.A. And as for me, this news comes at a very proper time. Because I'm heading to Italy for 2 weeks on Friday. Lake Como was not on my destination list, but I think I might just have to pop in for a visit with Cloons.
Thanks for clearing the way for me, Stacy!